Both flyweight champion Deiveson Figueiredo and women's flyweight champion Valentina Shevchenko will put their titles on the line at UFC 255 on Saturday night from the Apex facility in Las Vegas. The pay-per-view main card includes five fights in total, and begins at 10 pm Eastern.
If you're not planning on buying the card yourself, that doesn't mean you have to miss out on the action. Refresh this page to get the latest updates from UFC 255, including live results and my unofficial scorecards throughout the night.
UFC 255 Odds (via DraftKings Sportsbook)
Deiveson Figueiredo: -286
Alex Perez: +215
Valentina Shevchenko: -2000
Jennifer Maia: +950
Mike Perry: -115
Tim Means: -108
Katyln Chookagian: +205
Cynthia Calvillo: -265
Mauricio Rua: +150
Paul Craig: -190
---
Flyweight Championship
Deiveson Figueiredo (19-1) vs. Alex Perez (24-5)
Round 1
Figueiredo throws a couple of head kicks in the first minute, but Perez stands his ground throwing combinations. Both men are throwing hard early.
Perez grabs a leg and after a scramble and eventually manages to get a takedown. Figueiredo lands a guillotine attempt from the bottom, and Perez is struggling to escape! Perez tries to stand, but can't find a way out and taps. Figueiredo defends his title in under two minutes!
Official Result: Deiveson Figueiredo Wins by Submission (Guillotine) at 1:57 of Round 1
---
Women's Flyweight Championship
Valentina Shevchenko (19-3) vs. Jennifer Maia (18-6-1)
Round 1
Shevchenko comes out of the gate throwing kicks, then connects with a combination. Maia lands a right, prompting Shevchenko to take Maia to the ground. Shevchenko on top, but Maia has a nice position in full guard with Shevchenko's hands on the mat.
Biding her time, Shevchenko managed to free her hands and lands a few shots to the body, though they aren't big shots. Maia seems content to limit Shevchenko's offense rather than go for anything of her own. Shevchenko lands a couple of elbows from top position, though Maia at least partially blocks them.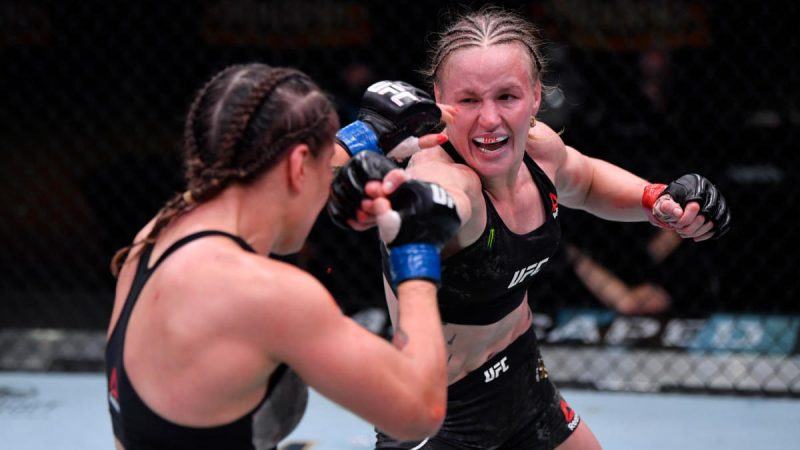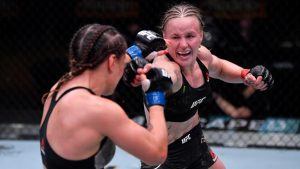 Shevchenko waiting for her moments to land punches and elbows, but hitting hard when she finds those spots. Not a ton of action, but no doubt who had the best of it, as Shevchenko books over four minutes of control time on the ground. Unofficial Score: Shevchenko 10-9
Round 2
Shevchenko opens the second round by quickly landing a takedown. This time, Maia is able to get back up and take the fight into a clinch. Maia gets a solid position with Shevchenko up against the cage, showing that she has the strength to physically compete with Shevchenko.
The champion remains the more active fighter, as Maia isn't really trying to land much, but Maia does have control of the position. Maia earns a takedown at the midway point of the round off an awkward takedown attempt from Shevchenko. Maia in top position with Shevhenko leaned up against the cage. Maia landing occasional ground and pound strikes, even if she's not hurting Shevchenko.
Under a minute left, and Shevchenko tries to set up a triangle, but Maia slips out and maintains top position. Shevchenko has full guard, which allows her to avoid disaster, but she's happy when the horn sounds to end the round. Unofficial Score: Maia 10-9 (19-19)
Round 3
A bit more stand up to start the third round, with both women landing punches early. A little over a minute in, the two enter a clinch, and once again, Maia uses her strength to push Shevchenko up against the cage. This time, the two break on their feet, heading back to the striking game.
Shevchenko lands a head kick and a couple of punches, though Maia doesn't look hurt. The champion seems to be going to her power game in an attempt to do damage. Shevchenko lands a big left, then takes down Maia and gets side control. Maia quickly improves to half guard, however. Unlike in the first round, Maia is trying to actively improve her position from the bottom. and gets the fight to a sitting position.
Shevchenko then moves to the feet, landing a knee on the way up. Even when they're standing, however, Maia opts to keep the fight in the clinch, and gets Shevchenko up against the cage yet again. Maia lands a couple of nice knees late, though Shevchenko gets a clean takedown in the final 10 seconds of the round. Unofficial Score: Shevchenko 10-9 (Shevchenko 29-28)
Round 4
A big left from Shevchenko to open the fourth. Shevchenko landing a bunch of two-punch combinations, though Maia is looking to counter. The standup has definitely been the best portion of the fight for Shevchenko; while both are landing, Shevchenko is busier and more active.
Shevchenko rushes in to score yet another takedown, with Maia in half guard. Herb Dean asks for more action and Shevchenko throws a couple of shots to the head from top position. Shevchenko is apparently doing just enough to convince Dean not to restart the fight. With about 1:20 left, Shevchenko transitions to take the back, though Maia quickly rotates back into half guard. A clear round for Shevchenko. Unofficial Score: Shevchenko 10-9 (Shevchenko 39-37)
Round 5
Shevchenko lands a spinning fist, but Maia fights through it to get Shevchenko backed up against the cage in a clinch. That doesn't last too long, though: Shevchenko spins around and lands an elbow as she breaks away.
Back to pure standup, Shevchenko goes on the attack, landing a series of strikes to Maia's head. But Maia slows down the pace by clinching, yet again forcing Shevchenko to the cage. Maia goes for an arm spin takedown, but Shevchenko ends up in fine position. Maia simply pushes Shevchenko to the corner again.
At the halfway mark, the fighters break, and Shevchenko lands more punches to Maia's nose, which is now bleeding heavily. Maia goes back to what has worked best for her, the clinch, but Shevchenko is slipping out more easily now. One minute left, and Maia lands a kick up the middle. For the most part, it looks like Shevchenko is the one that's going for the finish rather than Maia. Both women land some big shots in the final seconds, but the final horn sounds. An excellent performance by Maia, but not enough to dethrone the champion. Unofficial Score: Shevchenko 10-9 (Shevchenko 49-46)
Official Result: Valentina Shevchenko Wins by Unanimous Decision (49-46, 49-46, 49-46)
---
Welterweights
Mike Perry (14-6) vs. Tim Means (30-12-1)
Round 1
Perry gets the first takedown of the fight about 45 seconds in, though, Means pulls guard. Perry lifts Means and slams him back to the floor. Perry tries to slip to mount, and takes Means' back instead. Perry in a dominant position, though Means is defending well for the moment.
Perry locks in a rear choke, but it's on the jaw rather than the chin, and Means survives. Means takes advantage to get back to top position, and then gets the fight standing again. No big shots landing, but Means is certainly faring better on his feet than on the ground.
Just as I saw that, Perry lands a big body shot, the best strike of the fight so far. Under 30 seconds left, Perry lands another big right. Means gets a combination in, landing flurries of jabs and a couple of leg kicks to close the round. Unofficial Score: Perry 10-9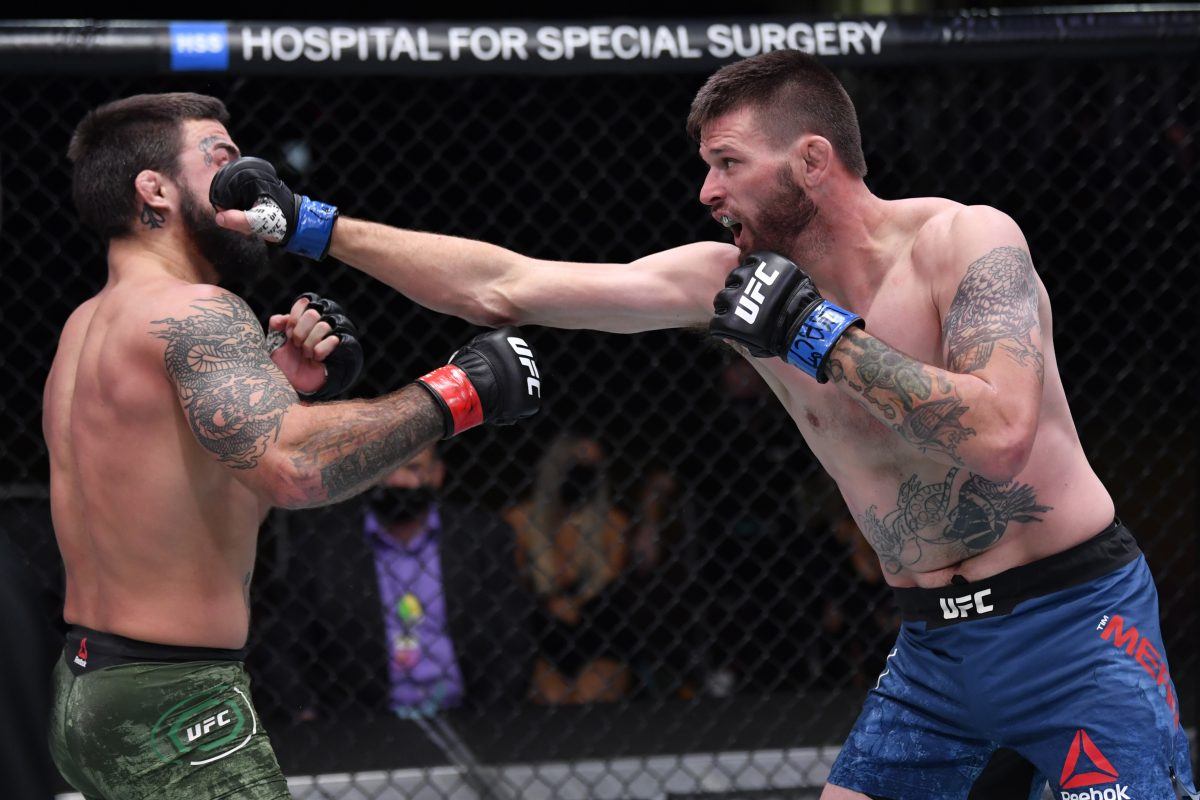 Round 2
Means comes out of the gate going back to his jab, which is landing over and over again to Perry's head. None of the shots are big, but the cumulative effect is leaving its mark on Perry's face. Perry loading up for bigger shots, but hasn't landed anything huge yet. Means mixing in some punches and kicks to the body. He's certainly had the best of the striking battle in general, and in this round in particular.
Perry getting more comfortable around the halfway point of the round, though, landing a leg kick. Perry lands a big right that looks like it hurt Means! Perry able to follow up with a couple of more shots, but wasn't close to a finish. Means recovers and once again takes control of the striking with punches and kicks, but mostly based around his jab.
Perry fires away at Means' head in the final minute, partially landing a couple of shots, but not getting a clean shot in. Perry landed the best shot of the round, but Means definitely got most of the volume, and possibly even the most damage in total. Unofficial Score: Means 10-9 (19-19)
Round 3
Perry moves in for a takedown, leading to some clinching along the cage. But Means doesn't go down, and when the two separate, it is Means who has Perry along the cage and lands more right hands. Perry still going for bigger shots, sometimes effectively, sometimes missing wildly. Meanwhile, Means is hitting with high accuracy.
At the midway point, the two men are simply exchanging in the center of the Octagon! Both men landing to the head, but nobody is backing down. Means decides to break up the action by rushing in and forcing Perry into a clinch up against the cage. They separate again, and Means lands a knee to the chin. Both men still moving well and happy to throw with 90 seconds left. Perry landing punches, Means counters with an elbow. A great third round, but Means is landing more accurately, and Perry looks way worse for wear as he is bleeding around both eyes. Unofficial Score: Means 10-9 (Means 29-28)
Official Result: Tim Means Wins by Unanimous Decision (30-27, 29-28, 29-28)
---
Flyweights
Cynthia Calvillo (9-1-1) vs. Katlyn Chookagian (14-4)
Round 1
A lot of movement early, but few shots landing. Calvillo lands a big hook and then catches a leg to momentarily get a takedown, though Chookagian quickly gets the fight back to standing. Chookagian now starting to look for combinations with her fists, though nothing of significance has landed in the first couple of minutes.
As the commentators note, the fighters are competing at distance, which should heavily favor Chookagian. Calvillo goes for another takedown, but Chookagian sprawls to get back to a boxing battle. Both women are getting some decent shots in at times, but nothing that looks to be hurting the other. Calvillo finding some success with the jab. Chookagian lands a left hook clean, then a straight right seconds later. No big moments, but Chookagian looked to have the better of most exchanges. Unofficial Score: Chookagian 10-9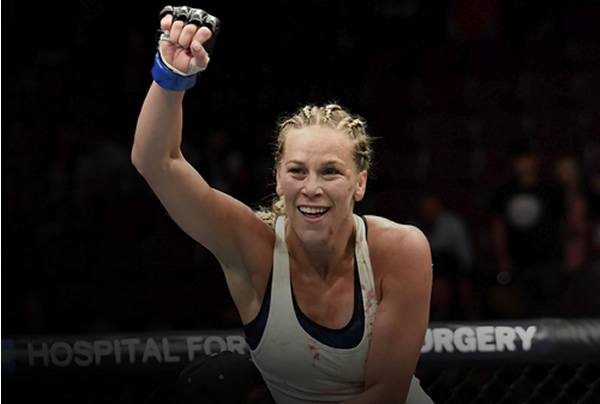 Round 2
Calvillo throws a couple of side kicks, mixing things up to start the round. Chookagian landing more than Calvillo in the early going in what looks to be turning into a fight for points. Chookagian finding success both with punches in combinations and straight kicks to the body. Calvillo showing some damage: a cut near her nose and swelling under an eye.
Halfway through the round, Calvillo now looks to be closing the range a bit more, trying to find more favorable ground on the inside. Chookagian blocks a head kick, then responds by landing a leg kick. Overall, the same story as the first round: Chookagian just getting more out of every exchange, even if there's not a ton of damage being done. Unofficial Score: Chookagian 10-9 (Chookagian 20-18)
Round 3
The two fighters are both content to stay in the center of the ring and try to find the distance. Calvillo lands a couple of nice leg kicks, but in the first two minutes, neither fighter has done much. Calvillo has tried to be more active, but Chookagian has done a good job of being evasive. Chookagian still landing more often with the better combinations, while Calvillo more often just getting one shot in at a time.
Commentators have mentioned that the number of significant strikes are close, but Chookagian certainly seems to be landing a higher percentage. Still, this has been Calvillo's most active round. With just over a minute left, Calvillo closes the distance and looks for a takedown, but with no success. Calvillo lands a two-punch combination to the head in the final 20 seconds of the fight. Not much here to decide the fight, but I'm inclined to give Calvillo the round, and I wouldn't say I'm 100% certain how the judges will score this. Unofficial Score: Calvillo 10-9 (Chookagian 29-28)
Official Result: Katlyn Chookagian Wins by Unanimous Decision (30-27, 30-27, 30-27)
---
Light Heavyweights
Mauricio Rua (27-11-1) vs. Paul Craig (13-4-1)
Round 1
Craig opens the round by throwing a variety of kicks in the first minute. Rua gets his first effective offense about a minute in, as a flurry of punches forces Craig back toward the cage. Craig lands a double leg takedown and takes top position as Rua pulls half guard. Craig lands a couple of hammer fists as Rua gets back to his feet. This results in a clinch along the cage for a moment, before Craig gets Rua back on the ground.
Craig has a nice underhook, but wasn't able to land a significant choke attempt. The fight goes to standing again for a few seconds before Craig forces Rua back to the cage and gets him to the ground again. This time, Rua reverses into top position, and it is Craig's turn to pull half guard. Craig scoots under Rua's right leg while controlling his left, limiting what Rua can do from top position. Time runs out with Rua getting more of the ground control time, but Craig doing a bit more with his. Unofficial Score: Craig 10-9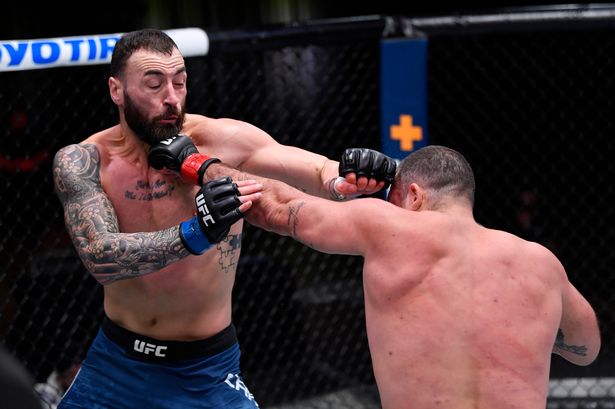 Round 2
Craig back to leg kicks to start the second round. After a tentative first 30 seconds, Rua lands a stiff left, though it doesn't seem to have hurt Craig. Rua searching for offense while trying to avoid getting taken down again by Craig. Rua throws a combination near the cage, but Craig uses it to grab a leg.
After some maneuvering near the cage, Craig gets Rua down and nearly takes his back, then looks for a bulldog choke. Rua gets back to his feet, however, and defends in the clinch. That only lasts so long, however, as Craig gets Rua down again with two minutes left in the round. Craig on top and takes Rua's back. Craig flattens Rua, then starts landing unanswered shots from on top. The ref gives Rua the chance to defend himself, but there's nothing doing – Rua taps to end the fight!
Official Result: Paul Craig Wins by TKO at 3:36 of Round 2