The two best heavyweight MMA fighters in the world – and perhaps two of the greatest heavyweights of all time – will fight a rubber match on Saturday, as Stipe Miocic and Daniel Cormier battle for a third time in the main event of UFC 252.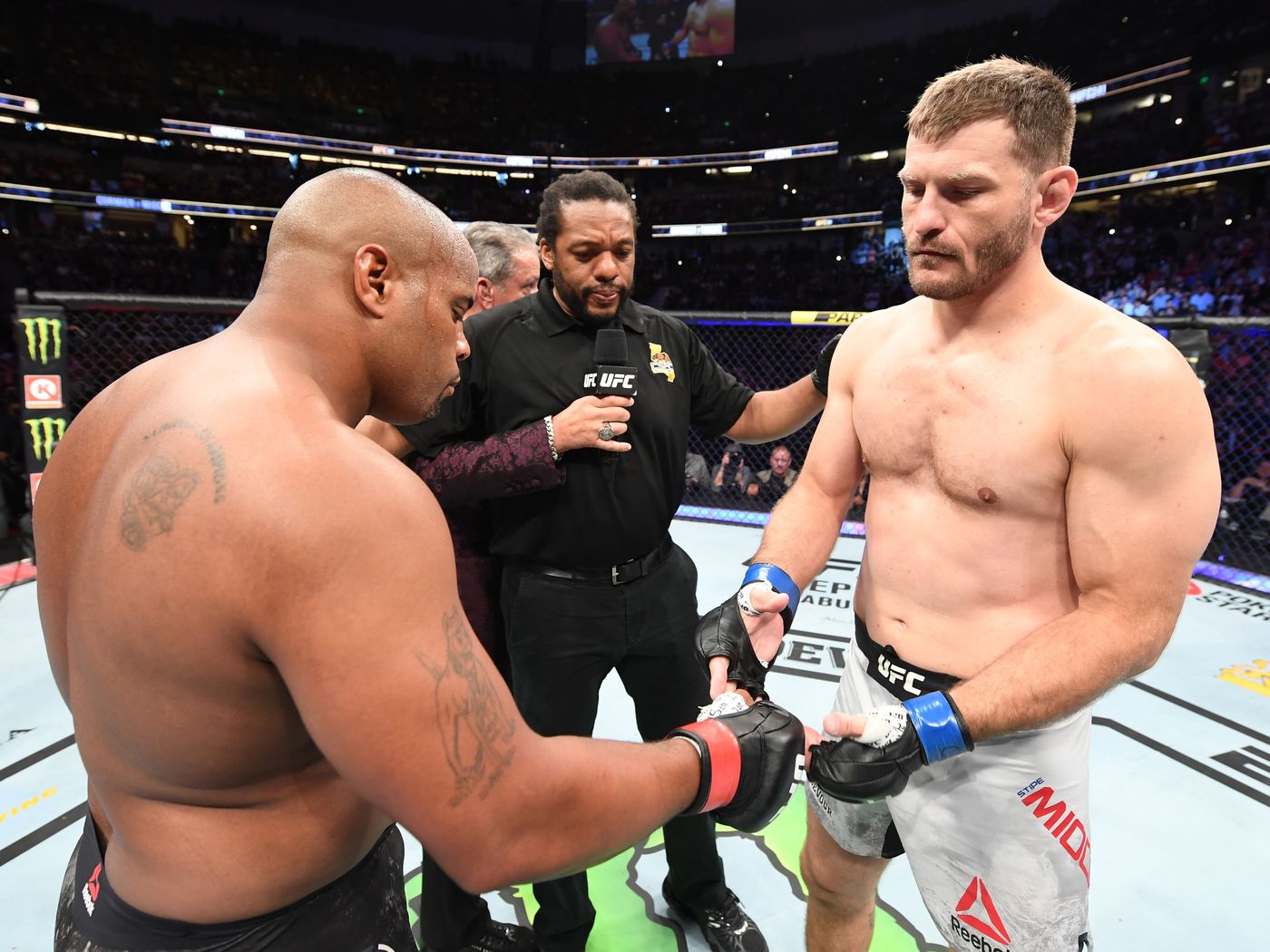 Cormier (22-2) won the first bout between the two back in 2018, knocking out Miocic in the first round.
Cormier Talks Strategy for Trilogy Fight
Miocic (19-3) returned the favor last year. Cormier took control of the tournament early, but Miocic changed strategies in the fourth round, pounding Cormier with body shots and eventually scoring a TKO.
Now, the two veterans will clash for a third time, with Cormier looking to take his title back before what feels like an inevitable retirement. The 41-year-old says he has a obvious path to victory – one that has served him well throughout his career – but that it might not be the right way to win.
"The easiest path for me is to try and take him down and hold him down, Cormier told reporters. "But it takes energy to do that. But I don't want to just take him down. I want to fight him. I like punching him in the face. It's fun. I enjoy it. His head kind of just stays there. I like punching him, so I'm gonna punch him, I'm gonna wrestle him, I'm gonna do everything."
Cormier also suggested that his opponent will go back to the plan that served him so well in their second fight.
"He's gonna go back to the body," Cormier said. "I mean, you'd be an idiot not to. They had so much success there. The reality is, when you make an adjustment like you did last time, you get to do that one time. Because I go home and I fix that, and I work and I work diligently to try to ensure that it doesn't happen again. He's still gonna hit me, and he will land body shots."
Miocic Can Secure Legacy With Win
For Miocic, the third fight with Cormier is an opportunity to establish himself as the greatest UFC heavyweight of all time. That means every detail matters – even if the champion didn't get everything he wanted for UFC 252. The two will meet at the UFC's Apex facility in Las Vegas, meaning they will fight in a smaller 25-foot Octagon, rather than the standard 30-foot cage.
That figures to benefit Cormier, a former Olympic wrestler.
"A bigger cage is better of course," Miocic told ESPN. "I'm not going to cry about it. I definitely tried to get a bigger cage, but it wasn't in the cards. What are you gonna do? I'm not worried."
After splitting the first two fights, Cormier and Miocic are seen as near equals in their third bout. PointsBet lists Cormier as the slightest of favorites, offering -115 odds on the former champion compared to -105 on Miocic.
---
UFC 252 Odds (Main Card)
Stipe Miocic (-105) vs. Daniel Cormier (-115)
Sean O'Malley (-300) vs. Marlon Vera (+230)
Junior dos Santos (+105) vs. Jairzinho Rozenstruik (-130)
John Dodson (+185) vs. Merab Dvlishvili (-240)
Herbert Burns (-280) vs. Daniel Pineda (+215)
Odds via PointsBet
---
In the UFC 252 co-main event, rising bantamweight star Sean O'Malley (12-0) will take on Marlon Vera (15-6-1). PointsBet has installed O'Malley as a -300 favorite in the fight.