UFC 241 is taking place live tonight at the Honda Center in Anaheim, California. The main event features a heavyweight championship rematch between current titleholder Daniel Cormier and former champion Stipe Miocic. If you'd like to keep up with the action, we'll have full UFC 241 results as they happen, including round-by-round breakdowns of the main card, which is scheduled to begin at approximately 10 pm EDT.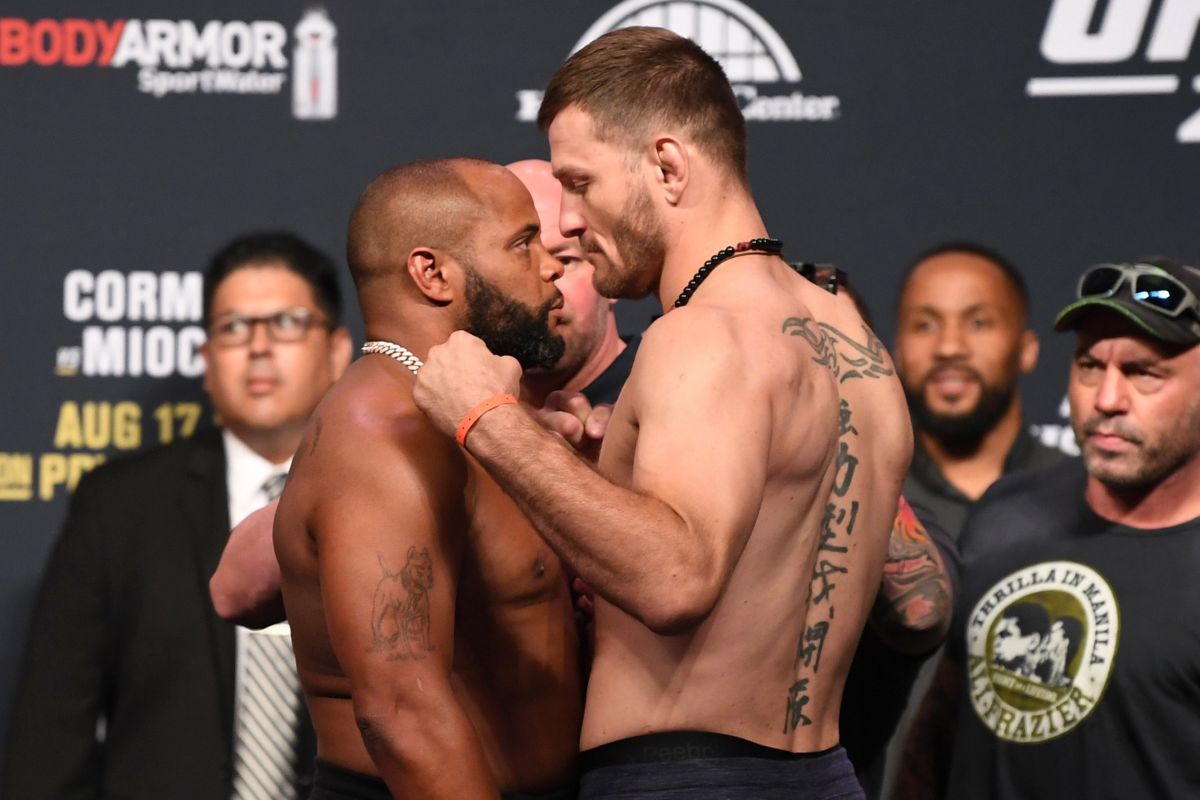 Refresh all night long for the latest information, or scroll down to see results from earlier in the card. All posted odds are courtesy of FanDuel Sportsbook.
UFC 241 Main Event (Heavyweight Championship): Daniel Cormier (-138) vs. Stipe Miocic (+114)
OFFICIAL RESULT: Stipe Miocic Wins by TKO (punches) at 4:09 in Round 4
Round 4: The pace slows as both men look like they need to conserve energy. Cormier still finding bursts to land two-punch combinations, but without much impact. Stipe lands a sharp left to the body and looks like he may want to start attacking more as Cormier slows down. Miocic continuing to go with left hooks to DC's body, and they keep landing again and again. Miocic's face is bloodied from eating countless jabs. Stipe lands one more huge left hook with about a minute left, and Cormier is hurt! Miocic attacks, landing a two-punch combination to the head, followed by a right that lands flush to the chin that slumps Cormier against the cage. Cormier can't defend himself, and the referee is forced to step in. Miocic is once again the UFC heavyweight champion!
Round 3: Between rounds, Cormier looks tired, while Miocic's corner is happier with how the fight is turning. The third opens with a left-right combination that lands for Miocic. Cormier defends a takedown attempt from Stipe, who has largely been trying to avoid making this a wrestling match. Miocic stands Cormier up against the cage, with both men seemingly happy to get some rest. Cormier spitting blood from his mouth. Miocic just misses on a spinning elbow as he releases the clinch. Cormier still landing faster with his jabs. Stiple lands a takedown with about 90 seconds remaining in the round, and hits a knee to the body on the way back up. Both men already fatigued with two-plus rounds remaining. Cormier not throwing in volume anymore, but is landing combinations to the head. With under 30 seconds remaining, both men keep throwing and landing. Tough round to score – it feels like a fight that's about 2-1 in favor of Cormier overall, but hrad to give any individual round to Miocic. Unofficial Score: 10-9 Cormier (30-27 Cormier)
Round 2: Miocic opens with jabs, trying to maintain the distance. He continues to do so for the first minute, landing a solid knee to the stomach and getting the better of the exchanges early in the round. Cormier moving far better than Miocic, who is largely just standing in front of Cormier. Stipe drops back after what may have been an eye poke, but the fight continues, with Miocic landing several big shots in the first dangerous moment for Cormier so far in the fight. At the midway point, Miocic stands Cormier up against the cage, but can't create much. Both men landing as the stand up action picks up pace. Both men have taken clean shots to the head without looking seriously hurt. Cormier still showing better hand speed, much like in the first meeting between these two. DC landing almost everything he throws: according to the commentators, the unofficial stats have him landing 80% of his significant strikes. A head kick by Cormier is answered by a straight left from Miocic to close the round. I have this one for Cormier again, but it was a close, exciting round. Unofficial Score: 10-9 Cormier (20-18 Cormier)
Round 1: The fighters start with a touch of gloves. Both men izing each other up, a change from the frantic action seen early in the last two fights. DC landing a few strong leg kicks, while Miocic has yet to create much offense. 90 seconds in, the punches start landing for Cormier. Following a jab, Cormier grabs a single leg, eventually leading to a slam. Miocic spending a lot of time on his back, as Cormier advances to half guard. Miocic is able to defend well, however, and regains full guard without taking much damage. Cormier maintaining control, while Miocic stays calm, not expending much energy. Cormier gets back to his feet and Miocic lands an up kick. Cormier gets Miocic on his knees and lands some hammer fists, though Cormier defends enough of them to ensure the fight isn't stopped, despite Cormier taking a quick look at the referee. Unofficial Score: 10-9 Cormier
UFC heavyweight champion Daniel Cormier (22-1) looks to defend his title against former champion Stipe Miocic (18-3). The two fought last July at UFC 226, with Cormier winning by knockout late in the first round to win the heavyweight belt. Miocic has not fought since then, while Cormier has had one title defense, beating Derick Lewis at UFC 230.
UFC 241 Co-Main Event: Anthony Pettis (-136) vs. Nate Diaz (+112)
OFFICIAL RESULT: Nate Diaz Wins by Unanimous Decision (30-27, 30-27, 29-28)
Round 3: Diaz immediately applies pressure and gets Pettis up against the cage again, trying to keep the fight on the inside. Pettis clearly tired here in the third, though Diaz's pace has come down too. Diaz lands a number of huge knees and punches, and the fight is nearly called. But Pettis drops to his back and stays alive. Diaz gets his back and tries to flatten Pettis out, but Pettis reverses to end up on top, though Diaz is able to pull guard. A good position for Pettis, but he is unable to create much offense, and Diaz is threatening a triangle from below. Pettis gets out and back to his feet, but doesn't allow Diaz to stand, choosing to take the top position again. A Diaz scramble sees him take the back again – very high level wrestling from both men. Pettis just trying to survive in the last 30 seconds, though it will only be the difference between a loss by decision and submission. Pettis reverses yet again, but while his ground defense has been impressive, this was a thoroughly dominant round by Diaz. Unofficial Score: 10-8 Diaz (30-26 Diaz)
Round 2: A clash of shins sends Pettis to the ground in the opening seconds, though he recovers nicely before Diaz can pounce. Pettis landing more in Round 2, and a cut may be developing over Diaz's left eye. Diaz struggling with the eye, and the referee calls a stoppage to take a look. Diaz tells the doctor he's fine, and the fight continues. Pettis landing far more in this round, though Diaz looks better after the brief break. Up against the case, Diaz takes the back, then gets side control. As Pettis gets back to his feet, Diaz lands a big knee, and clinches Pettis against the fence yet again. In the clinch, Diaz lands a couple of good elbows. Pettis looks to be some combination of tired and hurt with a minute left, but is still throwing. But he can't seem to get off the cage, and Diaz is applying relentless pressure. Diaz does now have a cut over his right eye. Pettis lands some elbows of his own late, after which Diaz lands punch after punch in the final seconds. Pettis, exhausted, slumps down after the bell rings. If it weren't for the strong start for Pettis, that might have been a 10-8. Unofficial Score: 10-9 Diaz (20-18 Diaz)
Round 1: Diaz lands a hard straight kick to the stomach about 30 seconds , which seems to kick both fighters into action. A minute in, Diaz clinches with Pettis, holding him up against the cage. Diaz seems to have the best of the dirty boxing, but can't work for a takedown, and Pettis lands a good right as he circles out to the middle of the Octagon. Diaz again gets some good work done in the clinch at the midpoint of the round. Diaz gets a takedown, but Pettis attempts to lock in a guillotine. Diaz escapes to the top, though Pettis stys in a full guard. With under a minute left, Diaz takes Pettis' back, and while it is too late to finish the fight, it turns a close round into a clear win for Diaz. Unofficial Score: 10-9 Diaz
Anthony Pettis (22-8) is coming off of a win over Stephen Thompson in March, but has alternated wins and losses over his past eight fights. He comes into the fight as the No. 9 contender in the UFC's lightweight division. Nate Diaz (19-11) is making his return to the UFC after a three-year layoff following a majority decision loss to Conor McGregor at UFC 202.
Yoel Romero (-156) vs. Paulo Costa (+128)
OFFICIAL RESULT: Paulo Costa Wins by Unanimous Decision (29-28 on all cards)
Round 3: The fighters touch gloves before the final round. Romero lands the first significant blows of the round, following a couple speculative leg taps with a combination to the head. That may have woken Costa up, as he goes back to landing big leg kicks. The fight is stopped again after Romero accidentally pokes Costa in the eye, earning Yoel a warning as he did have his fingers outstretched towards Costa's face.
The fight resumes with about 3:30 remaining. Both fighters come out slightly refreshed after the break and look more willing to exchange. Costa landing body punches to take control of the round. Romero backs Costa up against the case, but then lets him go, leading to a taunt from Costa, who dares Romero to come and get him. Romero able to land more here in the third, but Costa appears to be eating them without much trouble. Costa starting to slow down with a minute to go as Romero lands more and more, now throwing punches in combinations. Under a minute, Costa lands a kick to the head, but Romero catches the leg, backing Costa into the cage before they separate. Romero shoots in and earns a takedown with seconds remaining, though Costa scrambles and may actually have gotten the best of the momentary ground exchange. A standing ovation from the crowd as the final bell rings on a high intensity fight! Unofficial Score: 10-9 Romero (29-28 Costa)
Round 2: Continued pressure from Costa as he lands with both punches and kicks, though nothing has caused the kind of reactions that were seen in the first round. Romero remains patient, but can't find opportunities. Romero throws another long combination against the cage, but Romero appears to deal with it easily – could he be hoping to outlast the pressure and win late? The pace slows down in the middle of the round. Romero calls for an eye poke after a Costa jab, but the referee keeps the fight going. Both men landing, but Costa still appears to have the best of the exchanges. Romero looks to have more in the tank late in the second round, and lands a takedown in the closing seconds. Still, Costa should have done enough to win the round — but it was much closer than the first. Unofficial Score: 10-9 Costa (20-18 Costa)
Round 1: Romero briefly staggers Costa with a punch, which sets off a scramble in which both fighters land. Insane action: about a minute into the round, they exchange huge shots that drop each other, but both fighters were just clipped, and the fight continues, though it feels as though one shot could end the bout at any moment. Costa controling the middle of the Octagon, attacking Romero with combinations – both fighters throwing in bunches, with Costa also landing some solid body kicks. Romero lands a flying knee through Costa's guard, forcing Costa back to the cage. Romero then goes down from an apparent accidental low blow. Costa has five minutes to recover – will the fight continue?
Replay shows the accidental knee to the groin. After a short break, the fight continues with 1:55 remaining in the round. Costa ends up on top after a sprawl and lands some hard shots. Fight goes upright again, and Costa again gets Romero against the cage, landing a hard combination of body shots. Romero only throwing single punches now, but when they land, they land hard. Costa nearly lands a brutal head kick just before the bell. Unofficial Score: 10-9 Costa
Yoel "Soldier of God" Romero (13-3) is looking to rebound after a split decision loss to middleweight champion Robert Whittaker at UFC 225. He'll face the undefeated Paulo Henrique Costa (12-0), who is 4-0 so far in his UFC career. Romero comes in ranked as the No. 2 contender, while Costa has worked his way up to No. 7 in the world.
Gabriel Benitez (+230) vs. Sodiq Yusuff (-300)
OFFICIAL RESULT: Sodiq Yusuff Wins by TKO (punches) at 4:14 in Round 1
Round 1: The fighters are wasting no time, trading from the opening bell. Yusuff lands two hard rights in the first minute. Benitez's best strikes early have been inside land kicks. A cut has already opened over Benitez's left eye, and it may already be bothering him. . A left hand from Benitez drops Yusuff to his feet halfway through the round, but Yusuff is able to get up and recover before Benitez can capitalize further. Yusuff now with a cut on his right eye. With under a minute left in the round, Yusuff lands a huge counter right to the jaw, dropping Benitez. More standing rights from Yusuff cause Benitez to roll on his side and cover up, but the barrage keeps coming, and the fight is stopped!
Gabriel Benitez (21-6) takes on Sodiq Yusuff (9-1) in a featherweight bout. Benitez has won his last two fights, and is coming off a first-minute knockout win over Humberto Bandenay in May.  Yusuff is on a four-fight winning streak, with the Nigerian native having won his only two UFC fights after being signed from Dana White's Tuesday Night Contender Series last July.
Derek Brunson vs. Ian Heinisch
OFFICIAL RESULT: Derek Brunson Wins by Unanimous Decision (29-28 on all cards)
Round 3: A round of boos in between rounds, as Colby Covington is shown entering the arena. Brunson finally gets a solid takedown out of the clinch, though Heinisch again shows his balance and elusiveness by slipping out and getting back to his feet. Both fighters finding openings in striking exchanges, but Heinisch looks tired, often missing wildly and failing to hurt Brunson when he hits. Halfway through the round, Brunson gets another takedown and attempts to take Heinisch's back, but can't prevent him from getting the fight standing again. Both fighters look fatigued in the final 90 seconds: both landing, but without much behind their punches. Not as dominant as the second round, but Brunson should still have done enough to win the fight. Unofficial Score: 10-9 Brunson (29-28 Brunson)
Round 2: A slower pace to start the second round. After a failed takedown by Heinisch, Brunson lands a heavy punch to the head, with Heinisch briefly taking the fight to the mat to recover. Heinisch looking fatigued, as Brunson lands another combination. Brunson landing in bunches; each time he eats a punch, Heinisch tries to grab a leg, but without much success. Brunson badly outlanding Heinisch throughout the round, but remaining patient and not overplaying his advantage. Brunson missed a head kick and goes down, but recovers quickly, with Heinisch missing widely with an overhand right in response. Heinisch stuffed on another takedown late in the round; a dominant round for Derek Brunson. Unofficial Score: 10-9 Brunson (19-19)
Round 1: Heinisch begins the fight aggressively, landing an early head kick that threatened to end the fight. But Brunson recovered well, forcing a clinch and putting Heinisch up against the cage. Heinisch maintained the aggression, though Brunson appeared to handle it well, eating occasional punches without  showing signs of damage. Brunson showing patience, looking for his opportunity to strike. Brunson grabbed a leg and forced Heinisch up against the cage, but Heinisch showed excellent balance, striking even while Brunson held a leg. Brunson ends the round by going in for a take down and getting both legs, but being unable to get Heinisch to the ground. Unofficial Score: 10-9 Heinisch
Derek Brunson (19-7) takes on Ian Heinisch (13-1) in a middleweight contest that will kick off the UFC 241 main card. Heinisch comes into the fight as a -154 favorite over Brunson (+126). Both are ranked middleweights: Brunson is the No. 8 contender in the division, while Heinisch comes in ranked 10th.
UFC 241 Main Card Results
Stipe Miocic defeats Daniel Cormier by TKO (punches) at 4:09 in Round 4
Nate Diaz defeats Anthony Pettis by unanimous decision (30-27, 30-27, 29-28)
Paulo Costa defeats Yoel Romero by unanimous decision (29-28 on all cards)
Sodiq Yusuff defeats Gabriel Benitez by TKO (punches) at 4:14 in Round 1
Derek Brunson defeats Ian Heinisch by unanimous decision (29-28 on all cards)
UFC 241 Preliminary Card Results
Khama Worthy defeats Devonte Smith by first-round TKO (punches)
Cory Sandhagen defeats Raphael Assuncao by unanimous decision (30-27, 30-27, 29-28)
Drakkar Klose defeats Christos Giagos by unanimous decision (29-28 on all cards)
Casey Kenney defeats Manny Bermudez by unanimous decision (29-28 on all cards)
UFC 241 Early Preliminary Card Results
Hannah Cifers defeats Jodie Esquibel by unanimous decision (30-28, 30-27, 30-27)
Kyung Ho Kang defeats Brandon Davis by split decision (28-29, 29-28, 29-28)
Sabina Mazo defeats Shana Dobson by unanimous decision (30-24, 30-25, 30-25)