Stipe Miocic regained the UFC heavyweight championship on Saturday night, knocking out Daniel Cormier in the fourth round of the main event of UFC 241.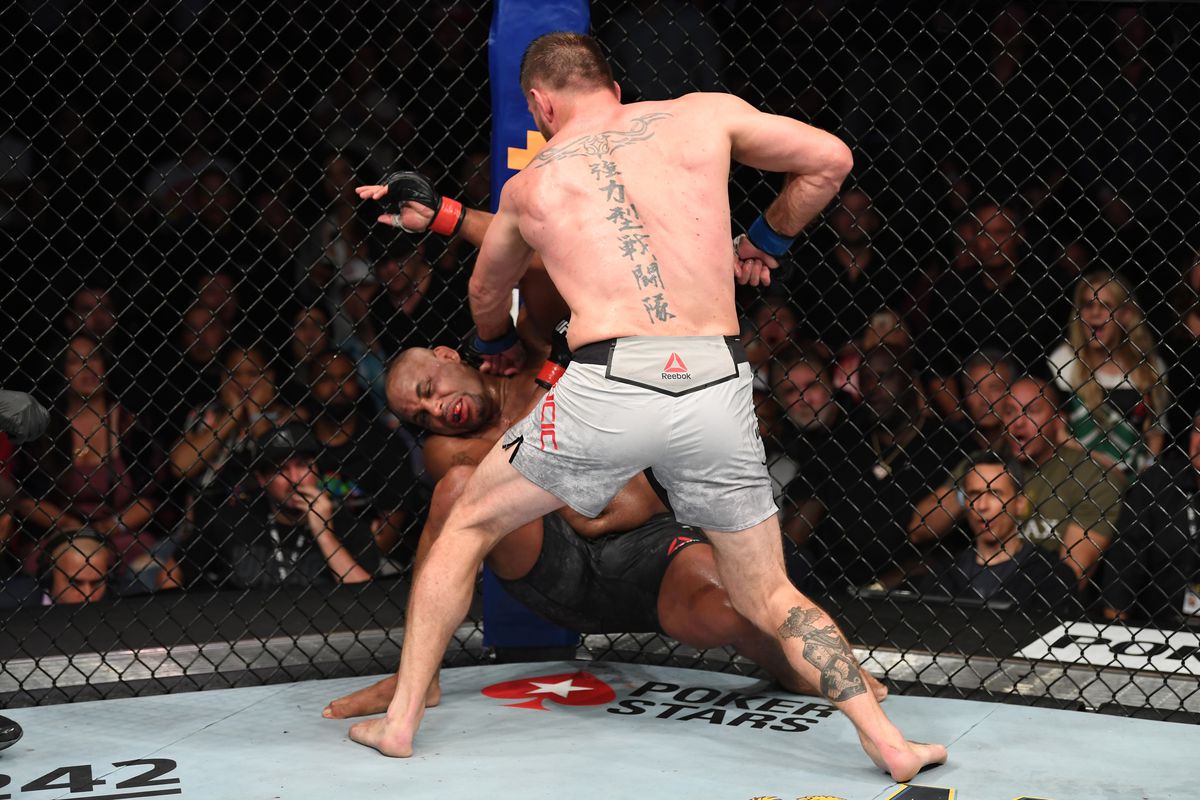 The victory reversed the result of the first meeting between the two in 2018, when it was Cormier who scored a first-round KO to win the heavyweight title and become a two-division champion.
Miocic Makes Adjustments to Overcome Cormier
This time around, Cormier (22-2) was winning the fight after the first three rounds, with one judge giving him all three rounds, while the other two had him ahead 29-28 heading into the fourth. But Miocic found an opening, landing a succession of left hooks to the body before a combination to the head sent Cormier reeling. Miocic continued to attack, and with Cormier slumped against the cage taking punch after punch, Herb Dean stepped in to stop the fight.
Afterwards, Cormier was gracious in defeat, but said that he wished he had listened to his corner, as it might have made the difference in the fight.
"They were begging me to wrestle, and that's probably the most disappointing is I didn't do what I was training to do," Cormier told reporters after the fight. "I feel like I let my coaches down."
There will now be inevitable questions over whether the 40-year-old Cormier will choose to retire from the sport. While the former champion says he doesn't want to make an immediate, emotional decision, he also sees only one fight that's likely to get him back in the Octagon.
"It would essentially be a matter of me wanting to go back and right the wrong of this fight tonight," Cormier told ESPN. "That would be the only thing that would make me come back to fight, I guess."
Meanwhile, Miocic (19-3) had only one regret: his jig in the Octagon after his win.
STIPE EXACTS HIS REVENGE@StipeMiocic #UFC241 pic.twitter.com/FnbZdyPm0A

— ESPN MMA (@espnmma) August 18, 2019
"I just had no idea what I was doing," Miocic said at the UFC 241 post-fight press conference. "I feel like I didn't know what to do with my hands or my feet. I don't know. I'm an idiot, just dumb."
UFC 241 Results: Big Wins for Costa, Diaz
One of the most consequential results from UFC 241 could be Paulo Costa's unanimous decision victory over Yoel Romero. Costa (13-0) won the first two rounds over Romero (13-4) and was able to hold on in what may have bene the most competitive fight on the main card.
Now, with a win over one of the titans of the middleweight division in his pocket, Costa wants a shot at the title. But he's willing to wait for the reunification fight between champion Robert Whittaker and interim champion Israel Adesanya at UFC 243, saying he far prefers to take on the winner rather than be a backup option in case one of them can't make that fight.
"I trained [too] hard to be a backup," Costa told reporters. "I broke two ribs in this last camp. I broke my biceps, clear off the leg. This is crazy. I bring nine fighters to spar with me. Our guys go back to home with injuries because of wild training camp. I cannot be a backup, I need to confirm that fight to make my camp."
Nate Diaz's convincing win over Anthony Pettis in the UFC 241 co-main event should set him up for a major welterweight opponent the next time he wants to fight. But Diaz (20-11) has rejected one potential opponent: Colby "Chaos" Covington, the former interim champion who might be in line for a title shot himself.
"I don't know who that is," Diaz said in response to a reporter's question over whether he would fight Covington. "If we got somebody good to fight, that's who I want to fight. That's what I'm saying. You've got to do something. If you've been here for two weeks and get a little hype show, I don't give a shit."