Daniel Cormier will look to defend his heavyweight championship against the man that he initially took the title from last year, as he steps into the Octagon for a rematch with Stipe Miocic in the main event of UFC 241.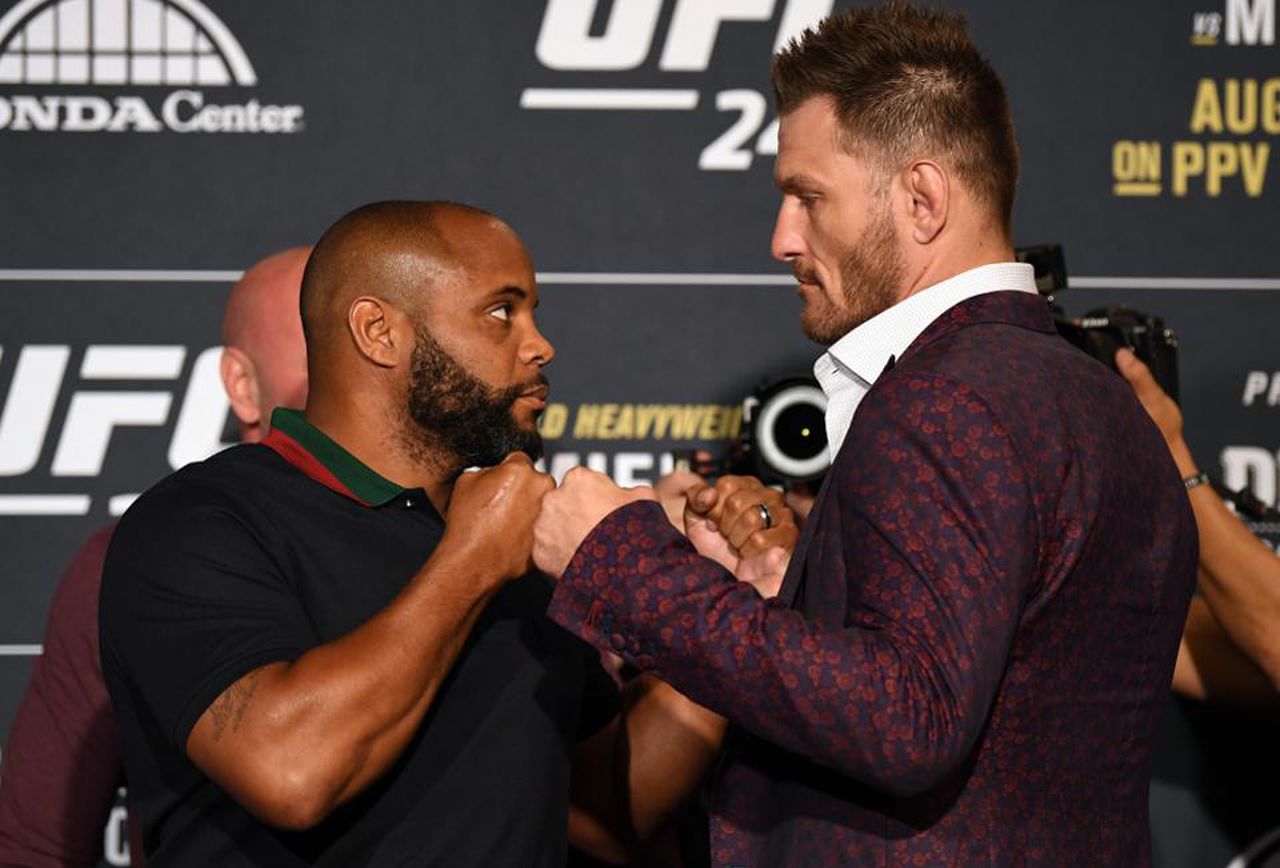 The Saturday bout will be Miocic's first since being knocked out by Cormier in the opening round of their first meeting in July 2018.
Cormier: Stipe Isn't the Same Since Loss
Cormier (22-1) has fought once since then, submitting Derrick Lewis in his first title defense last November. Both men weighed in far lighter on Friday than in their first meeting, with Miocic (18-3) coming in at just 230.5 pounds, his lowest weight for any UFC fight in his career.
At 40 years old, Cormier has said that he's only interested in taking big fights at this point, and that retirement might be coming sooner rather than later. But that doesn't mean that he's not ready to take on Miocic, who he says isn't the same since their first encounter.
"He has changed after the loss," Cormier told reporters during after his open workout. "I'm not saying I'm pleasant to be around, especially when I'm digging at you constantly. But I think he could deal with it before the first fight, because there was the idea that he was gonna win. But when you lose the fight, it becomes much more difficult. So that's why I think you see him so pissed off at me."
Miocic Ready After Long Break
Miocic denies that he has any particular animosity towards the champion. Instead, his ire was mostly directed at the UFC itself, though that changed once he was granted the rematch he wanted ever since he lost his title. While the wait may have been difficult, Miocic says that the time off may help him in the rematch.
"It was just what the doctor ordered," Miocic told Cleveland Magazine, speaking of his extended break. "But honestly I know I can beat him. That's why I needed my shot to get my belt back. I know I'm a better fighter than him. I felt like I was winning that fight, the grappling situations and the striking. He was running from me. But he just caught me with a shot, and he hit me harder than I thought. So kudos to him, but it ain't gonna happen again."
As with most fights between two elite heavyweights, both men have the ability to knock the other out at any time. They both also have extensive wrestling backgrounds, though Cormier's Olympic experience makes him the favorite in most situations when the fight goes to the ground. The champion might also have the slightest of edges in his striking games, as – at least in the rematch – he appeared to be the quicker of the two.
---
UFC 241 Odds (Via Fanduel)
Daniel Cormier (-138) vs. Stipe Miocic (+114)
Nate Diaz (+110) vs. Anthony Pettis (-134)
Yoel Romero (-152) vs. Paulo Costa (+126)
Sodiq Yusuff (-300) vs. Gabriel Benitez (+230)
Derek Brunson (+126) vs. Ian Heinisch (-154)
---
Put those factors together, and it's understandable that while either man could win this fight, Cormier is given the edge. At FanDuel Sportsbook, Cormier is listed as a -138 favorite, while Miocic can be backed at +114 to regain the title.
Earlier on the UFC 241 card, Nate Diaz (+110) makes his long-awaited return to action against Anthony Pettis (-134), while Yoel Romero (-152) takes on Paul Costa (+126).