UCLA would love to hire Jamie Dixon as its new head coach, but the current TCU coach has a $8 million buyout clause in his contract delayed negotiations.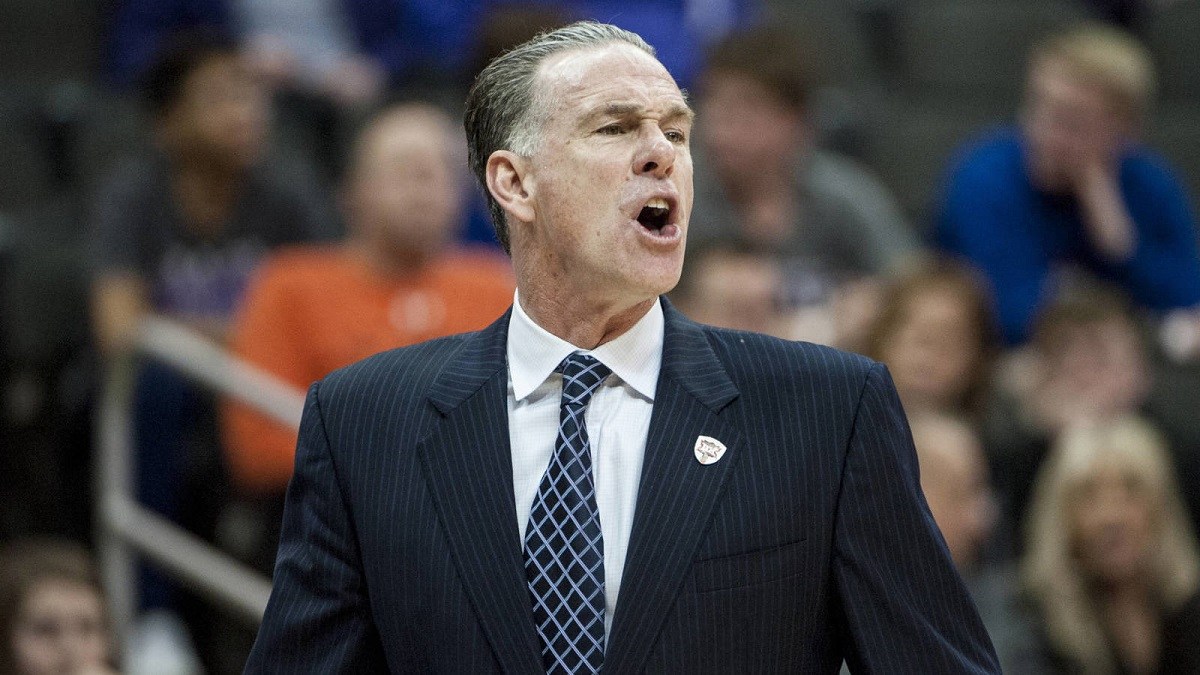 James Patrick Dixon II, otherwise known as Jamie, is the son of an actor and writer. He was born in North Hollywood and grew up in Los Angeles. As a kid he appeared in numerous commercials. As a standout basketball player in high school in LA, Dixon earned a full ride to TCU in the mid-1980s.
Dixon coached Pittsburgh for 13 seasons before returning to his alma mater TCU in 2016. Dixon took Pittsburgh to the Sweet 16 three times and the Eight 8 once. He has a career record of 396-164 as a college coach with a 70.7 percent win rate in the Big East, ACC, and Big 12.
UCLA fired Steve Alford after 13 games this season. They have yet to find a replacement, but Dixon seems like the guy they really want.
Panthers to Horned Frogs
Jamie Dixon played his collegiate ball at TCU starting in 1984. As a point guard, Dixon led the Southwest Conference in assists in 1987. The Washington Bullets drafted him in the seventh round in 1987, but he did not make the team.
Dixon kicked around the old CBA for a season before he went to New Zealand. Dixon played two seasons in the National Basketball League for the Hawke's Bay Hawks. His pro career overseas ended in a freak injury.
Dixon pivoted to coaching as an assistant coach at UC Santa Barbara, Hawaii, and Northern Arizona. He paid his dues in the 1990s before landing an assistant coaching job in Pittsburgh. After four seasons, Pittsburgh promoted him to head coach.
Dixon spent 13 seasons at Pittsburgh from 2003 to 2016. He won two Big East titles before the team migrated to the ACC in 2013. He finished with a 328-123 record with Pittsburgh. He took them to the Elite 8 once and the Sweet 16 twice in his first six seasons.
In 2016, Dixon decided it was time to return to Texas. He got an opportunity to coach at his alma mater, which played in the Big 12 these days.
In three seasons with the TCU Horned Frogs, Dixon went 68-41. TCU never finished higher then fifth in tough Big 12. He never won fewer than 21 games, but only received one bid to March Madness. TCU bubbled the tournament in 2017, but they ran the table to win the NIT Championship.
TCU, with a 23-14 record this season, bubbled March Madness again. Dixon took TCU to the semifinals of the NIT.
Back to SoCal?
After the loss in the NIT semifinals in New York City, Dixon returned to Dallas. He had a meeting with TCU officials and the team. He didn't say he was staying, but did not say he was leaving either.
When the media quizzed Dixon about the UCLA rumors, he reverted to his blanket response, "I Don't talk about other jobs."
There's a minor detail about his current contract at TCU. A buyout would cost $8 million and presumably UCLA would cover it. The delay involved negotiating the buyout. In 2016, TCU paid Pitt $1 million to buy out his contract. UCLA is hoping that TCU would lower their buyout price.
With Kentucky giving John Calipari a lifetime contract and Houston locking up Kelvin Sampson to a contract extension, the list of potential choices for UCLA got smaller this week.
UCLA's athletic director also wanted to interview Virginia's Tony Bennett and Texas Tech's Chris Beard, but those meetings were delayed because both coaches are still alive in March Madness. With Virginia and Texas Tech still fighting for a national championship, it would seem odd if any of those Final Four coaches would leave their schools to take a job with UCLA.
However, Jamie Dixon's name is now at the top of the list. It appears as though UCLA is skittish on hiring Rick Pitino, who spent this season coaching in Greece.
UCLA could also look to the NBA to find a coach. Luke Walton's days are numbered with the LA Lakers and he will be available next season. His father, Bill Walton, is one of UCLA's greatest players. Billy Donovan from the Oklahoma City Thunder is also on the short list of candidates, but the Thunder are on the cusp of a playoff run.