Tiger Woods the player is bailing out Tiger Woods the captain of the stumbling US Team at the Presidents Cup at Royal Melbourne in Australia. Woods and his partner, Justin Thomas, have won both their matches, and accounted for two of the team's 3.5 points. Still, the US team is losing to the International team, captained by Ernie Els, after the first two days of play.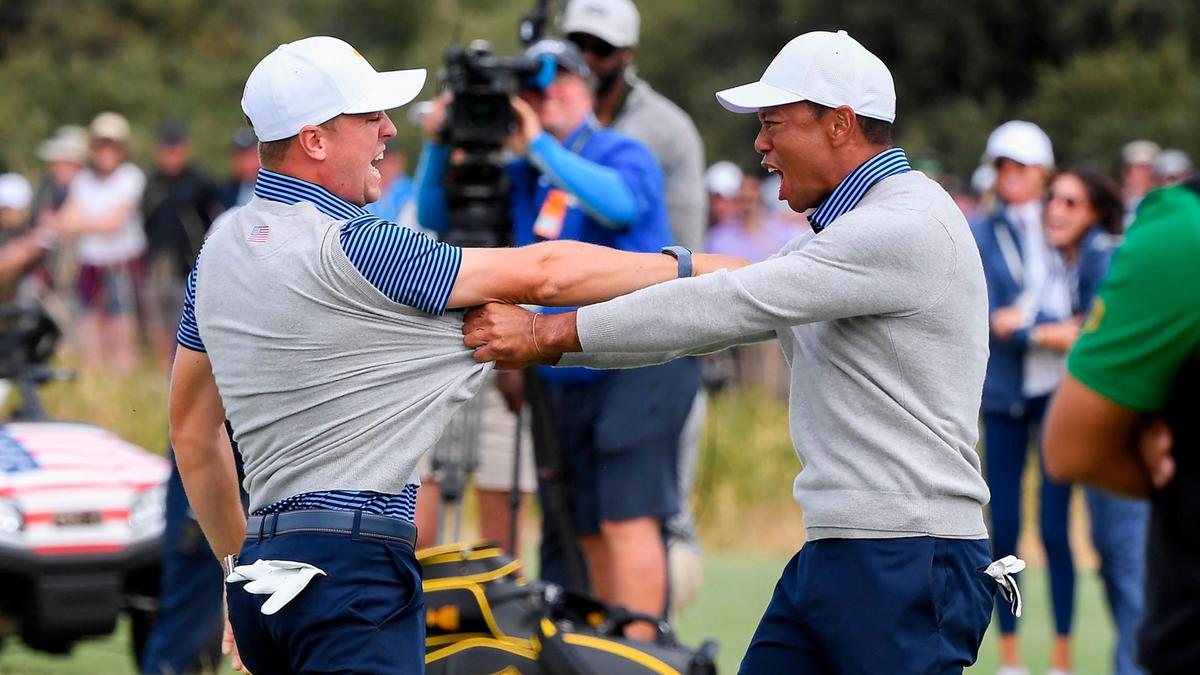 Patrick Cantlay and Xander Schauffele won their Thursday match over International team members, Joaquin Niemann and Adam Hadwin. Rickie Fowler and Gary Woodland tied Cameron Smith and Sungjae Im for a half-point on Day 2.
The International team, which was a +275 pick for the upset, now has a 6.5-3.5 lead over the US team, which was a -345 favorite. Since the event's inception, the US team has only lost one Presidents Cup. That loss occurred in 1998 and happened at the course where this year's competition is being held. The two squads tied in 2003 at the biennial matchup between the International and US teams.
Woods Taking a Break from Play
Despite being one of the best players on the US team, Woods decided to take himself out of the Friday morning four-ball matches, and Fowler will instead be paired with Thomas. Woods told reporters after Thursday's competition that he had planned on sitting out the morning, and will play in the afternoon's portion of the third day.
"That was kind of the game plan," Woods said. "It would be hard for me to go all the sessions. I've been fortunate enough to go out there with JT and we've gotten two points. JT played great and Rickie played awesome this afternoon. They have been looking forward to playing with one another. They have had success before [at the Presidents Cup], and send them back out."
One pairing that has been awful has been Patrick Reed and Webb Simpson. The duo is 0-2, and has trailed 28 of 34 holes. Woods, though, is sticking with them, sending them back out as one of the morning's four pairings.
"Well, they have paired up well and they have played well; unfortunately they just haven't won points," Woods said. "But they have done all the little things right. It's just a matter of having things go your way, and that's part of playing these team sessions. A putt here, a shot here or there, you just get outplayed, it happens."
US, International Teams Fighting for Momentum
The International team has done exactly what captain Ernie Els wanted, though he was a touch concerned about how Day 2 of the Presidents Cup ended. The International team was ahead in the five matches, but a comeback by three of the US team's members earned 2.5 points, when it looked like they would get shut out altogether.
Els told reporters after Day 2 that the comeback served as a lesson for his young team.
"This (US team) is the best. Sometimes it bites you. But you put a spear in it and bite back," Els said. "It's perspective, isn't it. I've got to look at where we are. It's easy to just look at where we could have been, because it was looking really unbelievable. But we're in a very good position."
Oddsmakers agree with Els. They have adjusted the odds to now make the International team the favorite going into Day 3. Bovada has them at -125, while the US team is at +135.