It's been 25 years since UCLA point guard, Tyus Edney, went coast-to-coast with 4.8 seconds remaining to defeat Missouri 75-74 on a buzzer-beater shot in the second round of the 1995 March Madness tournament. That sensational, last-second victory propelled #1 UCLA into the Sweet 16 as the Bruins ran the table for the rest of the tournament to secure UCLA's 11th college basketball championship. No other school in the NCAA has won more basketball championships than UCLA.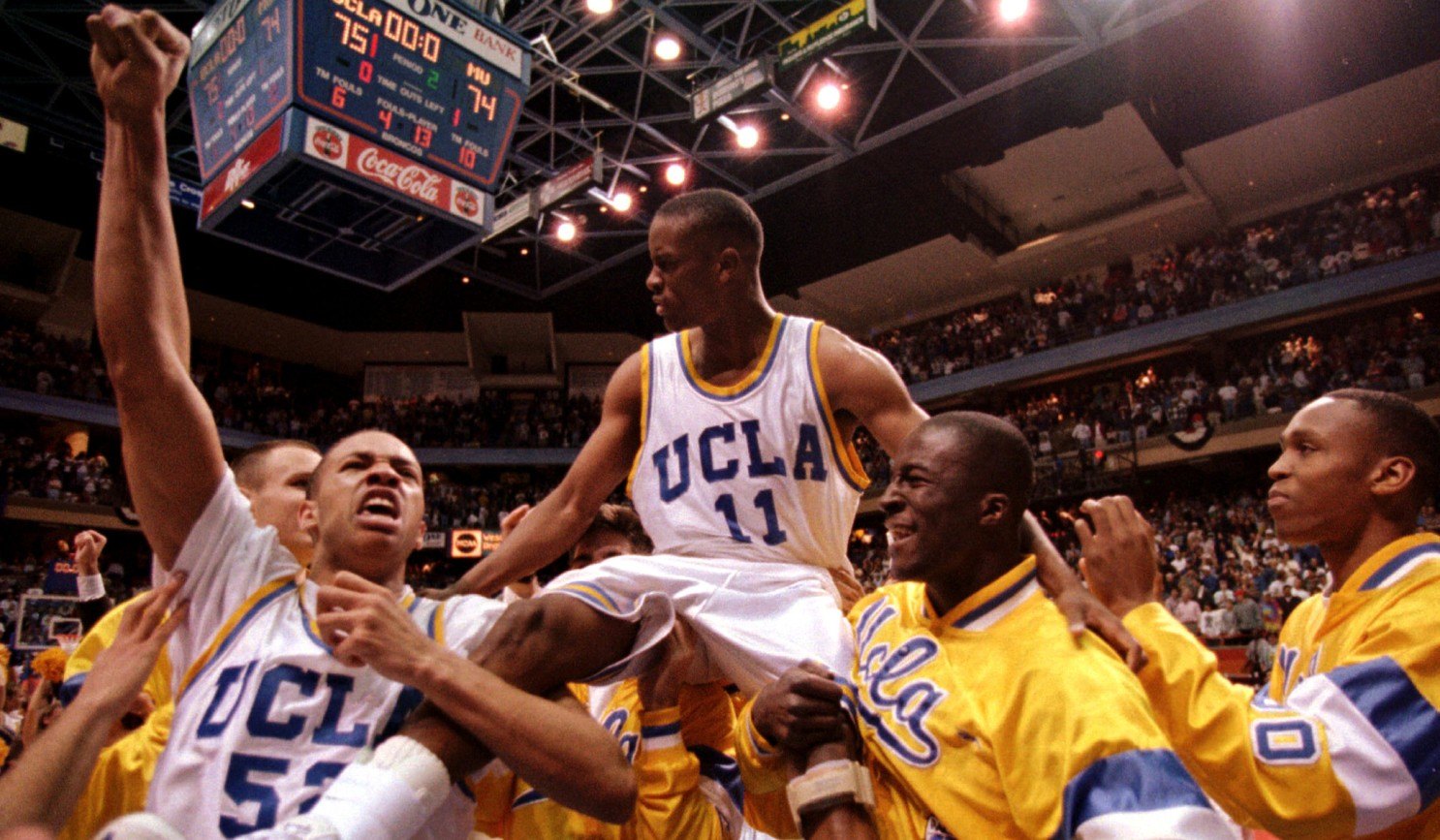 The close shave against #8 Missouri was the wake-up call UCLA needed as Jim Harrick guided the Bruins to their first national title since the John Wooden era.
In the 1995 Final Four, UCLA defeated "Big Country" Reeves and #4 Oklahoma State (ranked #14 overall) by 13 points. In the championship game, UCLA faced #2 Arkansas (ranked #6 in the country). Harrick edged out Nolan Richardson's run-and gun Arkansas Razorbacks squad by 11 points to win the title.
Jim Harrick: 1995
John Wooden: 1964, 1965, 1967, 1968, 1969, 1970, 1971, 1972, 1973, 1975
After a 20-year drought, UCLA finally hoisted the championship trophy. It would be the last time that UCLA won March Madness.
Wooden, the legendary Wizard of Westwood, won 10 men's basketball championships at the pinnacle of UCLA basketball's success between 1964 and 1975. Under Wooden, UCLA won seven consecutive championships between 1967 and 1973.
UCLA hoops saw a resurgence in the mid-2000s with three-straight Final Four appearances. They came close to winning a 12th title, but fell short as the March Madness runner-up in 2006 when the Bruins lost to Billy Donovan and the Florida Gators. The program fell into disarray since then.
32-1 in 1995
Six players on the 1995 championship team were drafted by the NBA, including two first-rounders. Ed O'Bannon went #9 overall in the 1995 NBA Draft, while George Zidek was the #22 overall pick. Tyus Edney ended up a second-round pick that year.
During the 1994-95 season, the Bruins were ranked #6 in the preseason AP Top 25 Poll. UCLA finished the season 32-1, including going 17-1 in Pac-10 conference action.
UCLA tipped off the season with a 6-0 record, which included a 1-point victory over #7 Kentucky in the John Wooden Classic at the "Pond" in Anaheim.
UCLA's sole defeat came at the start of the Pac-10 regular season with an 82-72 loss to unranked Oregon in Eugene. UCLA responded with a 26-game winning streak to cap off a championship run.
In late February, UCLA moved up to #2 in the AP Top 25 Poll after knocking off #12 Arizona and #13 Arizona State in the same week.
By the start of March, UCLA secured the #1 ranking. They also got revenge against #25 Oregon in the final game of the season with a 16-point victory at Pauley Pavilion.
Tyus Edney, 4.8 Seconds, and the 'Shot'
Edney, a 5-foot-10 point guard, grew up in Gardena, California on the outskirts of Los Angeles. He averaged 12.1 points per game in four seasons with UCLA. Edney came off the bench as a back-up point guard as a freshman and became a full-time starter as a sophomore.
During his senior season, Edney earned a co-captain position with Ed O'Bannon. Edney averaged 14.3 points, 6.8 assists, and 2.3 steals per game.
In the second round of 1995 March Madness, UCLA faced #8 Missouri (ranked #23 overall at the time). Missouri played one of their best games of the season and had UCLA on the ropes.
"We knew Missouri were a good team and they were going to be tough," said Edney. "We couldn't pull away all game. Even if we played good defense, it wasn't good enough. When they scored to go ahead, that's when the reality hit everyone. We couldn't lose this game. We all had that in mind."
"I remember thinking, could this actually be it?" said star forward Ed O'Bannon. "Are we going out like this?"
Missouri hit a go-ahead bucket with 4.8 seconds left on the clock. If they could hold off a final shot, then Missouri would upset the #1 team in the country and advance to the Sweet 16.
"In the huddle, Coach Harrick told us, 'Tyus, get the ball and go make a play for us.' And in my mind, I knew we had enough time with 4.8 seconds," said Edney. I was able to catch it on the run. At midcourt, I went behind my back and changed direction. Felt that I lost a couple guys. It just opened up, like the sea parted a bit, and instincts take over. Be aggressive and attack."
Tyus Edney banked in the buzzer-beater shot and UCLA advanced. The rest, as they say, is history.