Tyson Fury showed the full range of his boxing skills in a dominant and entertaining performance, scoring a second-round TKO victory over a thoroughly overmatched Tom Schwarz at the MGM Grand in Las Vegas.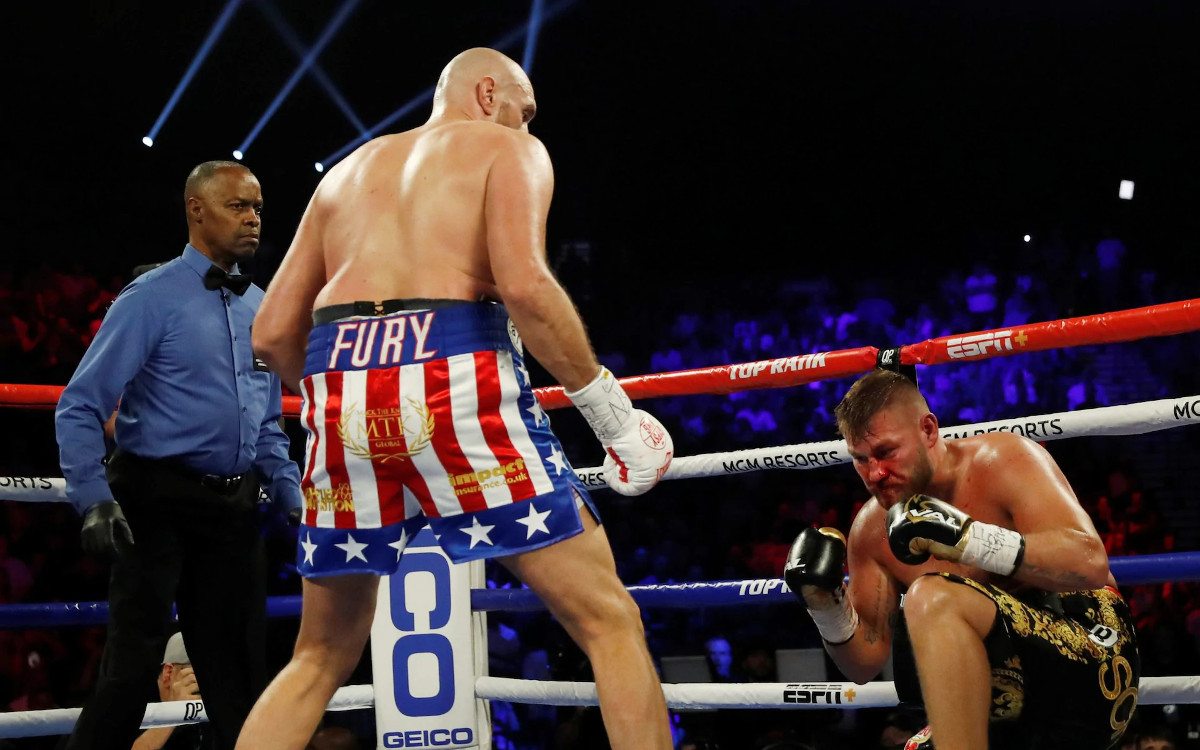 Fury was in control for the entirety of the fight, which was stopped with just seconds remaining in the second round.
Fury Puts In Comprehensive Performance
Fury (28-0-1, 20 KOs) entered the ring wearing red, white and blue trunks, coming out to the song "Living in America" in a clear homage to Apollo Creed's entrance in Rocky III. It was a sign of the attitude that the lineal heavyweight champ was carrying on the night.
In the first round, Schwarz (24-1, 16 KOs) came out tentatively, throwing few shots at Fury, who was far quicker and more elusive than the young German. Fury spent much of the round effectively feinting, drawing overreactions from Schwarz that allowed him to land jabs. While Schwarz was finally able to connect with a couple body blows late in the first, it was clear that Fury was command after the opening round.
Fury then came out in a southpaw stance for the second round, giving Schwarz another look to deal with. Schwarz would miss wildly on several occasions, and in one memorable sequence, he dropped his gloves and evaded four attempted shots to the head with movement alone, drawing cheers from the crowd.
After spinning out of the corner, Fury landed a big left and went to work, landing a combination to the head that ended with a straight left and dropped Schwarz with over 30 seconds remaining in the round.
"It was a good shot," Fury said in an in-ring interview after the fight. "It would have put anyone away."
While Schwarz got up easily, he had a large cut on his nose, and attempted to cover up in the corner to get out of the round. But Fury relentless attacked in the dying seconds, forcing the referee to step in and stop the fight with six seconds left in the second round.
According to CompuBox, Fury outlanded Schwarz by an overwhelming 45 to 6 margin in the fight.
Entertainment Continues After Fight Ends
While the result wasn't a surprise – Fury was an overwhelming favorite heading into the fight – the manner of his victory was unexpected, with most pundits predicting that he would look to outbox Schwarz for at least a few rounds before trying to end the fight. Instead, fans were treated to an electrifying performance in which Fury looked far better than in his draw with Deontay Wilder (41-0-1, 40 KOs) last December.
"The key tonight was to enjoy myself," Fury said in his post-fight interview. "I came here to put on a show for Las Vegas, and I hope everyone enjoyed it as much as I did."
Fury continued the entertainment after the bout, grabbing the mic to sing Aerosmith's "I Don't Want to Miss a Thing" to his wife Paris, which prompted a singalong from the crowd.
The result continues the march towards what could be a dramatic series of unification fights down the road in what is now a deep heavyweight division. If Wilder can beat Luis Ortiz (31-1, 26 KOs) in a rematch later this year – likely, but not a certain result – then Fury and Wilder appear to be in agreement on a rematch of their own sometime in 2020. Meanwhile, Anthony Joshua (22-1, 21 KOs) is set to invoke a rematch clause of his own after being stunned by Andy Ruiz Jr. (33-1, 22 KOs) in their heavyweight title fight earlier this month.