Martin Truex Jr. led nearly the entire race on his way to winning the First Data 500 at Martinsville Speedway on Sunday, earning him an automatic spot in the NASCAR Cup Series Championship 4.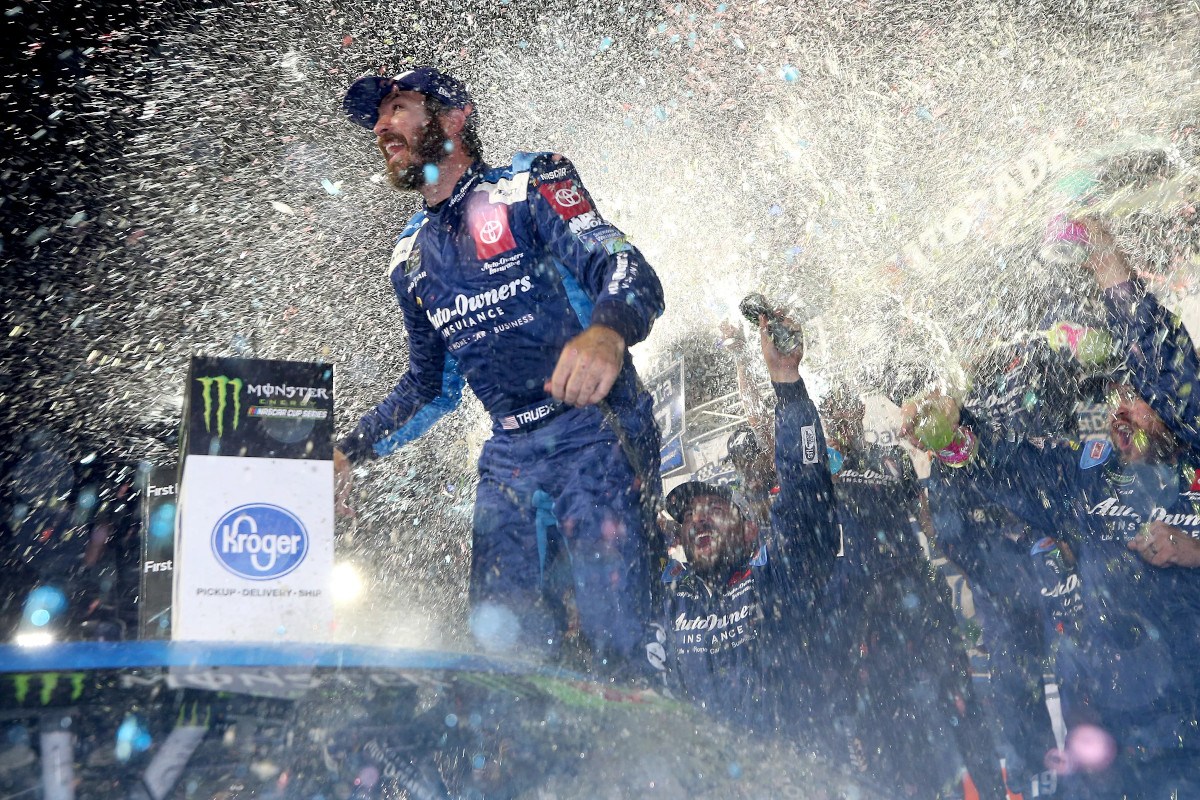 Truex held the lead for 464 of 500 laps, finishing .489 seconds ahead of William Byron to earn his seventh win of the year.
Truex Win Overshadowed by Post-Race Fight
The dominant performance came as a surprise to Truex, despite the fact that his No. 19 Toyota ran like it was clearly the best car in the field on the day.
"I don't think anyone expected that," Truex told reporters afterwards. "This race track, in general, you don't see that. Hats off to my guys. Pit crew was stellar today, and we didn't make many adjustments. We adjusted on early and it came to life, and that was a lot of fun."
Truex's victory was almost overshadowed after the race, when Joey Logano and Denny Hamlin got into an altercation. It began with a discussion over a late-race incident where the two cars made some contact in Turn 4 of Lap 458. That sent Logano's car banging into the outside wall. Soon thereafter, Logano would spin out, causing a caution.
The talk between the two drivers appeared to be going cordially until the very end, when Logano hit Hamlin on the right shoulder as he walked away. Hamlin attempted to get at Logano, but the two pit crews jumped in to keep the drivers apart.
"I understand him coming over and talking, standing there and having a discussion with him, everything was fine," Hamlin said. "I think he didn't get me agitated enough. So he said something and then pokes a little bit and then runs away, trying to get me to come so he could hide behind his guys. He's just not that tough. And he won't stand face to face."
Logano saw the situation slightly differently, though he didn't dispute the facts of the altercation.
"He just kind of came off the corner like there wasn't another car on the outside of him and ruined our day. A shot at the win for sure," Logano told reporters. "Maybe shouldn't have shoved him there at the end. I honestly just wanted to see what he was going to say, and he really wasn't apologetic at all."
Three Spots Remain in Championship 4
Logano ultimately finished in ninth place, while Hamlin finished fourth. Brad Keselowski finished third behind Truex and Byron.
The win guarantees one of the four spots in the championship contest for Truex. Hamlin now sits in second place in the playoff standings, ahead of Kyle Busch and Logano, with Kevin Harvick, Ryan Blankey, Kyle Larson, and Chase Elliott all in the running for the Championship 4. Two races remain before the championship in Miami, meaning that two more of those drivers could potentially earn automatic spots with wins.
According to Ladbrokes, Busch remains a 14/5 favorite to win the NASCAR Cup Series championship, ahead of Truex (10/3), Hamlin (9/2), and Harvick (9/2).