The Atlanta Hawks budding sophomore superstar is at it again. Trae Young scored a season-high 42 points for the Hawks during a 125-121 victory over the Denver Nuggets (7-3) in Denver.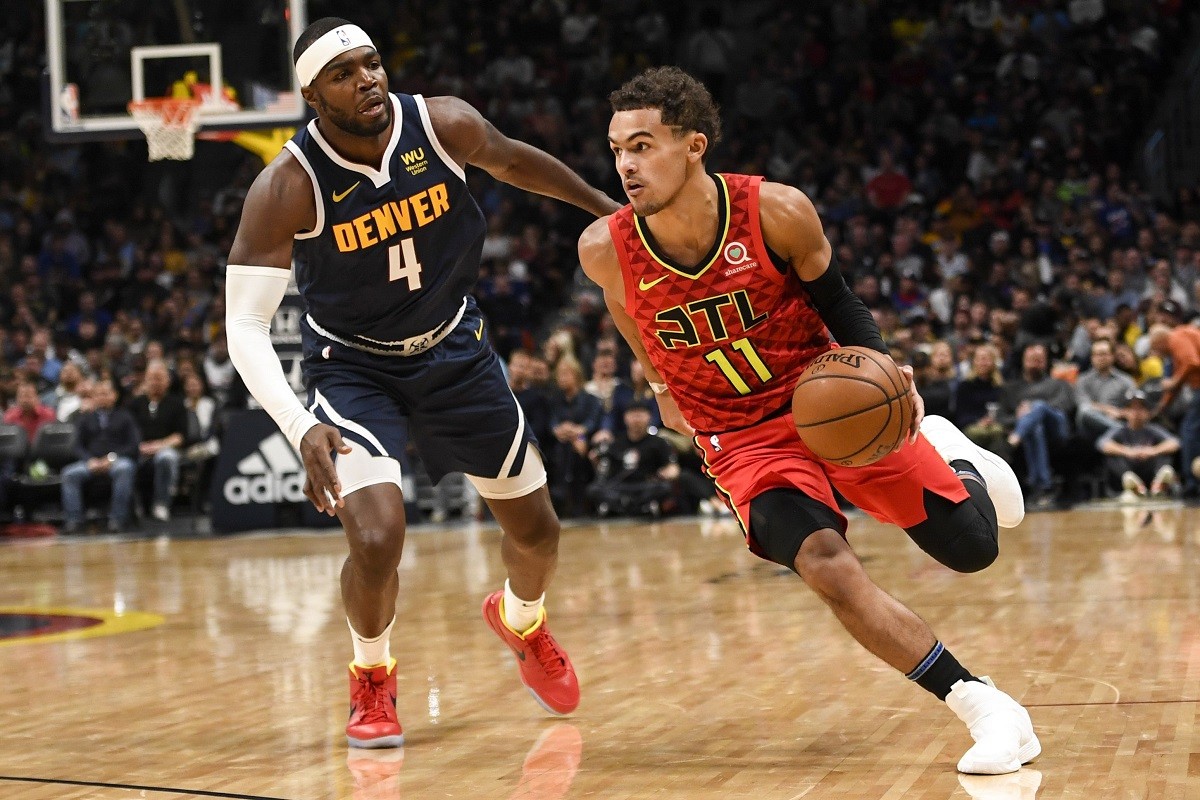 Trae Young drilled eight, three-pointers, and finished with 42 points, 11 assists and three rebounds. He outscored the combination of Willie Barton (21 points) and Nikola Jokic (20 points). After knocking down back-to-back game winners, Jokic had to step back and watch Young take over and lead the Hawks (4-6) to their fourth victory of the season.
TRAE YOUNG VS. DENVER
Minutes: 41
Points: 42
FG: 13-21
3-FG: 8-13
FT: 8-11
Other Stats: 11 assists, 4 rebounds
Young demonstrated no signs of slowing down after a sprained ankle kept him out of one game.
In nine games this season, Young is averaging 28.0 points per game. He is ranked #6 in overall scoring. He's also ranked #4 in assists with 8.7 dishes per game. Young's 27.07 PER is the 11th best in the NBA.
Trae, LBJ, and MJ
Young, 21, also recorded something only LeBron James and Michael Jordan achieved, completing his second game where he put up at least 40 points and 10 assists.
LeBron pulled off a 40/10 game four times with the Cleveland Cavs before he turned 22-years old. Jordan recorded a 40/10 game twice with the Chicago Bulls before he turned 22.
Anytime you're mentioned in the same company as Jordan and LeBron, you must be doing something right.
"I'm having a lot of fun," said Young about his 42 points. "My shots are going in right now. Hopefully that continues to happen. I'm just trying to do whatever it takes to help my team win."
Last Three En Feguo
Young has been on fire since Friday, and scored at least 30-plus points in his previous three games. He scored 30 in a loss against an up-and-coming Sacramento Kings squad on Friday.
Young dropped 35 points and outscored Damian Lillard in an overtime loss to Portland on Sunday. Young had an off night too in Portland, and missed 10 treys. He also posted a triple-double with 35 points, 10 assists, and 8 rebounds.
On Tuesday evening, Trae Young exploded for 42 points against a very good Nuggets team. He even stared down the Nuggets bench after knocking down back-to-back treys. Young specifically eyed a fan who had been hazing him all night with obscenities.
"It was just the Trae Young show for 48 minutes," said Denver Nuggets coach Mike Malone.
Young scored 25 of his game-high 42 points in the second half.
"He's capable of pulling up (to shoot) right after half court," said Denver guard Gary Harris. "He makes it tough to guard."
"It felt better because we won," said Young about his scoring outburst. "I was glad I was able to knock down some shots to help us win."
Last season, Young dropped 49 points in a quadruple overtime affair.