Though Florida sputtered at the end of the regular season, they were still named the No. 1 seed for the NCAA Baseball Tournament that begins Friday. The Gators are 8/1 to repeat as College World Series champions.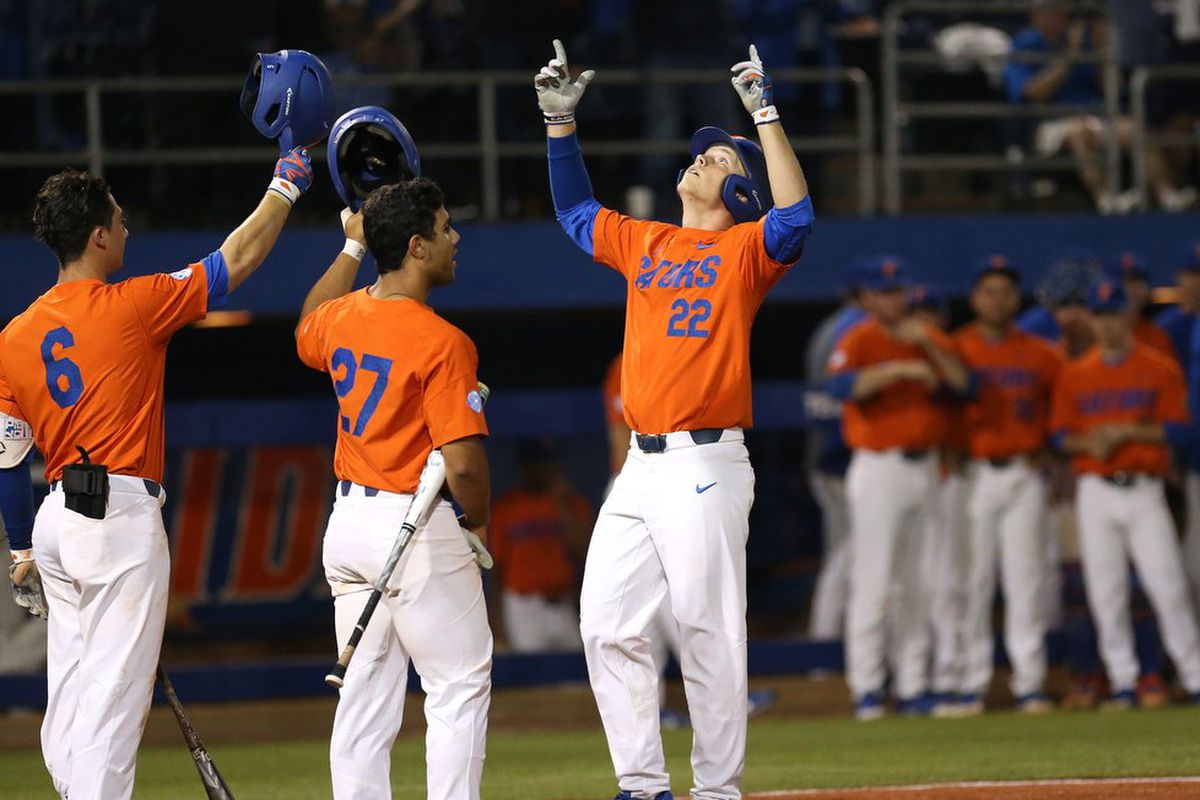 They begin their quest Friday when they host one of 16 regional tournaments that features 64 teams in all. The other universities they will face are Jacksonville State, Florida Atlantic, and Columbia. It is a round-robin, double elimination format.
If they win their grouping, they, along with 15 other programs, move on to the super regional. The eight winners of those best-of-three series advance to the College World Series in Omaha, Nebraska.
The CWS is a double-elimination format until two teams remain. They then play a best of three to determine the champion.
Of the 64 teams, 31 of them were automatic bids by winning their conference championships. The other 34 were at large bids determined by a committee.
Florida Easy Pick for No. 1
That same group of college administrators chose the Gators as the top seed based on their performance in the talent-laden SEC. Seven other teams – Georgia, Ole Miss, Arkansas, Mississippi State, LSU, Auburn and South Carolina – were also selected.
There was a hint of doubt the team would get the top seed after it lost six of its last seven games in the regular season, but NCAA Division I Baseball Committee chairman Ray Tanner told USA Today that Florida's body of work was impressive.
"They were incredible the majority of the season and didn't finish strong," said Tanner, athletic director at South Carolina. "As we were finishing up our data last week before coming to Indianapolis, I was curious to see if they were going to be a clear-cut (choice) once we got into the committee room, and they continued to be, despite not finishing the way coach (Kevin) O'Sullivan would have wanted them to finish. They clearly were the No. 1 seed with all the metrics considered."
The Gators were also the top seed in 2012 and 2016. They are the first to earn the No. 1 overall seed three times since the tournament went to its current structure in 1999.
Stanford, Oregon State Represent West
The Cardinals were named No. 2, while the Beavers come in at No. 3. Before the season began Oregon State was a 10/1 to capture the CWS.
Stanford was listed at 40/1, but compiled a 44-10 record and won the Pac-12 Conference, by two games over the Beavers.
The Cardinal was rewarded by hosting one of the tougher regionals in the tournament. Cal State Fullerton, Wright State, and Baylor will be traveling to Palo Alto.
First-year Coach David Esquer told SFGate.com he was not unhappy with his opponents.
"They're all quality opponents," Esquer said. "We know you've got to go through good people to get where we want to go."
Oregon State will also host a regional and will be joined by LSU, San Diego State and Northwestern State. LSU is the runner up in last year's CWS and Beaver Coach Pat Casey told Oregonlive.com that they won't concern themselves with the Tigers until after their opener against Northwestern State.
"It's certainly going to be a challenge, but we don't have to worry about LSU right now," Casey said. "We just have to worry about ourselves and game one."