Khabib Nurmagomedov has officially confirmed that he will not be fighting at UFC 249, a move that has Tony Ferguson saying the champion should be stripped of his title.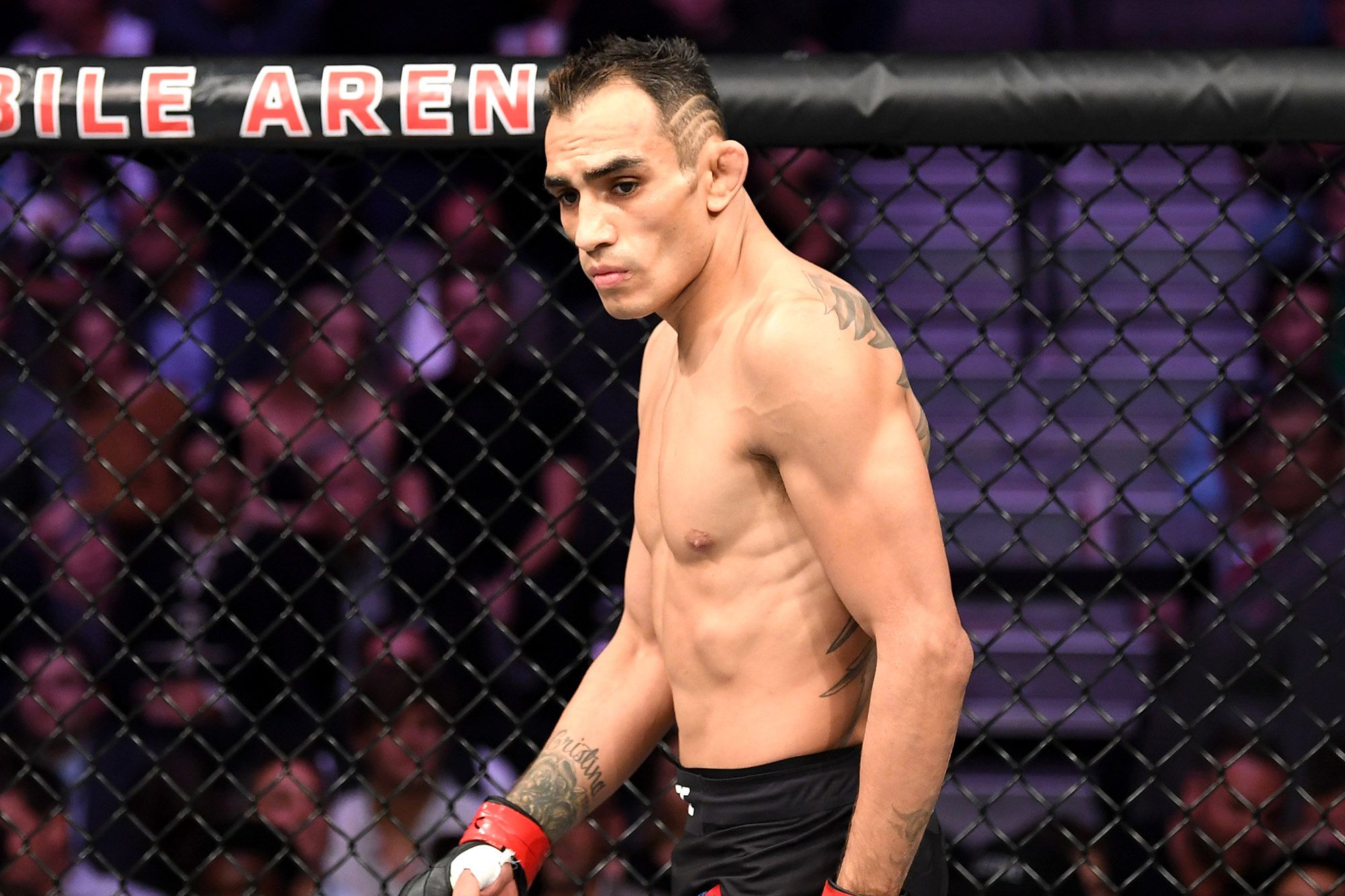 Nurmagomedov has made it clear in recent days that he doesn't see a way to fight on the April 18 card against Ferguson for the UFC lightweight championship.
Ferguson: Nurmagomedov 'Bailed Out'
Dana White is forging ahead with the UFC 249 card, despite the fact that the coronavirus pandemic has virtually shut down international travel. White recently said that the card will likely take place somewhere in the United States, meaning that Nurmagomedov – who is back in Russia – won't be able to arrive for the fight.
Ferguson has framed this as Nurmagomedov ducking the clash and says the champion should be punished for not showing up.
"He should be stripped of his title," Ferguson said on ESPN's SportsCenter. "He obviously knew what he could do to help save this card. He didn't want to take any of those chances. Everybody is taking risks trying to do it. He bailed out, man. It's pretty hard to explain, but he bailed out."
Nurmagomedov released a statement on Wednesday in which he questioned why he should have to do more than anyone else in the sports world.
"It turns out that the whole world should be in quarantine, governments of all countries, famous people around the world urge people to follow all safety requirements in order to limit the spread of the disease, to save people, and Khabib is the only one relieved of all obligations and must demonstrate free will and train flying around the world, for the sake of fight?" Nurmagomedov wrote. "I understand everything and I'm definitely upset more than you to cancel the fight, probably like all others, I had many plans after the fight, but I can't control it all."
The UFC is searching for a new opponent for Ferguson on the UFC 249 card. UFC officials have considered lightweight contender Justin Gaethje as a substitute, though Ferguson says he would rather fight Conor McGregor.
Shevchenko Injured, Out of UFC 251
Looking further down the line, Valentina Shevchenko injured her leg during her title defense against Katlyn Chookagian at UFC 247 in February and is now unavailable for a planned bout against Joanne Calderwood at UFC 251. Shevchenko told ESPN that she should be healthy and ready to fight by the end of August. Calderwood said that the delay might work out for the best.
"It could be a blessing in disguise," Calderwood told MMA Fighting. "Right now, I'm enjoying the one-to-one. I just feel like all this is happening and I'm just going to make the best out of this situation."
Jon Jones Reaches Plea Agreement
Jon Jones agreed to plead guilty to a DWI charge on Tuesday, allowing him to avoid jail time provided he abides by the terms of his agreement.
According to the Bernalillo County, New Mexico, district attorney's office, Jones must serve 96 hours in a county community custody program. He must also pay a $500 fine, take part in an outpatient treatment program, and complete 48 hours of community service. A judge must still approve the agreement before it can go into effect.
"While we all work to understand and cope with stress and uncertainties surrounding the current state of our world, I want to express how truly disappointed I am that I have become the source of a negative headline again, especially during these trying times," Jones said in a statement.