TJ Dillashaw told ESPN on Monday that he would be willing to put his UFC bantamweight title on the line in order to get a rematch with flyweight champion Henry Cejudo.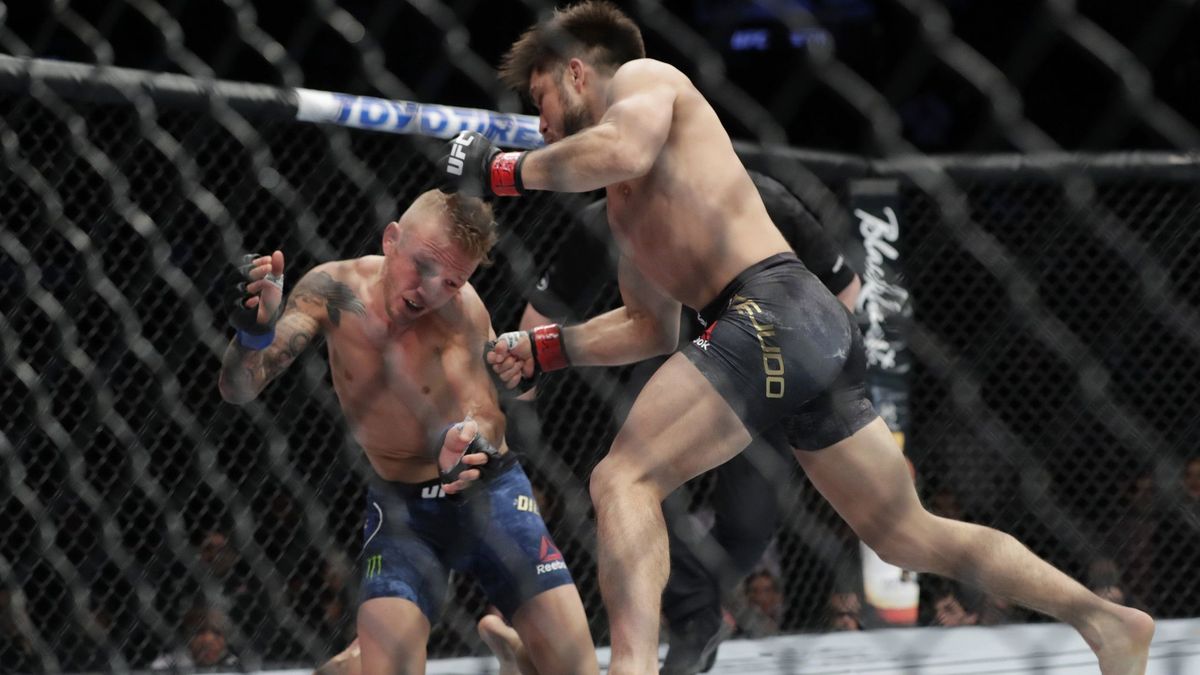 Those comments came just two days after Cejudo stopped Dillashaw just 32 seconds into their flyweight championship bout on Saturday night during the main event of UFC Fight Night in Brooklyn.
Early Stoppage Leaves Dillashaw Unsatisfied
That stoppage wasn't without controversy. While Cejudo had knocked Dillashaw to the ground with a hard right hand, then landed several more clean strikes while Dillashaw was on the mat, many still felt that referee Kevin MacDonald stopped the fight too early, without giving Dillashaw a chance to recover.
Dillashaw himself said that he hadn't been hurt badly by the early onslaught, and that he was looking to grapple with Cejudo in an attempt to get out of danger.
"I've earned the right to fight until I can't physically go anymore," Dillashaw told ESPN on Monday. "That was taken from me Saturday night. It needs to be made right by running it back."
That view was backed up by UFC president Dana White, who said immediately after the fight that he felt MacDonald's decision was "a bad stoppage."
"You're talking about two of the best fighters in the world, two world champions," White told ESPN. "I'm not taking anything away from Cejudo, because Cejudo went out there and started busting him up…but in a fight like that, you gotta let the guy win or lose the fight."
Even Cejudo's coach Eric Albarracin conceded that the fight could have gone longer, though he doubted it would have impacted the outcome.
"Obviously anything could've went a little bit longer, but I think the result might've been the same, would've been the same, probably just more damage on him," Albarracin said on The MMA Hour.
Both Fighters Eager for Rematch
In comments made in the Octagon after the fight, Cejudo committed to a rematch, but this time at bantamweight.
"TJ, we'll do it again," Cejudo said. "This time we'll go to 135. Thank you for the opportunity. I know the weight cut was a lot. I'll give you another shot at 135 pounds."
In the moment, an angry Dillashaw called for a rematch at flyweight. But by Monday, he said he was open to fighting at either weight.
"I'm open to whatever because that's the situation I'm in," Dillashaw told Ariel Helwani. "But if it was up to me, I would fight him tomorrow at 125. I'll make the weight tomorrow, I don't even care. I want that fight. I want to prove the work I put in and the science behind my weight cut and everything that I've done is there."
Dillashaw came into Saturday's fight as a clear favorite to become only the fourth simultaneous two-division champion in UFC history. If a rematch is held at bantamweight, Cejudo could have the same opportunity. So far, bookmakers haven't put up odds on a potential rematch, and the odds could conceivably be different depending on the weight at which the fight was held.