Even in a backward Triple Crown year like 2020, a performance like Tiz the Law's Belmont Stakes victory Saturday means his Kentucky Derby futures odds can go only one direction. And down they went, to +275 at Circa Sports and +250 at William Hill-Nevada.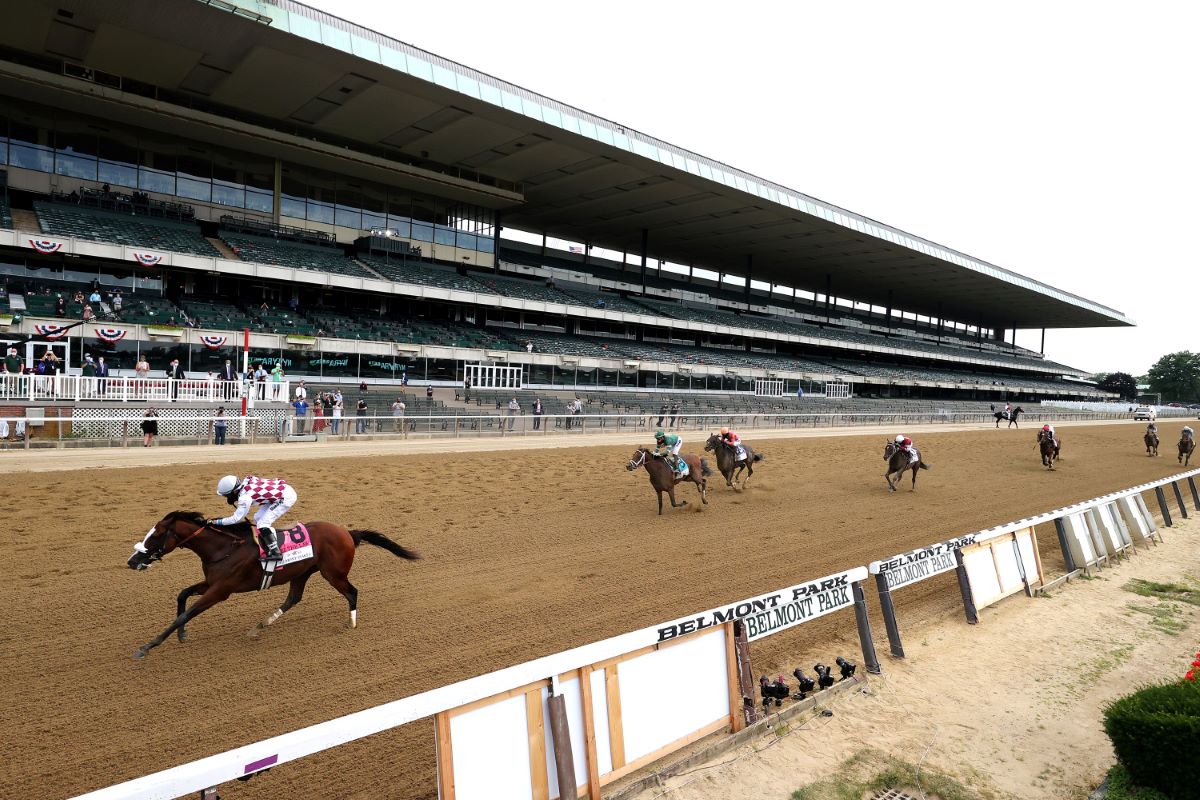 This inevitable drop from 4/1 was brought to you by Tiz the Law's four-length victory when he became the first New York-bred horse to win the Belmont in 138 years. And as low are those are – keep in mind Tiz the Law opened 20/1 last fall at William Hill – they're better than the best overseas books. Oddschecker reports the best price at a European book is +175.
Circa Sports' "no bets," where you bet against a horse to win laying odds, moved as well. Tiz the Law now sits at -385, for bettors who aren't convinced he can sustain his dominance through the summer.
Tiz the Law now sits as the lone favorite, a title he previously shared with Santa Anita Derby winner Honor A.P. That colt, who opened 50/1 at William Hill, stayed put as the second favorite at +545 at Circa, dropped to 7/2 at William Hill, and held at 5/1 on Oddschecker. He didn't run in the Belmont and sits at -865 as a "no" bet at Circa.
Only Three Horses Remain in Single-Digits
The horse Honor A.P. beat in that Santa Anita Derby, Authentic, stayed put at +560 at Circa and 5/1 at William Hill. You can find him at 11/1 at some books in Europe, according to Oddschecker. He's the only other horse in single-digits. You could have gotten the Bob Baffert-trained Authentic – the only remaining Derby hopeful from Baffert's once-formidable Big Three of Authentic, Nadal, and Charlatan – at 75/1 last fall. He is -905 on Circa's "no" board.
Then there's Cezanne, who also passed up the Belmont. Circa Sports' Paul Zilm bumped his odds up a tick, from 12/1 to 13/1. He did, however, drop to 20/1 at William Hill. You can get Baffert's colt, with just one race under his belt, at 16/1 overseas. Because of Baffert and because of Cezanne's $3.6 million price tag, he remains the X-factor among Derby hopefuls.
He's a horse that bettors don't want to pass up for the proverbial FOMO — fear of missing out. That explains why horseplayers hammered his opening 55/1 number at Circa down to 25/1 inside of 48 hours. But he's also a horse who remains nothing but potential. With the Kentucky Derby occurring on Sept. 5, Cezanne has yet to run a Derby prep.
Horses Don't Have to Run to Prompt Odds Movement
Expect this kind of movement throughout the Derby Trail, where even horses that don't run a particular prep race spark market movement. That's because horses who did run a particular prep will skew the odds one way or another – depending on their performance.
Exhibit A from Saturday's Belmont — Dr Post. The Todd Pletcher trainee, considered one of the "wise guy" plays throughout Belmont week, finished a credible second. This took his odds down to 18/1 at Circa and 16/1 at William Hill, where he opened at 100/1 last fall. Oddschecker has him at 14/1.
As a fast stalker/closer, Dr Post punctuated his rise up the Derby hopefuls list as the type of horse who could – given the perfect trip – be an upset candidate. Meanwhile, he fell to -2,400 on Circa's "no" board.
On the flip side is Sole Volante. Due to a relative lack of early speed, the deep, fast closer — and 9/2 second-favorite — didn't get the trip he needed. That mandated he stay closer to the pack, which negates Sole Volante's biggest weapon – his closing speed and ability to pick off tired horses. He couldn't summon it Saturday, finishing a distant sixth.
As a result, oddsmakers summoned reasons to raise Sole Volante's Derby odds. He's sitting at 35/1 at Circa and William Hill, holding steady at 33/1 on Oddschecker. In February, Sole Volante was as low as 18/1 at William Hill.