Oddsmakers have Tiger Woods as the third choice to win the US Open, but bettors are backing the 15-time major championship winner. Woods has odds of 10/1, along with Rory McIlroy, but is behind Brooks Koepka at 8/1, and top pick Dustin Johnson at 7.1,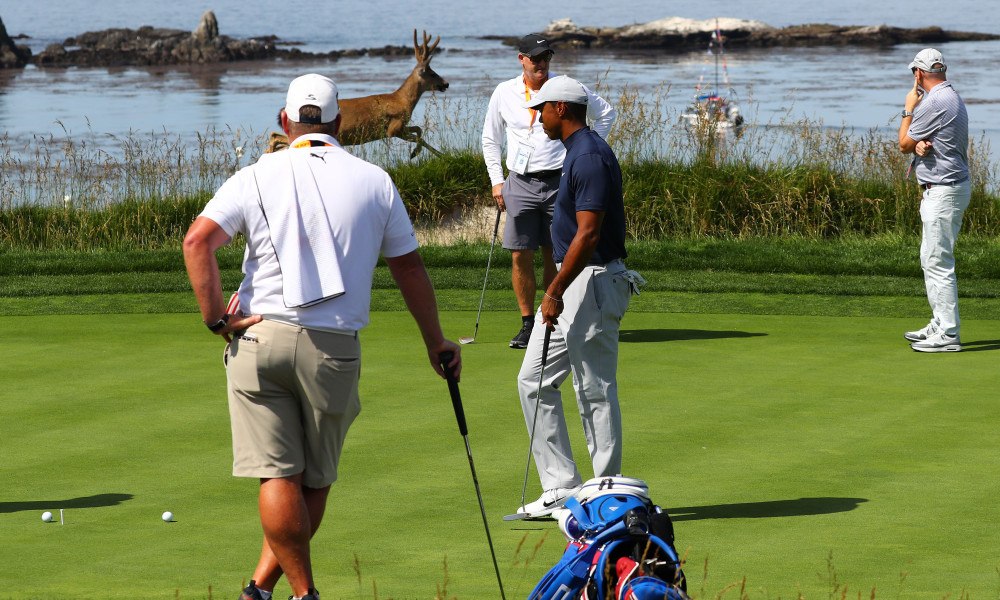 Jeff Sherman, vice president of risk management for the Westgate Las Vegas SuperBook, posted on Twitter that not only is Woods the leader in ticket count, but also money wagered. Johnson is next as far as ticket count, while Jordan Spieth at 16/1, has the second most money bet.
Robert Cooper, who is with sportsbetting.ag, told Forbes.com that Woods is also their customers' top pick.
"Tiger is again dominating the wagering with the most money and bets coming in on him across all offerings," Cooper said. "The squarer bettors are still fading Spieth, which might end up being a mistake. Overall, the handle has already surpassed what we did for the PGA Championship as bettors seem to be pumped for Pebble Beach."
Tiger Feels Ready
Woods is trying to win his 16th major, second this year. He said he learned his lessons in preparation for the US Open, and didn't make the same mistake that he did for the PGA Championship.
After winning the Masters, Woods didn't play until the PGA Championship. Usually he plays at least one event before a major. He got to the PGA Championship at Bethpage Black in New York, and was rusty. He ended up shooting two over-par rounds and missed the cut.
For the US Open at Pebble Beach, which was the site of his most dominating major championship victory, Woods played two weeks ago at the Memorial. He got a lot of practice in, even playing at Pebble on Sunday. But Woods knows he isn't the same golfer he was almost two decades ago.
"It's not the same body that I had back in 2000," Woods said. "I don't think any of us have the same body we had 19 years ago. But that is — athletically, that's one of the challenges. How do you compete against kids that were born — for me, born in the 2000s? They were born after I won this damn tournament."
Special Bets for Woods
The Westgate, as well as other sportsbooks, have made Woods the focus of several of their prop bets. They have nine Woods-specific wagers.
First off is if he will win, and that has odds of 10/1 for yes, and -2000 for no. The lines are a bit more positive on whether he will make the cut or not. Yes is -600, and no is +425.
Where Woods will finish is the subject of three bets. Placing top 5 or better is +250 yes, and -310 no. The top 10 is +120 yes, -140 no, and top 20 is -220 yes, +180 no.
Betting on whether his tee shot on No. 1 on Thursday will find the fairway is -160 for yes, and +140 no. His over/under for lowest round is 68.5, with the over at-150, and the under +130.
Three final bets focus on whether he will have the lead after each of the first three rounds. Having the lead after round one is yes+2000, and no -10000. Having the lead after two rounds is +1600 yes, -6000 no. Grabbing the top spot after three rounds is +1200 yes, -3000 no.