Tiger Woods came to the Open Championship on Sunday morning, going from his private plane to Royal Portrush. The 43-year-old wanted to get his first look at the course, playing a practice round with Ryder Cup partner Patrick Reed.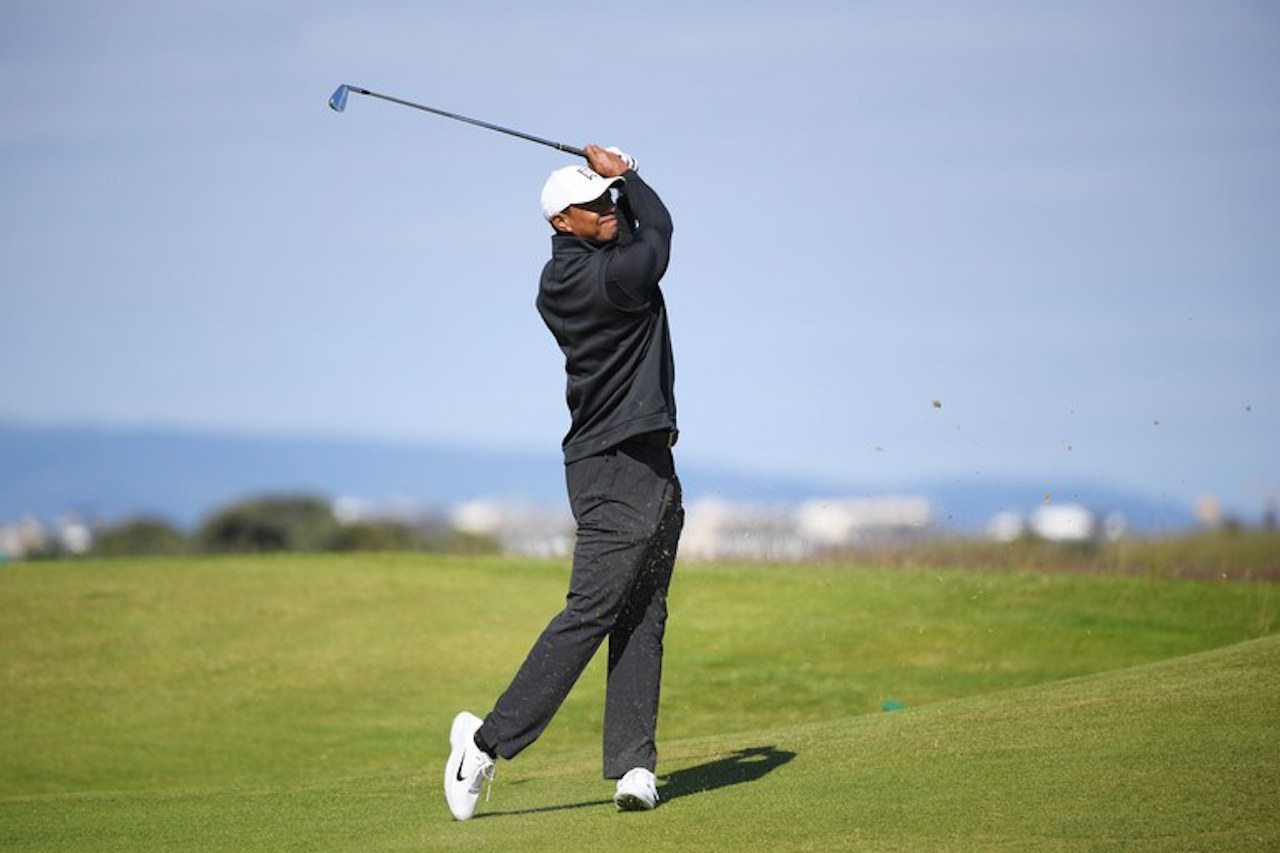 During the round, Woods focused on chipping and putting. Afterwards, he was met by reporters who grilled him about not playing since finishing tied for 21st at the US Open.
Woods — who is 18/1 to win this week's Open Championship — told the press that he had planned the rest, and it has nothing to do with any injury.
"The break is always great for my golf, especially now," Woods said. "I said last year I wouldn't be playing as much this year, and it's going to turn out that way."
After the US Open, Woods took his children and mother to a two-week vacation in Thailand. It was a trip that was important to Woods on many levels.
"We had the greatest time," Woods said. "Sam's birthday was over there. We rode elephants, went on a safari, visited the islands. "They understand the culture there a little bit more, the things they didn't really know about. It was pretty cool for them to experience that at such a young age. It was an experience, especially since my mom's health is diminishing and we're not sure how many times she can do this."
While Woods was confident the break will help his game, others aren't quite so sure. Padraig Harrington expressed his doubts recently, as did former European Ryder Cup Captain Paul McGinley in a weekly column he writes for the Times.
"I wouldn't rush to put any money on Tiger Woods," McGinley wrote. "I don't understand what's going on with the Masters champion. Since April, he has entered just one tournament outside the majors — the Memorial in late May. That is bizarre. There must be something physically amiss we don't know about because even in the zenith of his career 20 years ago he couldn't have expected to contend for the big championships with so few competitive rounds under his belt."
Howell Withdrawal Mystery
Charles Howell looked like he had some momentum going into this week, but he abruptly pulled out of the Open Championship on Monday. The Royal and Ancient, which is the ruling body of European golf, did not give a reason for his withdrawal.
After finishing sixth at Sunday's John Deere Classic, his best finish since February, he told reporters he was excited about playing in the major.
"It's a place I've never been," Howell said.  "It's a place I'm excited to see and learn it."
The a day later came the news that he wasn't playing. He obviously wasn't injured, so that can be safely ruled out. A reason, though, could be his performance at Open Championships. He has played just two of the past seven Open Championships. He missed the cut in 2016 and '17. In 2014, he also withdrew before the championship.
Oddsmakers had Howell at 250/1 to win. Brian Harman will replace Howell in the field. He is listed at 200/1.
Mickelson Slims Down
Phil Mickelson decided he needed to be in better shape for tournament golf, and went on a six-day fast, drinking only water and coffee. The 49-year-old shed 15 pounds going into the Open, and said on Instagram he feels great.
"The last 10 days I've done what I call a hard reset to try and change and make things better," Mickelson said. "I don't know if it's going to help me play better or not, but I am willing to do whatever it takes to get my best back."
Mickelson's results in the previous three majors were dismal. He finished tied for 18th at the Masters, and followed that up with a tie for 71st at the PGA Championship, and a tie for 52nd at the US Open. He is 100/1 to win.