After a poor outing at the BMW Championship, Tiger Woods' golf season is over. The defending champion of the Tour Championship won't be there next week. The 43-year-old failed to make the top 30 at Sunday's BMW Championship, and will not be moving on to Eastlake Golf Club for the season-ending event.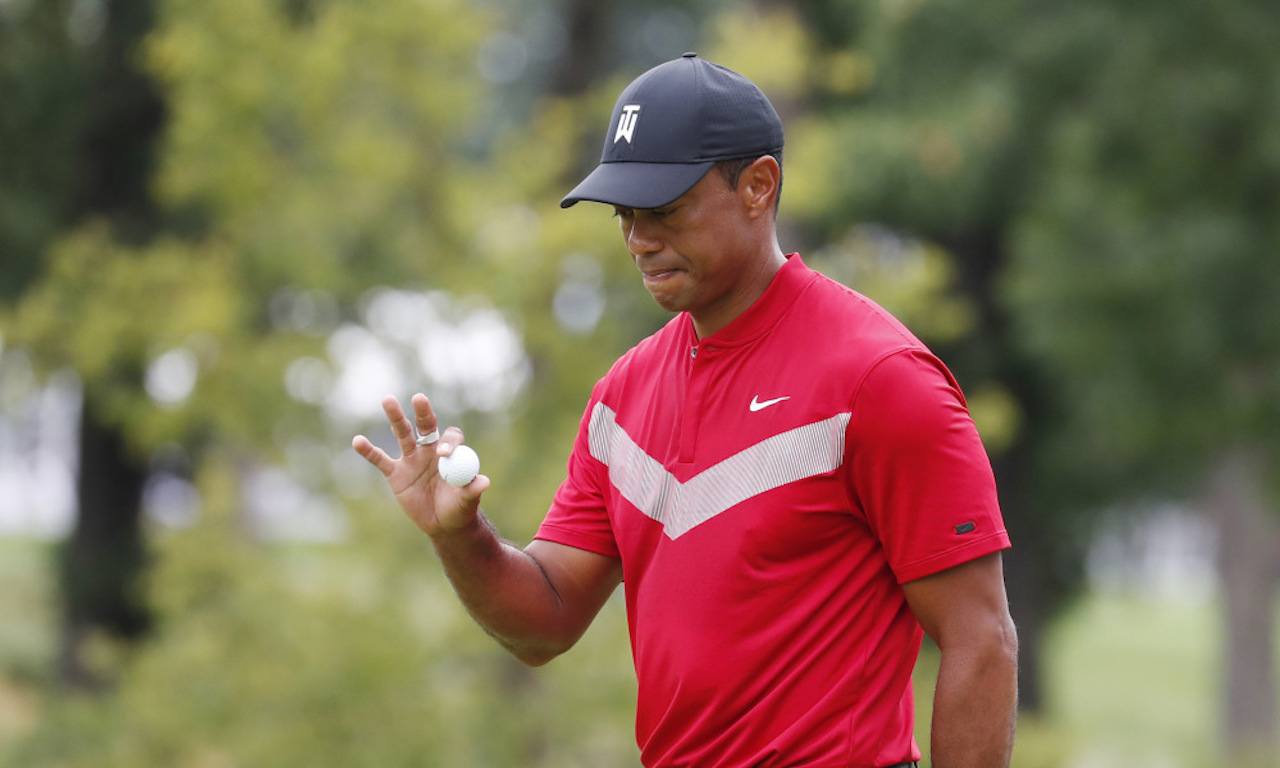 It was there last year where Woods began his incredible comeback. He won the event by two strokes, and signaled to the world that he had recovered from his fourth back surgery.
"It's disappointing," Woods said of not being able to defend his title next week in the Tour Championship. "Last year culminated in a pretty special moment for me and it would have been nice to go back there, but I'll be watching the guys on TV."
Unable to Gain Ground
Woods began the BMW Championship in 38th place, needing to move up eight spots to play this Thursday. He was at 40/1 to win the tournament. After two opening rounds of 1-under par, he fell 12 strokes behind then-leader Hideki Matsuyama, and could never recover. He ended up tied for 37th at the event, and fell to 42nd in the FedEx Cup standings.
"Little bit frustrating," Woods said. "I didn't have the short game I needed to make a run. I made too many bogeys around the greens. … The short game was most disappointing. I wasn't very good."
The reason, Woods said, is still a mystery.
"I don't know if it's reps or not," Woods said. "I didn't have a feel for what I needed to do this week. I struggled out of the bunkers this week, especially today. … I misjudged the sand. Some were hard, some had some softness to it. I thought the rain would have made them all pretty firm, but I had a hard time getting the feel for it, for sure."
Offseason Begins Now
There will be about two months for Woods to figure it out. He isn't scheduled to play in a tournament until the ZOZO Championship in late October. That event will be held in Japan, and he has agreed to play in an exhibition match with Rory McIlroy, Jason Day, and Hideki Maysuyama three days before the ZOZO Championship.
Woods said getting stronger will be a focus for him between now and October.
"Right now, the most important thing is fitness for sure," Woods said. "Keep going the way I'm going right now because I need to get a little bit stronger in certain body parts. Activate different areas. I need to get those parts stronger for sure and then start building up my game for Japan."
Disappointment at Betting Window
While Tigermania happened at the first major championship of 2019, he disappointed his backers at the other three majors. He was 12/1 to win the Green Jacket, but missed the cut at the PGA Championship as the 8/1 favorite. He was the third pick at the US Open at 9/1, but finished tied for 21st there.
At the Open Championship, Woods did not play in any tournament between the US Open and the final major of the year. He was the fourth selection at 18/1, and missed the cut. He admitted then that winning the Masters had taken a toll on him, and he was looking forward to resting his body.
Despite his performance in the majors he is at 14/1 to win the 2020 Masters. Brooks Koepka is first at 9/1. Woods, along with Dustin Johnson and Rory McIlroy are next.