Tiger Woods was looking for a little advice before the Open Championship, and thought who better to get it from than Brooks Koepka. Koepka's caddie, Ricky Elliott, lives in the town where Royal Portrush is, and could have helped out Woods and his caddie, Joe LaCava. Neither of them had ever been on the Northern Ireland golf course.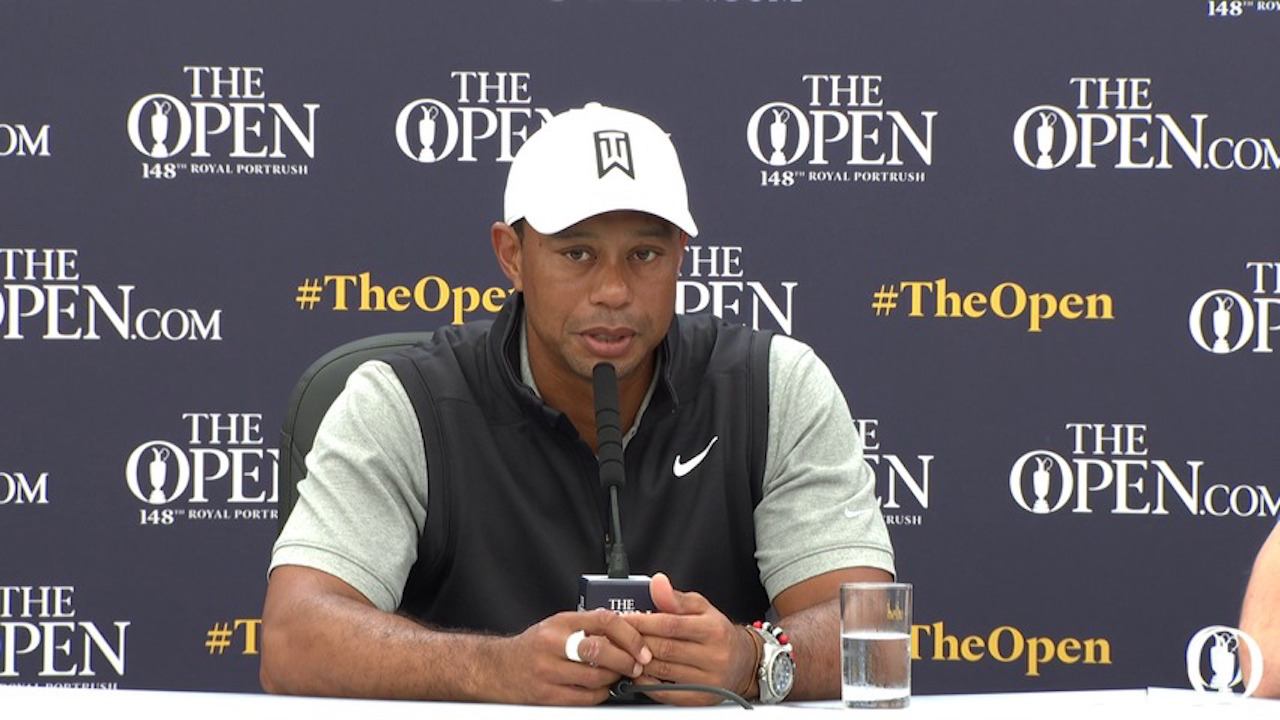 In the seven times Woods has played an Open Championship layout for the first time, he has had mixed results. He won at Royal Liverpool in 2006, but missed the cut in 2009 at Turnberry.
So Woods was hoping for an assist from Koepka, and more importantly, his caddie. Only problem was Koepka decided to stiff arm the 43-year-old.
"I said, 'Hey, dude, do you mind if I tag along and play a practice round?'" Woods said, breaking into a smile. "I've heard nothing."
Woods did say that he and LaCava have done some homework, and are starting to discover some nuances about Royal Portrush.
"I've seen enough of it to understand that I'm still going to have to do quite a bit of homework in my yardage book of trying to figure out how I'm going to play each hole with the different winds that are going to be predicted to blow, and where to miss the golf ball in the correct spots," Woods said.
Sweep Possible for Americans
The Open Championship could be the fourth consecutive major championship won by an American golfer. That feat hasn't been accomplished since 1982 when Craig Stadler (Masters), Tom Watson (US Open, Open Championship), and Ray Floyd (PGA Championship) took all four majors.
Last year Americans came to the Open Championship, after Patrick Reed and Koepka won the first two majors, the Masters and the US Open. Italy's Francesco Molinari broke the streak, though, winning the Open Championship by two strokes.
Rose Critical of Major Dates
Though Justin Rose finished tied for third at the US Open, the Englishman said having four majors in four months is not good for the game. He told reporters Tuesday at the Open Championship, where he is listed at 20/1 to win, that it is too much.
"One major a month, really, I think is too—in my opinion—they're too soon," Rose said. "It's too condensed. Just as a professional in terms of trying to peak for something, the process that's involved in trying to do that can be detailed, and it can be longer than a month. So that's my reasoning for that."
Rose, who finished tied for second at last year's Open, has not played since the US Open, saying he was trying to take some time off to mentally prepare for the major.
"There's pressure with catching up with family, and wanting to catch up with family; those weeks are precious," Rose said. "It's just a balance at that point in terms of professional, strategy in terms of preparing for it, and then also just lifestyle and having a life and seeing family and friends that you haven't seen for a long time."
The PGA Championship moved from its August date to May for the first time this year, and Rose said it has been an adjustment.
"For me, a major championship should be the things that are protected the most," Rose said. "That's how all of our careers ultimately are going to be measured. Thirty, 40 years ago there wasn't a Fed Ex Cup, so if you're trying to compare one career to another career, Jack versus Tiger, it's the majors that are the benchmarks. For them to be tweaked so much I think is quite interesting at this point."