This week's Thursday night NFL game features the New York Giants visiting the New England Patriots in what's expected to be a rout, as the Patriots are listed as 17-point favorites. That line makes it apparent that, in Thursday night showdown cash games, DFS players should focus on New England, likely rostering five Patriots players and just the one minimum Giant.
You can be different and draft your lineups in tournaments in anticipation of a Giants upset and, if you're right, you'll have a chance at the big money. But, I'd be surprised if the winning tournament lineups don't feature Patriots players, with many ties on top of the leaderboard.
Here are some players to consider for this Thursday night's showdown: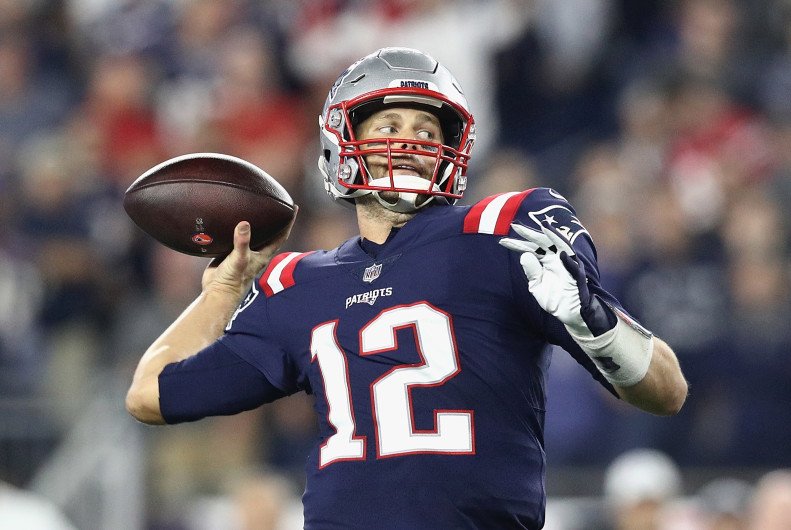 Tom Brady, Patriots QB
"Tom Terrific" still has some life in that 42-year-old right arm, having tossed for more than 300 yards in three games this year, with 10 touchdowns and two interceptions. Meanwhile, the Giants rank 28th in pass defense so far in 2019 . There's a good chance Brady will be the highest-scoring player on the slate, and should probably be slotted as captain in cash games.
Julian Edelman, Patriots WR
While Edelman is listed as questionable, experts expect him to play Thursday. He was a limited participant in Tuesday's practice, but he faced the same chest injury in Week 5 and still played, logging eight receptions for 110 yards and a TD. He should be more mobile this week, and a frequent target of Brady's passes.
James White, Patriots RB
Sony Michel may get more carries, but White is a reception magnet, tying Edelman for the team lead in targets last week with nine. On the year, he's averaging nearly six catches per game, making him especially valuable in DraftKings and its point-per-reception format. He's only scored one TD, however, which is deflating his salary and making him a good value for when variance works in his favor.
Golden Tate, Giants WR
Tate returned from injury last week, logging three catches for 13 yards in his first game of the 2019 season. With top receiver Sterling Shepard out this week, and tight end Evan Engram also questionable, Tate could see a ton of usage against the Patriots. While it's not likely the Giants will march up and down the field, Tate could catch a lot of balls and be particularly valuable in PPR formats. You've got to play at least one Giant in the Thursday night showdown, so Tate is a solid option.