The Minnesota Vikings (1-1-1) visit Hollywood to take on the undefeated LA Rams (3-0) in what could be a preview of the NFC Championship game. These teams met each other last season during a Week 11 matchup in Minnesota, where the Vikings defeated the Rams 24-7.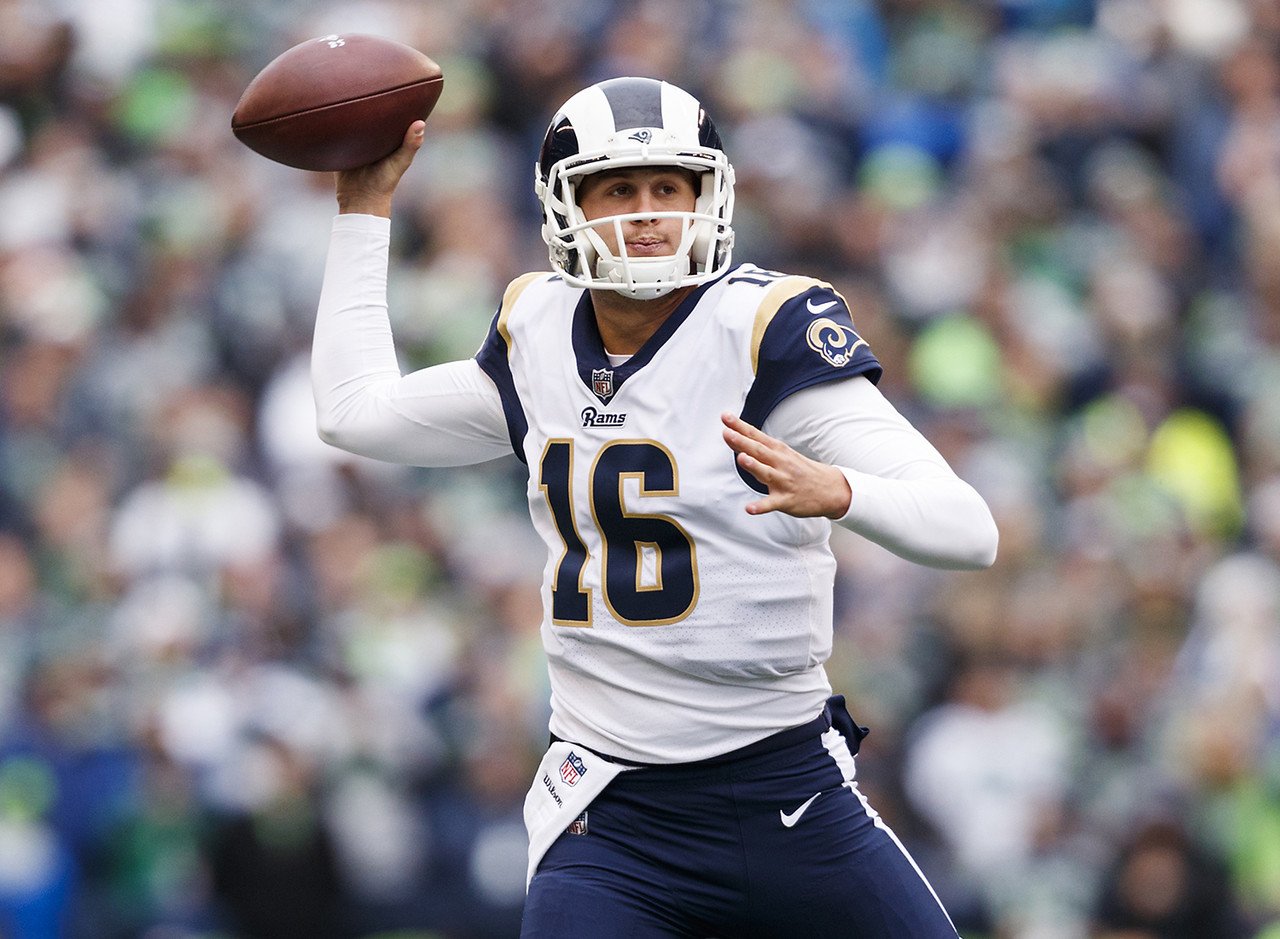 The line opened Rams -6.5. The Rams boast the top-ranked defense (12.0 ppg) and fourth-best overall offense (34 ppg).
Both LA teams faced each other in Week 3, and the Rams defeated the Chargers 35-23. The Rams have scored at least 33 points per game this season and had a margin of victory of at least 12 points in all of their games.
By contrast, the Vikings are coming off an embarrassing 27-6 loss at home to the Buffalo Bills. The Vikes D could not stop rookie QB Josh Allen, who led the Bills to their first win of the season.
Minnesota Vikings (1-1-1) at LA Rams (3-0)
Kickoff: 8:20 pm ET on Thursday, Sept. 27
TV: NFL Channel
Spread: Rams -6.5
O/U: 49
Air Goff Unstoppable
Rams coach Sean McVay's offensive schemes make QB Jared Goff look like a Hall of Famer. Goff is coming off back-to-back games with at least 350 yards passing and a 75 percent completion rate, a rare feat accomplished by quarterbacks on only 3 other occasions in history
Whenever Goff throws 300+ yards or more in a game, the Rams are undefeated with a 7-0 record and an average margin of victory of 22 points.
Injured Rams Secondary
The Rams secondary took a huge hit after losing cornerbacks Aqib Talib and Marcus Peters to injuries in Week 3. Talib is slated for ankle surgery and will be out indefinitely. Peters is listed as day-to-day with a calf injury.
But the Rams have a deep bench. Nickell Robey-Coleman, Sam Shields and Troy Hill came off the bench in last week's victory. They will be tasked with stopping the Vikes' dynamic receiving duo of Adam Thielen and Stefon Diggs.
Vikings Bounceback?
Over the next two weeks, the Vikings (1-1-1) are on the road against two of the top teams in the NFC. After facing the Rams on a short week, they fly out to Philadelphia next Sunday for a showdown against the Super Bowl Champions.
QB Kirk Cousins (7 TDs, 2 INT) will try to exploit the Rams banged-up secondary. Cousins is 4th overall in total yards passing, yet 19th overall in average yards per pass (6.95). Cousins relies on short passes and screens instead of attacking downfield.
WRs Adam Thielen and Stefan Diggs only have 4 combined TDs through Week 3. Thielen is ranked 2nd overall with 32 receptions. Diggs only has 16 receptions, but he hauled in 3 TDs. RB Dalvin Cook is also expected to return for Week 4 after sustaining a hamstring injury.
The Vikes cut kicker Daniel Larson after he missed 3 FGs against Green Bay during an overtime game in Week 2. The Vikes added veteran kicker Dan Bailey to the roster last week, but he had no attempts against the Bills.