A pair of 4-3 teams square off on Thursday Night Football. Backup QB Brock Osweiler returns to Houston to lead the Miami Dolphins in battle against the Houston Texans.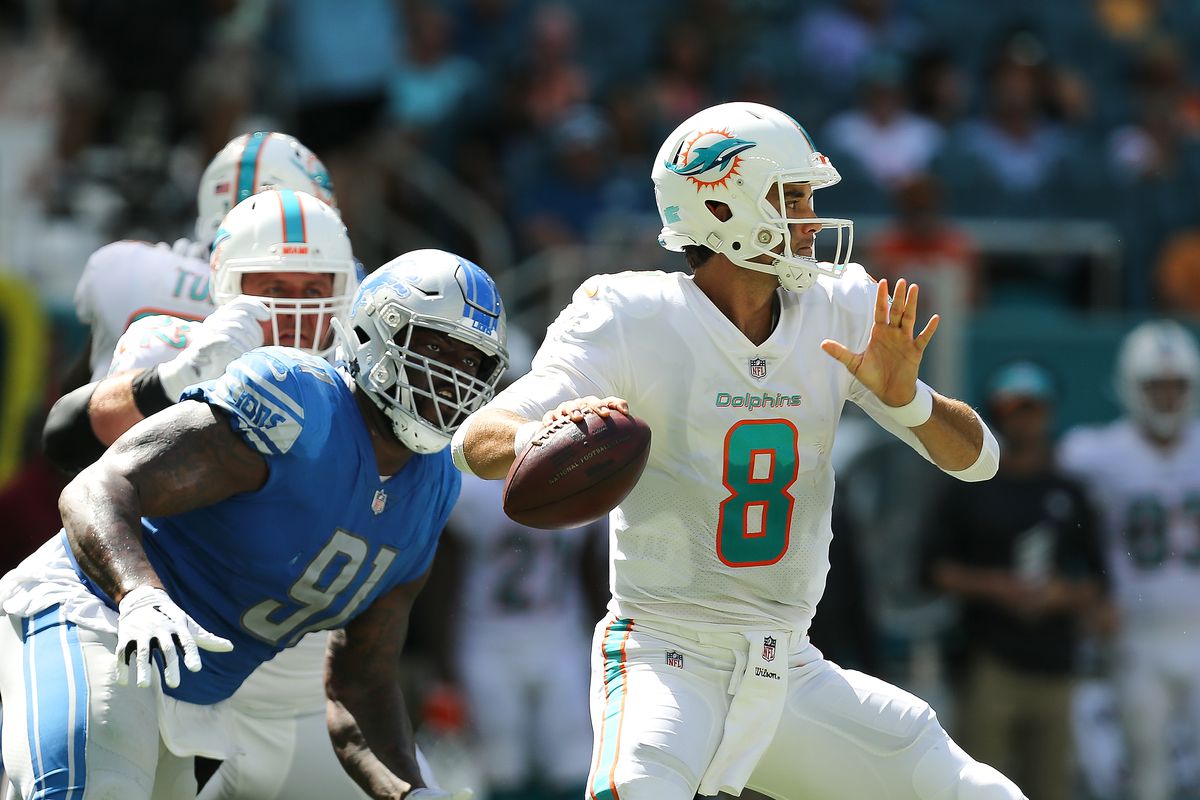 The Dolphins will be playing without their starting QB and two WRs with Ryan Tannenhill, Kenny Stills, and Albert Wilson not slated to play. Meanwhile, Texans head coach Bill O'Brien is trying to save his job, so he cannot afford a loss to the Dolphins.
Miami Dolphins (4-3) at Houston Texans (4-3)
Kickoff: 8:20pm ET
Location: NRG Stadium, Houston, TX
Point Spread: Texans -7.5
Over/Under: 44
Key Stats: Good D
The Texans are known for their solid defense led by J.J. Watt. The Texans only give up 20.6 points per game, or #8 overall in the NFL.
Scoring will be a premium on Thursday. The total of 44 reflects two teams that struggle to score points. The Texans only put up 22.1 points per game, while the Dolphins are no better at 21.6 ppg.
The Dolphins have problems with their defense, which allows 25.3 ppg. The D is ranked 28th overall coughing up 405.3 yards per game. Miami's biggest hole is their rush D, which allows 136.7 yards per game.
Battle of Playoff Contenders
Both teams in this fierce Thursday Night Football match up are in playoff contention and cannot afford to lose this game and sink to 4-4.
With the Jacksonville Jaguars slumping, the Houston Texans are leading the AFC South. The Texans hold a one game lead over the Jags (3-4) and the Tennessee Titans (3-4).
The Miami Dolphins are in second place in the AFC East and trail the New England Patriots (5-2) by one game.
You Can Never Go Home Again, Brock
Brock Osweiler will start for the Dolphins against his old team. Starting QB Ryan Tannenhill will miss the game with a shoulder injury.
Osweiler struggled against the Chicago Bears with two interceptions. Osweiler bounced back with two touchdowns and zero interceptions against the Detroit Lions.
During a brief stint in Houston in 2016, Osweiler clashed with Texans head coach Bill O'Brien. Osweiler's game tape the last two weeks impressed his former coach.
"Brock's a very talented player and he's having a really good year right now. He's doing a good job."
O'Brien dismissed the notion that he knows which weaknesses from his former QB that he can exploit. "It's a different system, different players around him, different personnel groupings. I don't think that means anything."
While Osweiler struggled in Denver and Houston, the backup QB thrived in Miami under head coach Adam Gase's tutelage.
Dolphins Down
The Dolphins will not have their top WRs suiting up with Kenny Stills (groin) and Albert Wilson (hip) nursing injuries.
"Those guys will be missed," Osweiler said. "Injuries are going to happen. It's about the next-man up approach."
Osweiler will rely on veteran WR Danny Amendola along with dump offs to RBs Kenyon Drake and Frank Gore.
No Bus for Watson
Texans QB DeShaun Watson's health mitigated a bus ride from Houston to Jacksonville last week. Team doctors were worried a plane ride would have ill effects on Watson's lung and rib injuries. With a home game this week, Watson will not have to worry about a long commute via bus.
The Hopkins and Miller Show
If Watson (10 TD, 7 INT) can't connect with D'Andre Hopkins, the Texans are fortunate that their running game is finally coming to fruition.
Lamar Miller rushed for his best week of the season (100 yards, 1 TD) against a tough Jags' D. After posting his first 100-yard game of the season, Miller is eager to get on the field against one of the worst rushing defenses in the league.
O'Brien in Jeopardy?
Bill O'Brien is listed as one of the favorites to become the first NFL head coach to lose his job this season.
If the Texans continue to win, then Bill O'Brien will continue to coach the Texans. If the Texans lose any more games they should win, then O'Brien will find himself unemployed. At this juncture, O'Brien's incentive to win is to keep his job