In one of the most difficult, yet iconic ascents in the mountain stages of the Tour de France, Thibaut Pinot (Groupama-FDJ) won Stage 14 that featured a high-altitude summit finish near the top of Col du Tourmalet in the Pyrenees.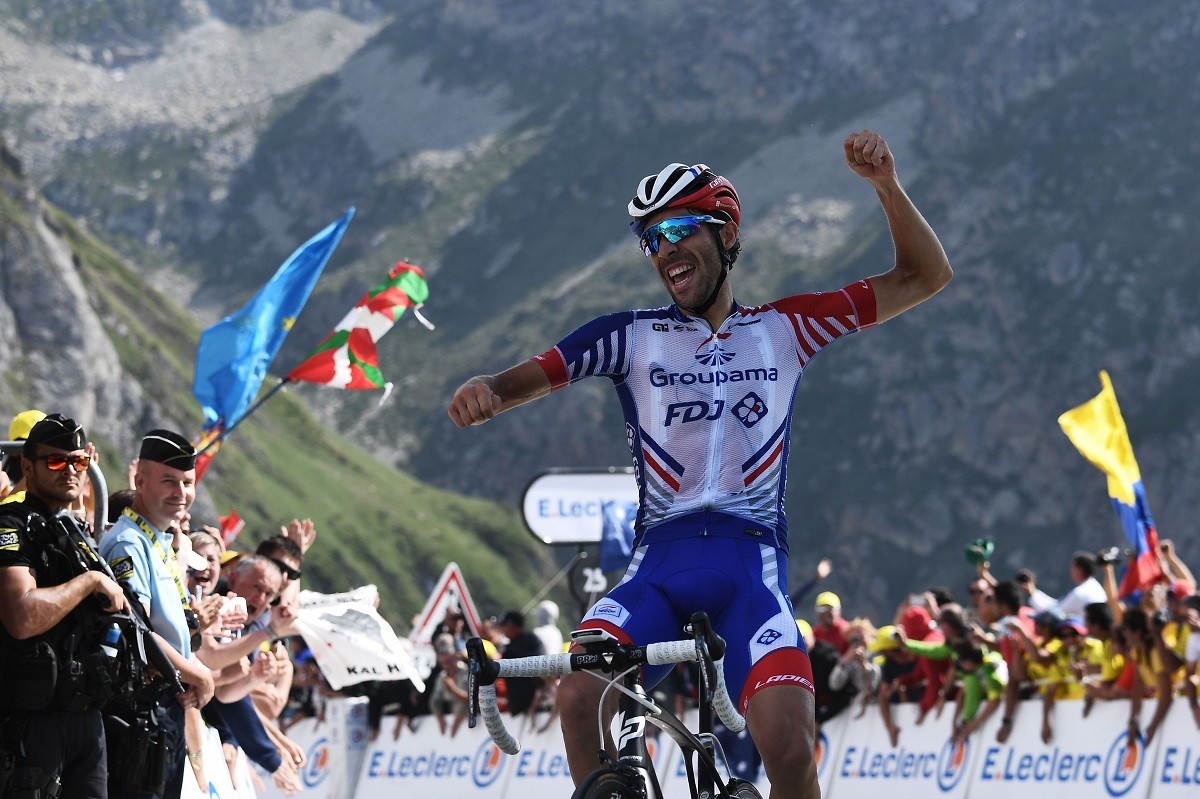 Julian Alaphilippe, fresh off a surprise Stage 13 victory the day before, finished in second overall in Stage 14. Alaphilippe continues to retain the yellow jersey and he padded his lead over defending champ Geraint Thomas (Team Ineos) in second place overall.
A gassed Geraint Thomas finished in eighth place in the stage and 36 seconds off Thibaut. He also lost a precious 30 seconds against Alaphilippe in first overall.
STAGE 14 RESULTS:
Thibaut Pinot (Groupama-FDJ) 3:10:20
Julian Alaphilippe (D-QS) +0:06
Steven Kruijswijk (Jumbo-Visma) +0:06
Emanuel Buchmann (Bora) +0:08
Egan Bernal (Team Ineos) +0:08
All the experts thought Thomas would catch Alaphilippe and pass him in the Pyrenees. The opposite occurred. Alaphilippe padded his lead to over two minutes on Thomas.
"From the start I didn't feel great," said defending champ Geraint Thomas. "I was hoping I'd come around a bit and obviously on the last climb it was just a matter of staying there as long as possible. I knew they'd kick at the end and I just tried to ride at my own pace and not go with them and die and lose more time."
Alaphilippe also added an extra eight seconds on his lead over Egan Bernal in fourth place. Bernal, who finished fifth in Stage 15, trails the leader by three minutes.
Stage 14: Tourmalet
With 164 riders remaining, they faced one of the hardest yet iconic stages in the Tour de France. VeloNews refereed to it as the "mythical Col du Tourmalet".
If you do not regularly follow the Tour de France, you probably have seen photos of riders struggling to ascend the summit of Tourlament while a tunnel of rabid spectators lining the steep sides of the narrow road that wind to the top.
Stage 14 is a hellacious 117 km ride to the top of Tourmalet, which begins with a category 1 climb up Col du Soulor.
Stage 14 concluded with a 19 km ascent to Col dur Tourmalet. It looks pretty on TV but its utter hell for the riders with an 11 percent grade. This year marked only the third time in grand race history with a summit finish at Tourmalet.
A breakaway pack of seven riders were competing for the stage victory for the final kilometer. That included Alaphilippe in the yellow jersey and his fellow Frenchman Thibaut Pinot (Groupama-FDJ), along with Emmanuel Buchmann (Bora-Hansgrohe), Mikel Landa (Movistar), and Steven Kruijswijk (Jumbo-Visma). Two members of Team Ineos, Geraint Thomas and Egan Bernal, were also in the group. It was apparent that Thomas struggled the most and he quickly faded with 500 meters to go.
Pinaut bested the final six riders. Alaphilippe could not catch him, but only finished six seconds behind in an impressive second place.
"Since the start of the Tour, I've been targeting this stage," said Pinot. "This is the one I wanted, the mythical Tourmalet. We are going into the third week now, people will be tired, but this is where I feel best."
With a win in Stage 14, Pinot moved into sixth place overall. He is 3:12 off the lead.
Alaphilippe successfully defended the yellow jersey during one of the most historic stages of the tour.
"My tour is exceptional," said Alaphilippe. "Day after day, I continue to enjoy it and I defend the yellow jersey the best I can. Some riders have blown up today and the Tour is far from over."
On Deck: Stage 15 Limoux > Foix Prat d'Albis
The mountain stages continue with an 185 km ride in Stage 15 from Limoux to Foix Prat d'Albis. If you dig castles and "Game of Thrones", then this stage is a do not miss. The background is peppered with castles.
This stage has three big climbs with a sprint in between. The first climb is Col de Montsegur, which is a category 2 at 6 percent grade. The second is Port de Lers with a category 1 climb. The third and final ascent will be a 9.3 km climb up Mue de Peguere, which is also a category 1 but a grade at almost 8 percent.
OVERALL STANDINGS:
Julian Alaphilippe (Deceuninck-Quick Step) 56:11:29
Geraint Thomas (Team Ineos) +2:02
Steve Kruijswijk (Jumbo-Visma) +2:14
Egan Bernal (Team Ineos) +3:00
Julian Alaphilippe is the new favorite to win the Tour de France. Most European shops have him at 1/1 odds. Holland's Steven Kruijswijk is in third overall, but he is now 5/1 odds to win.
Defending champ Geraint Thomas slipped to 5/1 odds, while his teammate Egan Bernal is 6/1 odds to win. Pinot jumped up to 6/1 after his victory in Stage 14.
On Sunday, Alaphilippe is 10/1 odds to win Stage 15. Egan Bernal is 14/1 odds. Geraint Thomas is 12/1. Pinaut is now 7/1 odds, but its near impossible to win back-to-back stages.