Phil Mickelson will reunite with seven-time Super Bowl champion quarterback Tom Brady on Tuesday as they take on Bryson DeChambeau and Green Bay Packers quarterback Aaron Rodgers at Moonlight Basin in Big Sky, Montana, for the fourth edition of "The Match."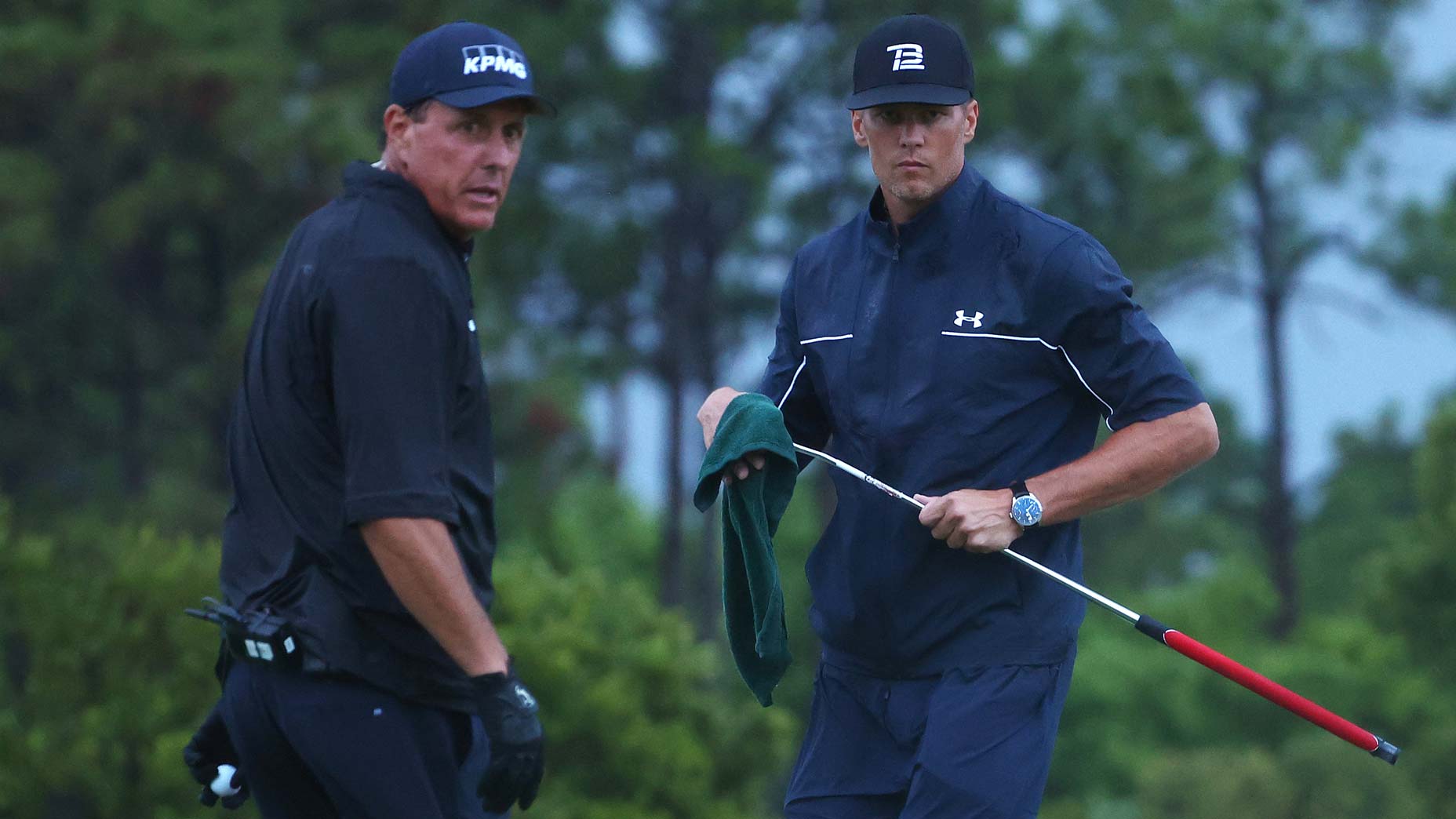 Mickelson and Brady teamed up in the second version of The Match last May, coming up just one hole short against Tiger Woods and Peyton Manning.
Players plan to exchange bombs, trash talk
Last November, Mickelson took Charles Barkley as his partner to beat Manning and Golden State Warriors star Stephen Curry 4 and 3.
— Tom Brady (@TomBrady) May 26, 2021
This time around, all four players have engaged in seemingly endless trash talk leading up to The Match. Each has thrown barbs on social media, though the mood is more of friendly banter than animosity. It's a near certainty that the foursome will produce plenty of heated conversation on the course as well.
"It's a unique opportunity for us to showcase a little bit different side of everybody," DeChambeau said at a press conference. "I think it's a way to showcase something pretty unique and cool that a lot of people don't get to see on a daily basis. They just see us working in our environments, and they don't get to see us interact and have fun."
Viewers will also see some huge drives from the pros. DeChambeau leads the PGA Tour in driving distance, but Mickelson is also known to hit some monster shots off the tee. The course should allow both to crush the ball throughout The Match, especially at an altitude of over 7,000 feet.
Hitting 💣's all day long on July 6th. pic.twitter.com/S2irebHtuy

— Bryson DeChambeau (@b_dechambeau) June 15, 2021
"For me, it's just going to be hitting as many bombs as possible," DeChambeau said. "On this golf course at this elevation, I'm going to try to hit as many greens as possible that are 400-plus."
Drama surrounds The Match
DeChambeau and Rodgers enter The Match as the -192 favorites, according to FanDuel Sportsbook. Like any good golf outing, gamblers can also make plenty of prop bets, ranging from which team will be leading at various points during the round to whether or not Brady will hit the fairway on the first hole (-125 to hit, -110 to miss).
There's plenty of drama heading into this installment of The Match, though it has little to do with the contest itself. DeChambeau recently split with caddy Tim Tucker and hasn't said much about the breakup since then, skipping his media obligations at the Rocket Mortgage Classic.
Meanwhile, Rodgers is dealing with failed contract negotiations with the Packers, throwing his football future in question. But ahead of The Match, the quarterback talked about the positives from his offseason.
"I've focused on the offseason about how to take care of myself, the total package. Not just my physical self with workouts, but my spiritual self with my own mindful practices, my mental health as well," Rodgers told reporters. "I'm very thankful for the opportunity to work on my mental health."
Finally, Brady says he's been working on his game since his last appearance on The Match, and has pointed out one person he wants to take notice: former opponent Charles Barkley, who will be doing commentary this time around.
"Any time your golf swing gets insulted by Charles, you gotta take that to heart," Brady said, via GolfDigest. "I had a lot of insults, this was probably one of the worst insults I could imagine: Charles Barkley insulting my golf swing."