The Mercari Texas Bowl was canceled Tuesday afternoon due to a spike in COVID-19 cases within the Texas Christian University football program, school officials said.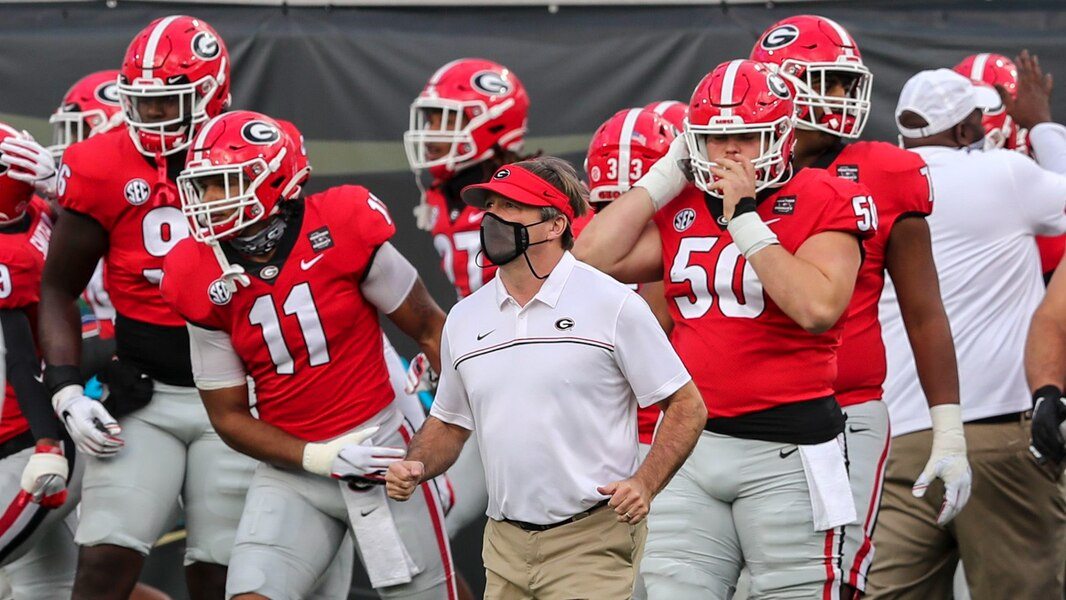 The 5-4 TCU Horned Frogs were set to take on the 3-7 Arkansas Razorbacks on New Year's Eve at NRG Stadium in Houston. TCU was a 4.5-point favorite.
"While we're disappointed in canceling this year's game, we look forward to hosting both the Texas Kickoff and Texas Bowl next season," said the Texas Bowl's executive director, David Fletcher, in a statement posted on social media.
— Mercari Texas Bowl (@TexasBowl) December 29, 2020
This is the second bowl game of the 2020-21 season canceled in the last 36 hours. The TransPerfect Music City Bowl was called off late Sunday after the 5-5 Missouri Tigers pulled out due to a surge of COVID-19 cases in their program.
Thus far, 18 of the projected 32 bowl games this college football postseason have been called off. Another, The Rose Bowl Game, has been moved from its home in Pasadena to Arlington, Texas, because of COVID-19.
Georgia Won't Disclose Infection Rate
It's too bad sportsbooks don't have a prop on what the next bowl game to face cancellation will be. If they did, the smart money would likely be on Friday's Chick-Fil-A Peach Bowl. No. 9 Georgia is set to face No. 6 Cincinnati, though the Bulldogs, who are still 7-point favorites, define a team limping to the finish.
Georgia's SEC East counterparts, Missouri, Tennessee (Liberty Bowl), and South Carolina (Gasparilla Bowl) all ended their seasons prematurely as COVID-19 outbreaks called off their bowl games.
Ninety-six hours before the New Year's Day kickoff, Bulldogs head coach Kirby Smart was cryptic in assessing his players' health and the team's status.
"It's a thrill a minute, you know?" he said. "We've had good information, bad information, information that changed. So it's been a struggle, I can say that. That's really all I can say about it. I'm not going to get into details, but we've had our issues."
Eight Bulldogs Starters Opted Out After Regular Season Finale
Georgia is already playing without a full roster. After learning the team was shut out of the College Football Playoff, Georgia shed several front-line starters, including cornerbacks Eric Stokes and DJ Daniel, safety Richard LeCoute, linebacker Monty Rice, center Trey Hill, tight end Tre' McKitty, right guard Ben Cleveland, and wideout Mark Webb. Each opted out of the season; some will enter the NFL draft.
Because neither the NCAA nor their conference mandate that individual athletic departments to disclose the number of infected players — or the number who have may have been affected by contact tracing — Smart might be being cagey.
"I'm saying there's always issues and problems," he said. "Doesn't matter whether it's contact tracing or other guys having a test and being affected in the organization. Everybody, not just the players."
Critiques of the NCAA's refusal to step in and regulate college sports, especially football and basketball this season, is cited as one reason for the various levels of transparency between individual programs. A lack of standardized testing and reporting protocols being used by all teams is also cited as a problem in providing accurate information. For example, while Georgia tests three times a week, Cincinnati tests daily, according to head coach Luke Fickell.
"We're in a good place with [COVID-related] things," he said Monday. "You say that, and then you start trying to find something to knock on, and different things like that. It's one of those things you can just not relax on."
In exchange for their health and services, the Peach Bowl offers participants $550 worth of gifts allowed by the NCAA. Each school can match that amount in gifts for its athletes.