After the top-two ranked teams, Duke and Michigan lost last week, Tennessee (16-1) jumped to the top of the new AP Poll for the first time in over a decade.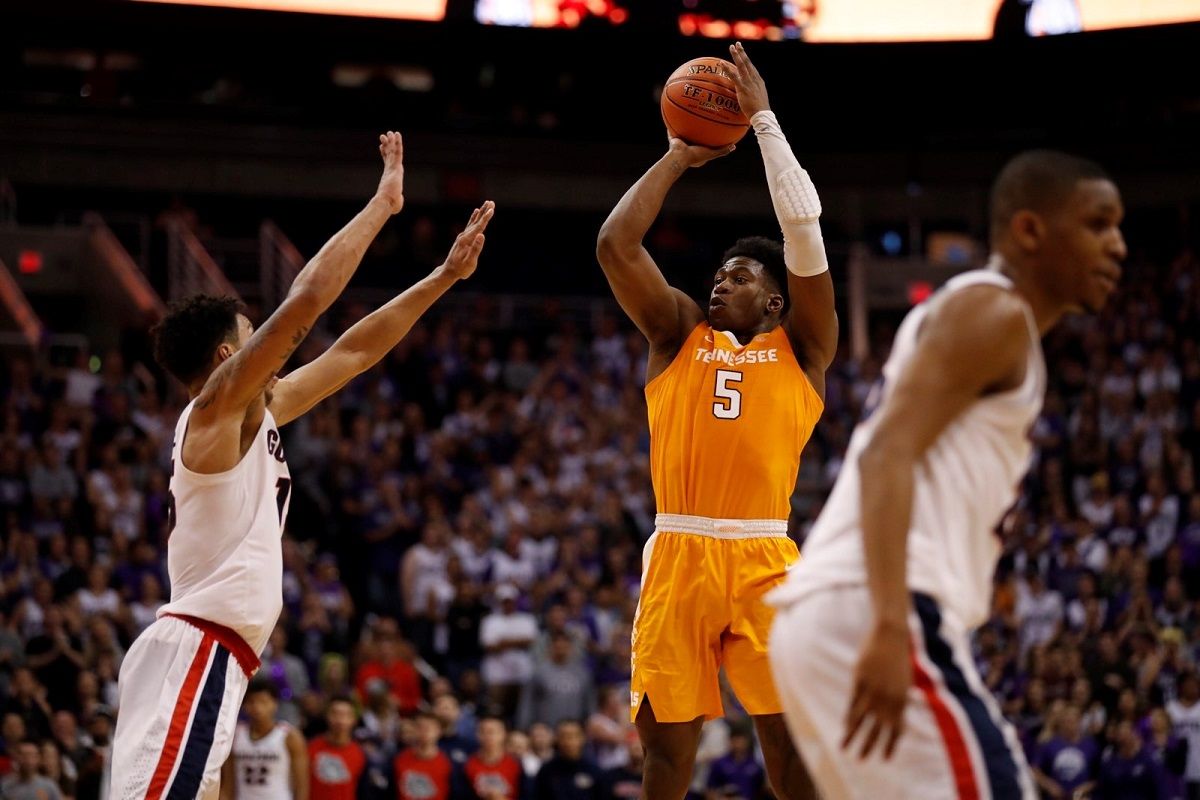 Duke, previously #1, slipped to #2. Michigan slipped from #2 to #5 overall.
"Tennessee basketball hasn't been ranked No. 1 in a long time," said guard Jordan Bone. "That's a good feeling, but we can't be so locked in on that. We have to continue to stay hungry. We can't be so focused on that. It's so fleeting. It can change really quick."
The 2007-08 season was the last time the Tennessee Volunteers held the #1 ranking.
COLLEGE BASKETBALL TOP 25 AP POLL
1. Tennessee (16-1)
2. Duke (15-2)
3. Virginia (16-1)
4. Gonzaga (18-2)
5. Michigan (17-1)
6. Michigan State (16-2)
7. Nevada (18-1)
8. Kentucky (14-3)
9. Kansas (15-3)
10. Virginia Tech (15-2)
11. North Carolina (14-4)
12. Marquette (16-3)
13. Maryland (16-3)
14. Texas Tech (15-3)
14. Buffalo (17-1)
16. Auburn (13-4)
17. Houston (18-1)
18. Villanova (14-4)
19. Iowa (16-3)
20. Mississippi (14-3)
21. NC State (15-3)
22. Mississippi State (14-3)
23. Louisville (13-5)
24. Iowa State (14-4)
25. LSU (14-3)
In the biggest surprise of the season, Buffalo at 17-1 moved into a tied for #14 with Texas Tech. Buffalo is on their way up, while Tech is on their way down after consecutive losses.
Rocky Top, TN
Tennessee won 12 games in a row with a three-point victory over Alabama. SEC basketball might not be the same powerhouse as SEC football, but there are several strong hoops programs this season. This season in addition to Tennessee and Kentucky, four other teams are currently in the top 25 including Auburn, Mississippi, Mississippi State, and LSU.
Tennessee lost to Kansas early in the season, when Kansas held the #1 ranking. That was their sole loss of the season. Tennessee also picked off Gonzaga when they were ranked #2. The win against the Zags marked the first big win against a ranked opponent for head coach Rick Barnes.
"The guys playing right now built this thing," said Barnes.
Unlike Kentucky's one-and-done revolving door of top recruits, Barnes' team is made up of upperclassman. Tennessee saw their top six scorers from last season return to action this season. The Vols are a veteran squad in the SEC. Junior 6-foot-7 forward Grant Williams leads the Vols in scoring with 18.9 points per game and 7.5 rebounds. Admiral Schofield, a 6-foot-6 junior guard, is second in scoring with 17,4 points per game and 6.5 rebounds. Junior point guard Jordan Bone averages 13.2 points per game and 6.4 assists.
Schofield was born in London, England to a U.S. military family. His father served as a retired Senior Chief with the Navy. His older brother, O'Brien, plays professional football with the Atlanta Falcons and he won a Super Bowl ring with the Seattle Seahawks.
Big Losses for Michigan and Duke
Syracuse stunned #1 Duke last week in an overtime thriller. The wild game included a halftime buzzer-beater from three-quarters court. Duke played without starters Cam Reddish and Tre Jones for most of the game and they couldn't overcome Syracuse' stifling zone defense.
On Saturday morning, the Wisconsin Badgers picked off the undefeated #2 Michigan Wolverines. Michigan started the season with a school-record 17-0 clip. Their previous loss occurred in the NCAA Championship game against Villanova. However, center Ethan Happ and the Badgers spoiled Michigan's perfect season.
The AP demoted Michigan to #5 overall, however, Duke fell to only #2.
On Deck: Vandy and WV
With two easy games this week, the spot is the Vols to lose. On Wednesday, the Vols stay in state to play rival Vanderbilt (9-8) in Nashville. The Commodores are 0-5 in conference play, but this is one of the games they have circled on their schedule. Head coach Bryce Drew recently landed Scottie Pippen, Jr. as a recruit.
The Vols host West Virginia over the weekend. West Virginia is 9-10 overall and the worst team in the Big 12.