After losing their first two exhibition games during an Olympics warm-up in Las Vegas, Team USA finally won a game in a convincing 28-point blowout against Argentina with a final score of 108-80.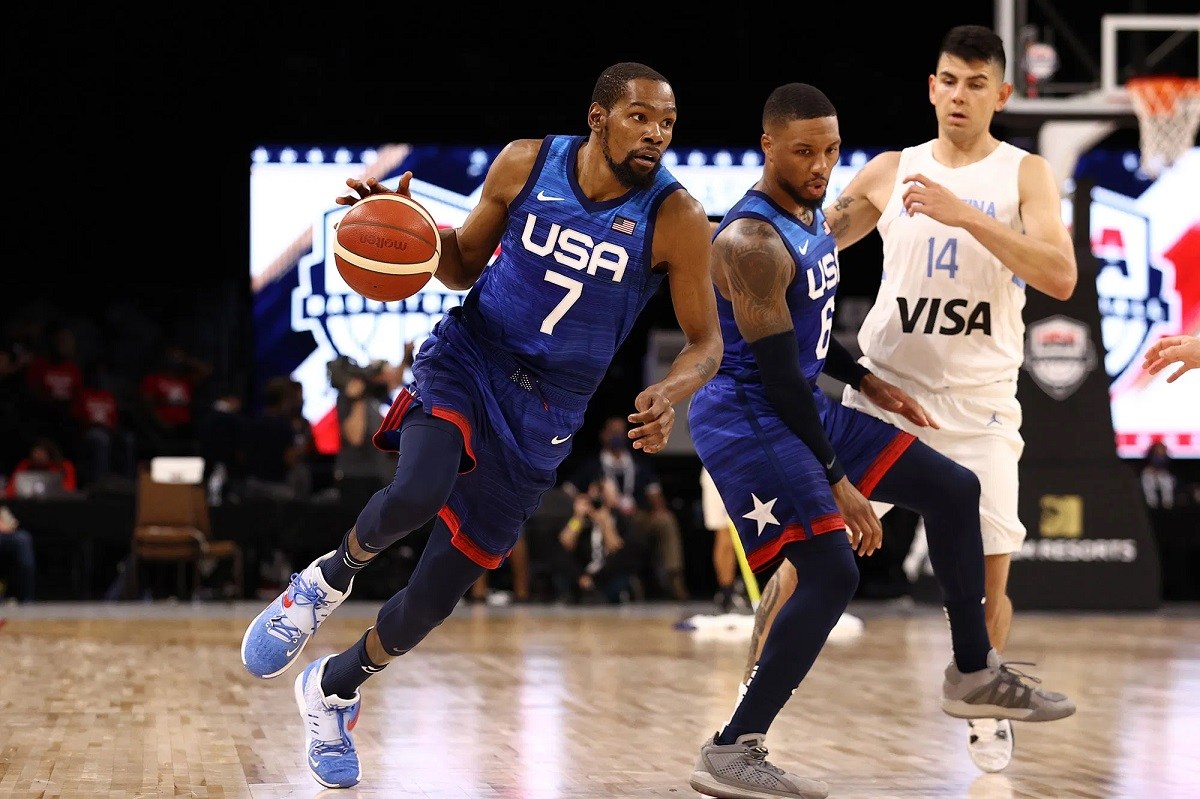 Nigeria upset Team USA over the weekend, but the Americans only had four practices as a complete unit. The other night, Australia picked off Team USA, which raised some eyebrows. Despite the back-to-back exhibition losses, head coach Gregg Popovich was confident Team USA would turn things around.
Against Argentina, all five starters scored at least 12 points each in a game in which Team USA finally got its offense up and running. Kevin Durant and Bradley Beal both scored 17 points for Team USA in the victory. Zach Lavine added 15 points, and Damian Lillard tallied 13 points and four assists in the win.
"We sustained our stamina pretty well," said Popovich. "Against Australia we competed well, rebounded, played defense, ran the floor and had good pace for a half, and then it dissipated for a half. Tonight, we maintained that pretty much throughout the game. Hopefully, we're getting better."
Starting forward Jayson Tatum missed the game because he's nursing a sore knee.
Team USA is shorthanded three players. Khris Middleton, Jrue Holiday, and Devin Booker are currently playing in the NBA Finals. In the meantime, a handful of Team USA Select players filled in roster spots, with Keldon Johnson, Saddiq Bey, and Darius Garland logging playing time against Argentina.
Tough loss for Argentina
Luis Scola led Argentina with 16 points and five rebounds in the loss. Facundo Campazzo from the Denver Nuggets added 12 points. Leandro Bolmaro, who was the #23 pick in the 2020 NBA Draft with the Minnesota Timberwolves, scored just four points in 11 minutes of action.
Argentina is +400 odds to win the gold medal, but they didn't look so hot against Team USA, who are still finding their groove. Argentina has a tough draw in the Olympics, playing in Pool C with Spain, Slovenia, and Japan. Spain won the 2019 FIBA World Cup, while Slovenia is tough because they have triple-double machine Luka Doncic leading the way.
Team USA is the betting favorite to win the gold medal in Tokyo at -550 odds. NBA players representing America won six gold medals and one bronze since pros were allowed to participate in the Olympics starting in 1992 in Barcelona.