Anish Giri held off World Champion Magnus Carlsen on Friday, doing enough to secure a draw and maintain his half-point lead at the Tata Steel Masters heading into a critical clash with Alireza Firouzja in Saturday's penultimate round.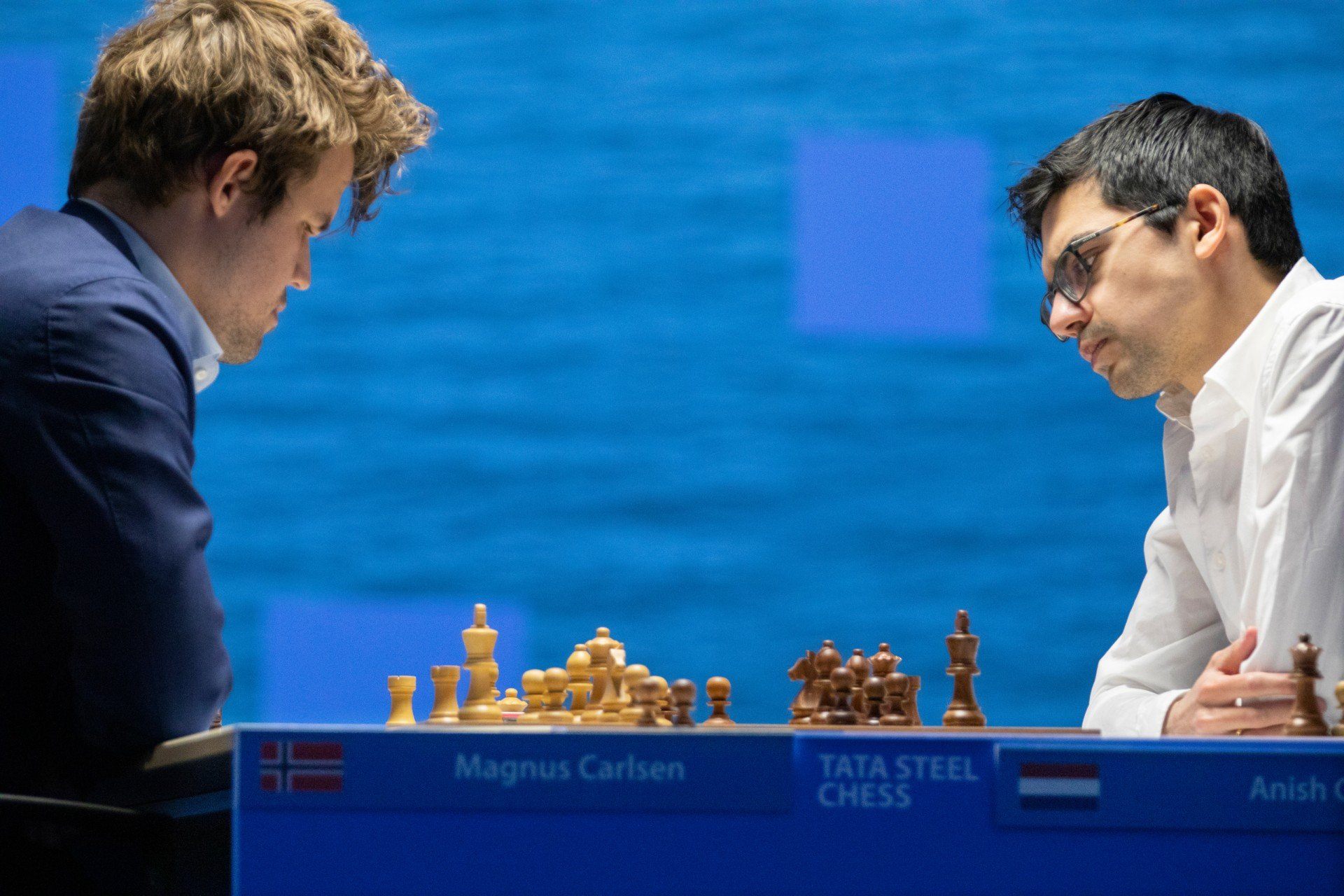 Giri drew comfortably with Black against Carlsen, leaving him a half-point ahead of both Firouzja and Fabiano Caruana after the two drew in their own matchup.
Giri: Drawing Carlsen Always a Good Result
While few players relish draws in general, Giri was more than satisfied considering both the tournament situation and his opponent.
"If a draw with Black against Magnus is not a good result, your life is in danger, something is really going wrong," Giri said afterward. "It was a bit suspect what I did. It is well known that it is dubious to play this way, but on the other hand, I got the rest of the position sort of fixed nicely."
That leaves Giri on 7.5 points after 11 rounds, while Caruana and Firouzja both sit at seven points after 11 rounds. They're joined in second place by Jorden van Foreest, who defeated Pentala Harikrishna to close the gap on Giri.
After a slow start, van Foreest rallied to win three of his last six games, and remains undefeated for the tournament. He got the best of Harikrishna in a classic Italian Game setup, building an advantage right out of the opening, and dominating play throughout the game. Harikrishna resigned in a hopeless position after 60 moves.
Giri Faces Firouzja in Critical Tata Steel Matchup
Heading into Round 11, Russian grandmaster Andrey Esipenko stole the spotlight at the Tata Steel Masters. Not only did the 18-year-old beat Carlsen in spectacular fashion, but he remained undefeated and just a half-point off the lead heading into Friday's play.
Aryan Tari and @jordenvforeest won their games today but since the big clashes Carlsen-Giri and Firouzja-Caruana ended in draws, @anishgiri is still leading #TataSteelChess with two rounds to go! pic.twitter.com/sOeD1aIuyg

— ChesscomNews (@ChesscomNews) January 29, 2021
But Esipenko pressed too hard for another win with Black, possibly in an overzealous attempt to fight for the tournament lead. That led to disaster, as Aryan Tari refuted Esipenko's aggression and defeated the youngster in just 33 moves. That pushed Esipenko a full point back of the lead with only two rounds left to play, likely ending his hopes of winning his first major title.
---
Tata Steel Masters Odds – Round 12 (via Bwin)
Maxime Vachier-Lagrave: +280
Draw: -225
Jan-Krzysztof Duda: +650
Pentala Harikrishana: +170
Draw: -185
Alexander Donchenko: +1400
Andrey Esipenko: +350
Draw: -250
Jorden van Foreest: +600
Nils Grandelius: +300
Draw: -225
Aryan Tari: +600
Fabiano Caruana: -135
Draw: +120
David Anton-Guijarro: +1600
Anish Giri: +360
Draw: -275
Alireza Firouzja: +700
Radoslaw Wojtaszek: +900
Draw: -125
Magnus Carlsen: +135
---
The results leave four players in serious contention for first place at the Tata Steel Masters. In the critical Saturday matchup, Girl takes White against Firouzja in what amounts to a must-win game for the Iranian prodigy. Bwin rates Giri as a +360 choice to win, with Firouzja (+700) facing a tough task in seeking a full point with Black.
Caruana may enjoy the best opportunity to catch Giri in Round 12. He'll take White against David Anton-Guijarro as a -135 favorite to get the win. Meanwhile, van Foreest (+600) takes the black pieces against Esipenko (+350) in what could be a wild game as both players could conceivably be in the running if they find a win.