Dutch grandmaster Anish Giri defeated Radoslaw Wojtaszek on Wednesday to take the solo lead at the Tata Steel Masters, but three players are within a half-point of him with just three rounds left to play.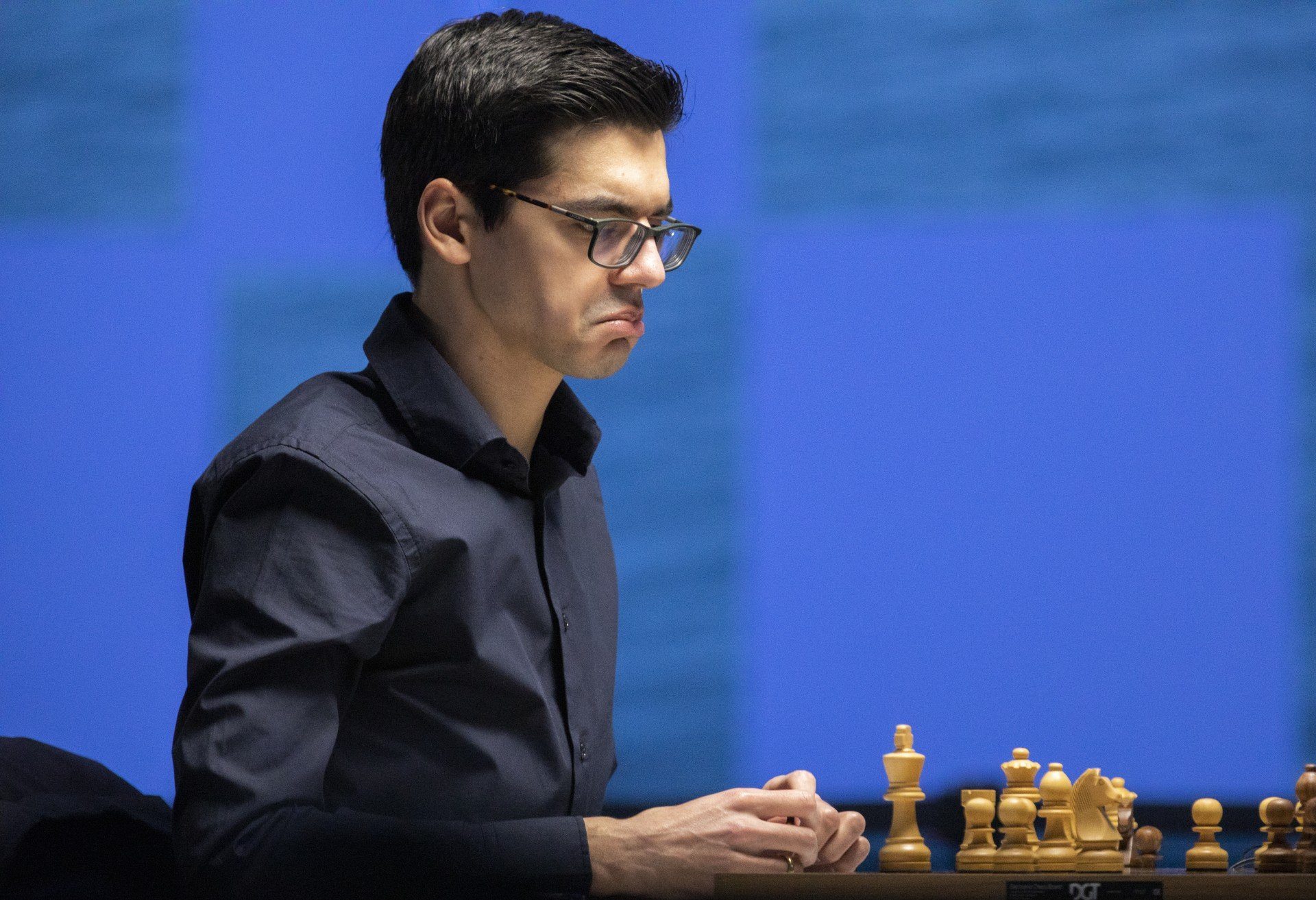 Giri sits at 7 points after 10 rounds heading into Thursday's final rest day in Wijk aan Zee, Netherlands.
Rook Sacrifice Propels Giri into the Lead
Early on, Giri achieved little against Wojtaszek out of a London System. But the 26-year-old gained the initiative heading into the endgame. Wojtaszek still had chances of holding a draw until he blundered on his 48th move. That allowed Giri to sacrifice a rook in a stunning shot that immediately forced his opponent to resign.
In addition to it being lethal, Anish Giri's 49.Rxh7! is the kind of move that compels you to resign just because it's so irresistibly pretty. https://t.co/AhaNWdjWzB pic.twitter.com/rS754qI2Eg

— Olimpiu G. Urcan (@olimpiuurcan) January 27, 2021
"It's a draw, of course, but he doesn't want to go into three [pawns] against two obviously, and the smallest problems are unpleasant because it's a completely drawn position," Giri said afterward. "As it happens sometimes in such cases, once you get some small chances, then things can go very well."
Carlsen Holds on to Draw Caruana
Heading into Round 10, all eyes were on the mouthwatering matchup between Fabiano Caruana and Magnus Carlsen. Caruana surprised the World Champion by playing 1. d4 and opting for a Catalan. The decision bore fruit, as the American won a pawn after Carlsen blundered early.
But that was never close to enough to achieve a winning position. The game ended in a draw after just 42 moves.
---
Tata Steel Chess Odds – Winner (via Unibet)
Anish Giri: +125
Fabiano Caruana: +200
Alireza Firouzja: +400
Andrey Esipenko: +700
Magnus Carlsen: +800
Jorden van Foreest: +3000
---
"I somehow overestimated my position when I'm a pawn up," Caruana said. "I thought I would have an advantage from afar, but once I got there, it suddenly seemed like very little. At the end, I was almost worried that I started to risk things."
The result continues Carlsen's poor run of form. Now 1.5 points back of Giri with just three rounds left to play, the World Champion will need a miracle to even share the Tata Steel Masters title this year. That said, Unibet is still offering only +800 odds on such a comeback. And as some of his fellow grandmasters have pointed out, even Carlsen's worst tournaments are pretty solid by nearly anyone else's standards.
"My thoughts on Magnus' recent form? It will not be very original. His form is terrible, worst shape he has been in many years, but as you can see, even in this form he's at +1… that's why he's a great player, even in bad form he's still very good!"https://t.co/1XlrcX2KT4 pic.twitter.com/5tB3Iyh5dv

— chess24.com (@chess24com) January 27, 2021
Caruana now sits a half-point back of Giri after that draw. Alireza Firouzja is also a part of that second-place tie after drawing Nils Grandelius with Black on Wednesday.
Esipenko Impresses at Tata Steel Masters
Andrey Esipenko has also risen to join them at 6.5 points. Esipenko emerged as the surprise of the Tata Steel Masters after beating David Anton Guijarro in Round 10 to put himself in an excellent position to make a run at his first major chess title.
18-year-old Andrey Esipenko joins Caruana in the lead on an unbeaten +3 and enters the 2700 club! https://t.co/T12gV1Ew7x #c24live #TataSteelChess pic.twitter.com/VjSqV1Z6Xh

— chess24.com (@chess24com) January 27, 2021
The 18-year-old Russian has games against Aryan Tari, Jorden van Foreest, and Alexander Donchenko – three of the lowest-rated players in the field – in his final rounds, opening up the possibility that he could win the Tata Steel Masters. But, Esipenko isn't entertaining that idea just yet.
After a great day with three decisive games, it's local hero @anishgiri who is leading the #TataSteelChess tournament with three rounds to go! pic.twitter.com/Rt36hhFXyO

— ChesscomNews (@ChesscomNews) January 27, 2021
"Not really, because every player is very strong and I can't predict the rest of the tournament," Donchenko said in regard to winning the title.
Unibet lists Giri (+125) as the favorite to win the Tata Steel Masters, thanks in large part to his half-point lead. But Caruana (+200), Firouzja (+400), and Esipenko (+700) could each surpass the leader at any time. Even Jorden van Foreest (+3000) sits just one point back with three games to play.
---
Tata Steel Masters – Round 11 Odds (via Unibet)
David Anton Guijarro: +350
Draw: -225
Nils Grandelius: +525
Magnus Carlsen: +250
Draw: -250
Anish Giri: +1250
Alexander Donchenko: +450
Draw: -200
Jan-Krzysztof Duda: +350
Alireza Firouzja: +550
Draw: -250
Fabiano Caruana: +400
Aryan Tari: +550
Draw: -200
Andrey Esipenko: +300
Radoslaw Wojtaszek: +650
Draw: -335
Maxime Vachier-Lagrave: +500
Jorden van Foreest: +375
Draw: -225
Pentala Harikrishna: +475
---
Friday's games could go a long way toward clarifying the situation. Firouzja takes White against Caruana, while Carlsen takes on Giri. Meanwhile, Esipenko will look to continue his run as he plays Black against Tari.