Welcome news greeted horsemen as they read Friday's overnight entries list for one of the few North American racetracks still running live racing amid the COVID-19 pandemic.
"Attention horsemen: We are seriously considering extending the meet. We need everyone to adhere to the protocols for COVID-19 that were handed out to trainers and posted on the backside," the list read. "Make sure anyone running a horse is wearing a mask and gloves. Only two persons per horse in the paddock which includes the trainer."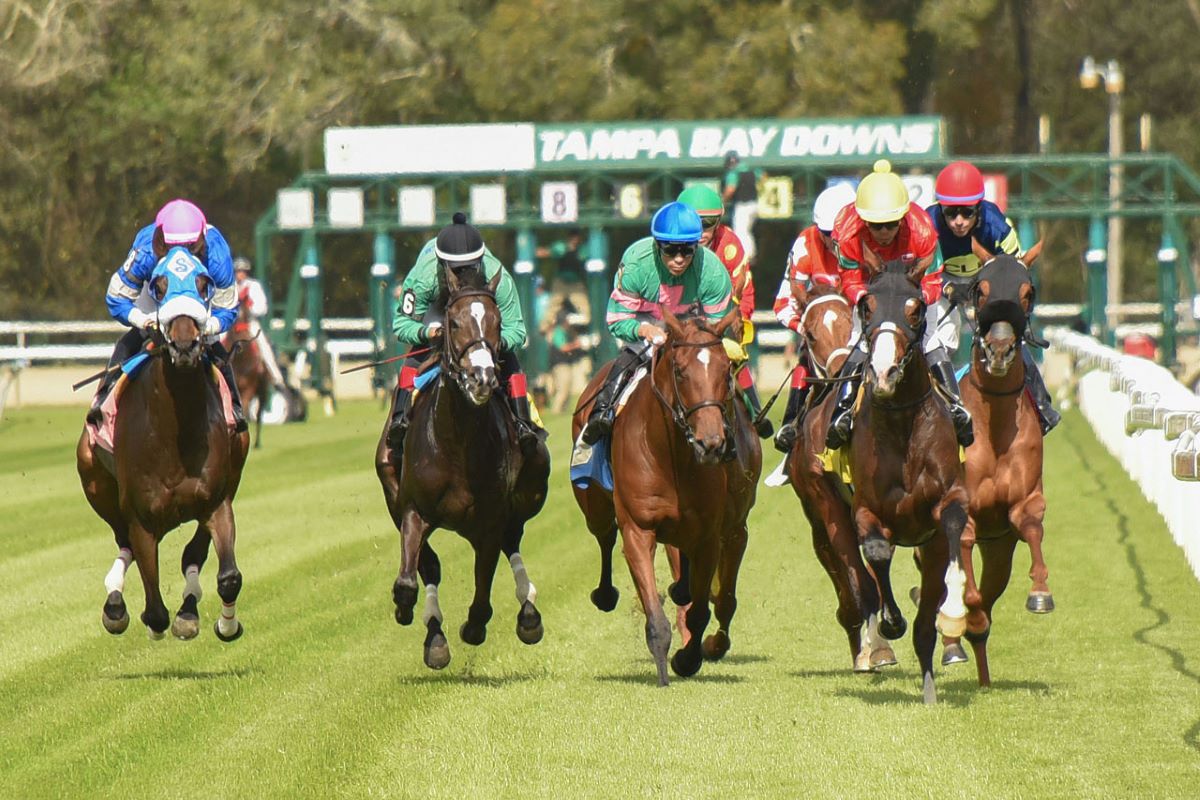 Nothing is set in stone yet. Tampa Bay Downs is set to close May 3 and any extension requires approval from the Florida Division of Pari-Mutuel Wagering. When asked about the extension by Thoroughbred Daily News, Peter Berube, the track's general manager, declined comment "until I get the approval back from the state, and I anticipate getting that sometime this week."
State Quirk Allows for One Lone Summer Racing Date
Tampa Bay Downs races thoroughbreds Wednesdays and Fridays-through-Sundays, currently without spectators. Its winter/spring meet normally ends in early May – save for one summer day. With the track racing that one day – June 30 this year – the state classifies Tampa Bay Downs a year-round racing facility. That, in turn, allows it to import simulcasts all year.
Like all tracks worldwide, Tampa Bay Downs instituted a bevy of rules designed to keep horsemen, jockeys and backstretch workers safe. Every horse shipping into the track has to have at least one workout in the state of Florida, and no outside jockeys are allowed mounts. As noted above, masks and gloves are required apparel.
Extension Means Four Tracks Continue Live Racing
The extension, meanwhile, would keep Tampa Bay Downs going as one of five thoroughbred tracks in the United States running live racing without spectators. Depending on the extension length, it could fill in a gap created when Oaklawn Park in Arkansas ends racing on May 2. That track already said it will not extend its meet because of renovations and purse shortfalls created by the closing of Oaklawn's casino.
Provided Tampa Bay Downs gets its extension, that leaves three other tracks racing into May. On Wednesday, Fonner Park in Nebraska received a 12-day extension from the Nebraska Racing Commission to race beyond its planned April 29 close. The extension allows the track to add three additional days of racing to its schedule each week over a four-week period, taking the meet's closing date to May 31. Will Rogers Downs in Oklahoma closes May 20, and Gulfstream Park races through Sept. 27.
California officials expect to decide this week on re-opening Santa Anita Park and Golden Gate Fields, both closed by county health officials. Kentucky horsemen are also pushing their state government to re-open live, spectator-free racing.