Last November, Jaxon Traveler occupied the fast lane of Kentucky Derby prospects. At 60/1, he kept double-digit futures odds company with the likes of 45/1 Highly Motivated, 50/1 Hot Rod Charlie, 75/1 Midnight Bourbon, and 75/1 Keepmeinmind.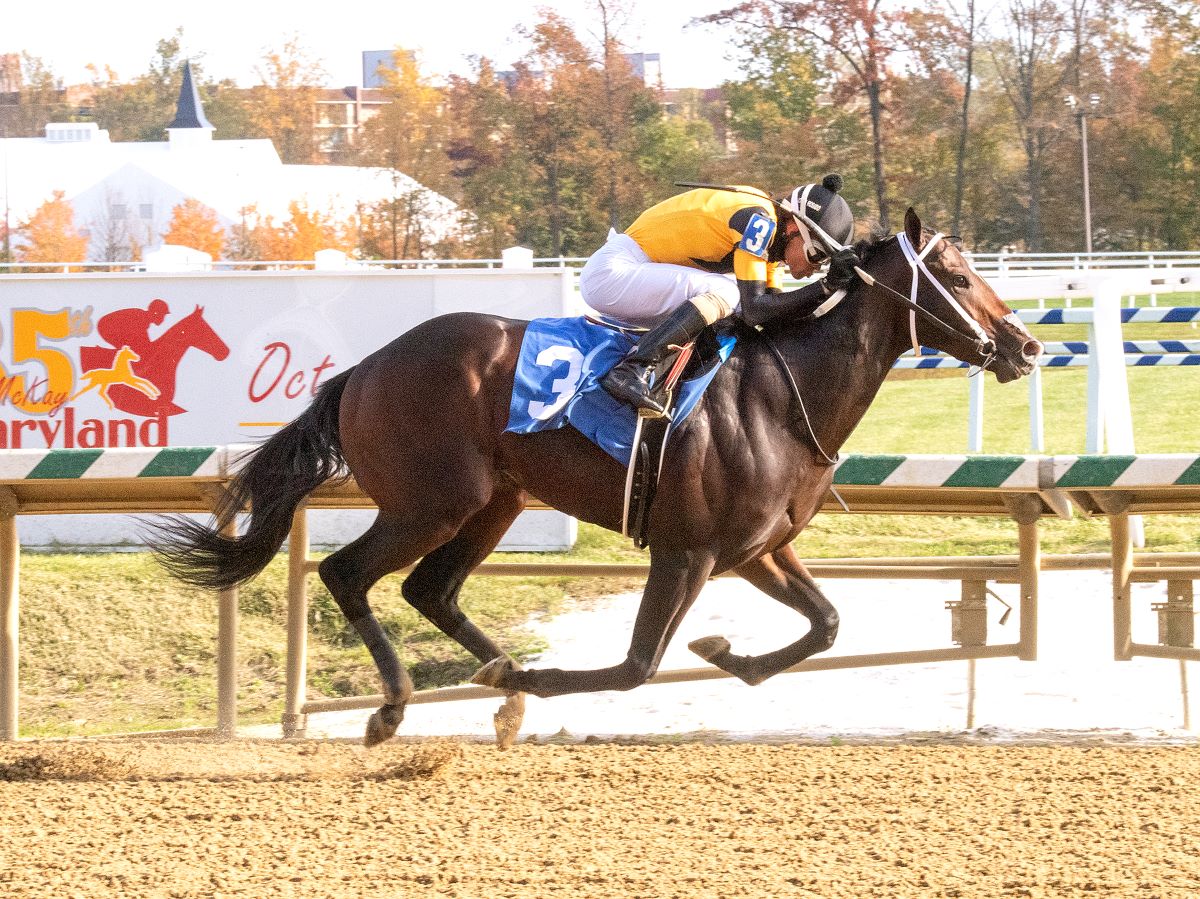 Jaxon Traveler's odds were lower than Hidden Stash and Super Stock (both 100/1). They were more than twice as low as Mandaloun (125/1).
There was one little difference, however. Every one of those other horses found their way into the 2021 Kentucky Derby. Mandaloun finished second by a half-length and Hot Rod Charlie third by a length.
You'll see Midnight Bourbon and Keepmeinmind, who went 6-7 in the Derby, in Saturday's Preakness Stakes.
Jaxon Traveler? He left the Derby trail, proving greener pastures lie ahead for those who want to run shorter routes toward them. The Munnings progeny headlines the six-furlong Grade 3 Chick Lang Stakes, one of the six graded stakes on Saturday's Preakness undercard.
Jaxon Traveler wasn't meant to travel far
Given his sire was one of the best sprinters of his generation, Jaxon Traveler wasn't built for stretching out. He won his first two races as a juvenile, the first by 10 lengths, the second by four. Both were six-furlong affairs, but in the fall, every 2-year-old with a modicum of speed is a de-facto Derby prospect.
That explains why Jaxon Traveler was 60/1 at Circa Sports. After he won his first stakes race in early December, the seven-furlong Black-Type Maryland Juvenile Futurity, Jaxon Traveler dropped to 55/1 at Circa Sports. In the fall, when everyone's casting wide nets for a Derby bomber, this isn't surprising.
Even with that, trainer Steve Asmussen never had the Derby on Jaxon Traveler's itinerary. He's won four Chick Langs, finding the winner's circle with the likes of Lantana Mob (2008), Holy Boss (2015), champion sprinter Mitole (2018), and Yaupon, who tied the stakes record of 1:09.10 when he won in 2019. Ergo, Asmussen knows a sprinter when he sees one.
'This horse is really, really special'
"Steve just has this innate sense," West Point Thoroughbreds COO Tom Bellhouse told David Joseph of the Maryland Jockey Club. "A lot of people get these kinds of horses and the first thing they say is, 'When are we going to stretch them out?' We ran seven furlongs in the stake down there and we won, but he got a little tired and Steve just said, 'Listen, this horse is really, really special; it might just be up to seven (furlongs). He might not be a horse that wants to go up to a mile. He just focuses his program on it. He did it with Mitole. He did it with Yaupon … He's just so good at that."
Jaxon Traveler is so good at this sprinting thing that he comes into the Chick Lang 4-for-5. That lone setback came by a neck in the Gazebo Stakes at Oaklawn Park in March. Jaxon Traveler went to Oaklawn for the winter while recovering from a minor foot injury. That explains how he found himself out of his front-running rhythm and off-the-pace. Jaxon Traveler nearly overcame that, losing to Sir Wellington by a neck.
He merely shrugged that off a month later, winning the Listed Bachelor Stakes gate-to-wire by nearly three lengths.
Jaxon Traveler makes graded stakes debut at home
"It's kind of a heartbreaker that he's not undefeated because of that race," Bellhouse said. "He had a tough trip, but he came running late and showed a different dynamic. Last time, he just threw it down and threw in the kind of race you love to see in that kind of sprint. He broke on top and never looked back."
The Chick Lang marks Jaxon Traveler's graded stakes debut. He'll carry the high weight of 124 pounds in the six-horse field. But he'll also carry three-time, Eclipse Award-winning jockey Irad Ortiz Jr.
"He's going to be hard to beat," said Scott Blasi, Asmussen's chief assistant.