The men's basketball programs at Syracuse and Buffalo have halted all team-rated activities after a member of the Bulls tested positive for COVID-19 on Sunday.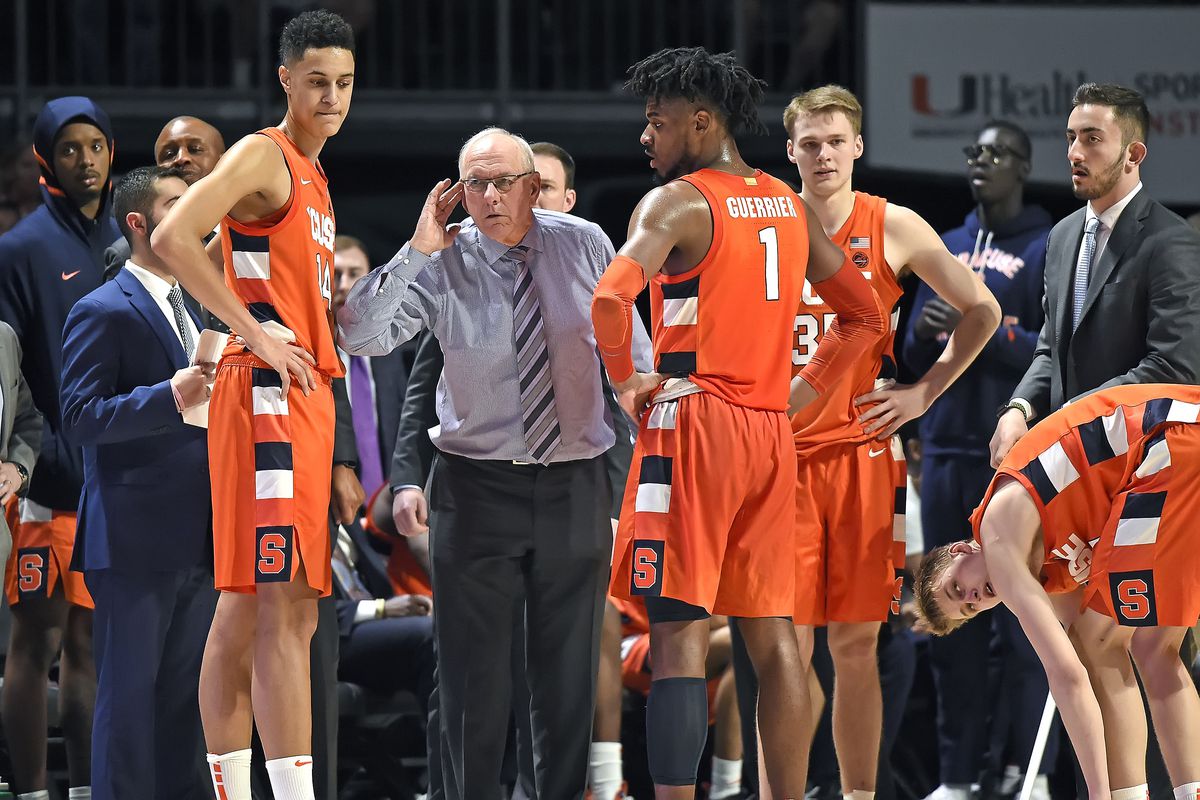 The two teams squared off on Saturday afternoon at the Carrier Dome, with Syracuse coming out on top 107-96. The next day, an unidentified affiliate of Buffalo's program reportedly tested positive.
"We are using an abundance of caution in this situation, as we have throughout the pandemic," Syracuse director of athletics John Wildhack said in a statement.
Syracuse (6-1) postponed its game Tuesday against Notre Dame and is still scheduled to play at Wake Forest on Dec. 30. Buffalo (3-3) will likely miss its Tuesday game vs. St. Bonaventure. Its trip to play No. 7 West Virginia on Dec. 29 is also in jeopardy.
Bulls coach Jim Whitesell is already in the middle of a 14-day self-quarantine period after being in contact with a person who tested positive.
This is the third time in six weeks that Syracuse has paused its basketball activities due to the coronavirus pandemic. Coach Jim Boeheim and an unnamed player tested positive in November.
Should College Basketball Continue? Many Experts Don't Think So
As the COVID-19 spreads faster than at any other time since tracking began in early March, reports from around the world about new, more easily transmittable strains are causing some coaches and pundits to call for the men's college basketball season to stop altogether.
Calipari Censures Freshman via Twitter
Also Monday, Kentucky coach John Calipari asked four-star freshman Cam'Ron Fletcher to "step away" from the team after Fletcher became upset during Saturday's loss to North Carolina.
In a series of tweets, Calipari justified the move to preserve the team's culture.
We have asked Cam Fletcher to take some time and step away from the team. He needs to reflect and do some soul searching to get his priorities in order. Any attitude or actions that are detrimental to this team will not be tolerated – and that goes for everyone on the team.

— John Calipari (@UKCoachCalipari) December 21, 2020
Fletcher was caught on camera Saturday during an emotional outburst near the end of Kentucky's 75-63 loss to North Carolina. Fletcher was upset about his lack of playing time, and the program's slow, 1-5 start — it's worst since 1927.
Fletcher apologized to Kentucky fans saying his "emotions peaked" because of the team's slow start.