It's highly unlikely that Amy Coney Barrett will ever earn an affectionate three-letter-moniker like the late Ruth Bader Ginsburg's "RBG," but it's very likely that the 7th Circuit Court of Appeals Justice will replace Ginsberg on the US Supreme Court.
Even as the country mourns Ginsburg and her civil rights legacy. Even as controversy swirls around President Donald Trump's possible third crack at the Supreme Court, and even as anger boils over at Senate Majority Leader Mitch McConnell's (R-KY) flip-flop on filling a Supreme Court seat so close to a Presidential election, Barrett quietly became the favorite according to bookmakers.
Smarkets posts the 48-year-old Barrett as a 4/9 favorite. MyBookie offers you relative value at +150. BetOnline puts her as the -250 favorite, while PredictIt priced her at 81 cents for a "Yes" pick.
Illustrating the roller-coaster nature of this market, and of anything having to do with Trump, you could have had Barrett on Sept. 17 at 17 cents on PredictIt. One day later, after Ginsburg died of complications from pancreatic cancer, Barrett's "Yes" price soared to 51 cents.
Only Women Need Apply
Barrett's PredictIt price hit 70 cents on Saturday after Trump told a North Carolina rally he planned to nominate a woman to fill Ginsburg's seat. That brought another contender, Barbara Lagoa, into the picture. The 52-year-old Lagoa, a justice on the 11th Circuit Court of Appeals, opened at 31 cents on Saturday. She promptly jumped to 40 cents before settling Tuesday at 28 cents.
Lagoa, a Cuban American from the key battleground state of Florida, is +300 at MyBookie and +125 at BetOnline. She brings several variables to the equation, including her Florida roots and her role as the first Latina and the first Cuban American woman appointed to serve on Florida's Supreme Court. While she and Barrett are the only realistic choices, the seat appears to be Barrett's to lose.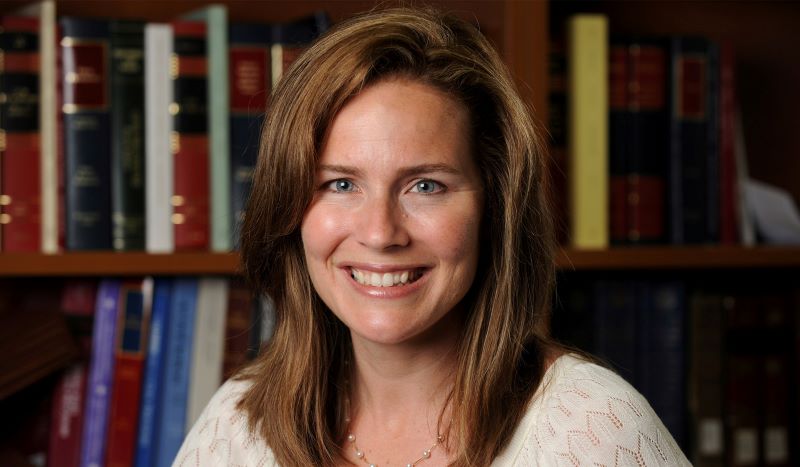 Putting aside the confirmed reports she already met with Trump at the White House, Barrett checks all the boxes conservatives (read McConnell and the conservative Federalist Society, which plays an outsized role in Trump's judicial selections) desire. She's young (48), ensuring that if confirmed, she'll sit on the Supreme Court for decades.
When You Think of Barrett, Think Antonin Scalia
Barrett's also deeply conservative, having clerked for former Supreme Court Justice Antonin Scalia – one of the most conservative Justices of the last 80 years. And like Scalia, Barrett is a devout Catholic with outspoken, oftentimes hostile attitudes toward women's reproductive rights.
In 2006, she told graduates of Notre Dame, where she attended law school and later taught law, that "Your legal career is but a means to an end, and … that end is building the kingdom of God." Her writings at Notre Dame, where she spent 15 years as a popular and well-respected law professor, mirror Scalia's on matters of faith and the law.
Trump nominated Barrett to the 7th Circuit in 2017. She was confirmed by a 55-43 vote, with three Democratic senators crossing party lines to vote for her. The following year, she was a finalist for Brett Kavanaugh's eventual Supreme Court seat.
Betting Options Disappearing Daily
With that apparent lack of value stalking Barrett like legal scholars poring over her writings, one other wagering option disappeared on Tuesday. BetOnline pulled its prop bet on whether there will be a Supreme Court vote by Election Day off of the board. The bookmaker did this after Sen. Mitt Romney (R-Utah) said he would vote on a new Supreme Court Justice if a nominee reached the floor.
---
Supreme Court Justice Odds
With President Trump promising to nominate a woman to the nation's top court, it's no surprise to see senators Ted Cruz and Tom Cotton listed as the longest of shots on the betting board.
Amy Coney Barrett, -250
Barbara Lagoa, +125
Joan Larsen, +1200
Allison Rushing, +1500
Britt Grant, +2500
Amul Thapar, +3300
Thomas Hardiman, +5000
Ted Cruz, +7500
Tom Cotton, +10000
Source: BetOnline
---
This removed a large obstacle facing Senate Republicans since Romney was once considered a potential key defector on voting for a Supreme Court Justice this close to the election. BetOnline offered +550 that a vote would happen before Nov. 3 – Election Day. If you think Ginsburg's seat might still remain vacant by that date, then you'll lay -1,000.
Democratic senators, irate at McConnell's 180-degree reversal from four years ago, were banking on four Republican senators remembering how McConnell refused to give President Barack Obama's Supreme Court nominee – Merrick Garland – a hearing. Obama nominated Garland for the seat vacated when Scalia died in February 2016.
McConnell's Four-Year Flip-Flop
Speaking then, McConnell said "The American people should have a voice in the selection of their next Supreme Court justice. Therefore, this vacancy should not be filled until we have a new president."
McConnell's naked ploy to keep the seat in conservative hands worked when Trump upset Hillary Clinton in that fall's presidential election. Garland never received a hearing and Trump subsequently nominated Neil Gorsuch, who was confirmed in 2017 along a party-line vote.
Now, McConnell has changed tack, saying "Americans re-elected our (Senate) majority in 2016 and expanded it in 2018 because we pledged to work with President Trump and support his agenda, particularly his outstanding appointments to the federal judiciary. President Trump's nominee will receive a vote on the floor of the United States Senate."
This is a good time to bring in another wagering proposition. McConnell is up for re-election this fall, where BetOnline makes him a -900 favorite to keep his Kentucky seat against Democratic challenger Amy McGrath. Despite running a fierce campaign and receiving money from all over the country, McGrath is a 5/1 underdog to upset the Senate Majority Leader.