The remaining candidates for the Democratic presidential nomination are facing their biggest test so far as voters in 14 states (and American Samoa) head to the polls today to vote on Super Tuesday.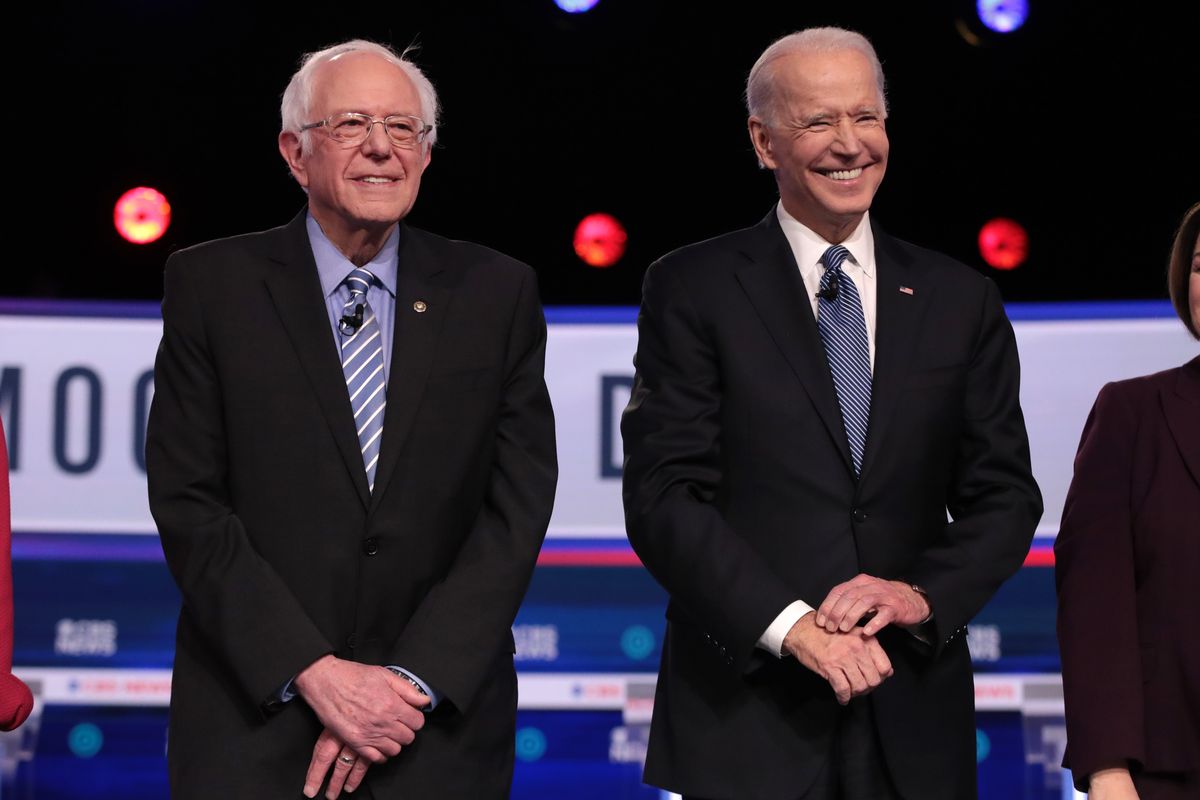 More than 1,300 delegates will be awarded based on today's results, which amounts to about a third of the total number of delegates at the Democratic National Convention.
State of the Race
Vermont Sen. Bernie Sanders heads into Super Tuesday with the early delegate lead, as wins in New Hampshire and Nevada made him the apparent frontrunner in the campaign. But former Vice President Joe Biden scored a larger-than-expected victory in South Carolina on Saturday, giving him a boost in national polls.
That momentum was aided by other candidates in the past 48 hours. Both former South Bend mayor Pete Buttigieg and Minnesota Sen. Amy Klobuchar dropped out of the race and lent their endorsements to Biden. While there's hardly been time to process how this will impact the race, the polling released on Monday and Tuesday suggests that Biden is back in the lead nationally.
Ultimately, that may not be enough to secure the nomination. A candidate must earn more than half of the delegates in order to clinch the nomination on the first ballot at the Democratic National Convention.
It appears increasingly likely that no candidate will reach this threshold, especially as former New York City mayor Michael Bloomberg and Massachusetts Sen. Elizabeth Warren appear likely to hit the 15% viability target in many states, meaning they'll also take their share of delegates on Super Tuesday (and perhaps beyond). Bovada currently regards Biden as the -140 favorite to win the Democratic nomination ahead of Sanders (+175).
All of this is speculation, though. Super Tuesday voting might clarify the situation in favor of one of the frontrunners, or make it all but certain that there will be a contested convention.
Super Tuesday Odds by State
As is often the case, sportsbooks have figured the odds on who is likely to win — and where they're likely to win — on Super Tuesday.
For each state, we've included the odds at online betting site Bovada, as well as the share prices at PredictIt, which represent how much bettors would have to pay in order to get a $1 payout per share if that candidate wins the race. In most cases, we've included only the top-two candidates.
California
Bovada: Sanders (-1200), Biden (+600)
PredictIt: Sanders ($0.90), Biden ($0.10)
Texas
Bovada: Sanders (-110), Biden (-110)
PredictIt: Biden ($0.53), Sanders ($0.48)
North Carolina
Bovada: Biden (-1100), Sanders (+700)
PredictIt: Biden ($0.90), Sanders ($0.09)
Virginia
Bovada: Biden (-4000), Sanders (+1000)
PredictIt: Biden ($0.95), Sanders ($0.04)
Massachusetts
Bovada: Sanders (-275), Warren (+300), Biden (+800)
PredictIt: Sanders ($0.69), Warren ($0.27), Biden ($0.10)
Minnesota
Bovada: Sanders (-600), Biden (+425)
PredictIt: Sanders ($0.84), Biden ($0.16)
Colorado
Bovada: Sanders (-3000), Biden (+1200)
PredictIt: Sanders ($0.92), Biden ($0.08)
Tennessee
Bovada: Biden (-800), Sanders (+500)
PredictIt: Biden ($0.88), Sanders ($0.12)
Alabama
Bovada: Biden (-5000), Sanders (+2000)
PredictIt: Biden ($0.98), Sanders ($0.02)
Oklahoma
Bovada: Biden (-500), Sanders (+375)
PredictIt: Biden ($0.82), Sanders ($0.19)
Arkansas
Bovada: Biden (-1200), Bloomberg (+900), Sanders (+1500)
PredictIt: Biden ($0.90), Bloomberg ($0.08), Sanders ($0.04)
Utah
Bovada: Sanders (-750), Biden (+500)
PredictIt: Sanders ($0.88), Biden ($0.10)
Maine
Bovada: Sanders (-850), Biden (+600)
PredictIt: Sanders ($0.88), Biden ($0.12)
Vermont
Bovada: Sanders (-100000)
PredictIt: Sanders ($0.99)