What's the over/under on the number of touchdowns that Tom Brady and Patrick Mahomes will throw during the Super Bowl? Passing touchdowns are among the numerous individual player prop bets for Super Bowl 55.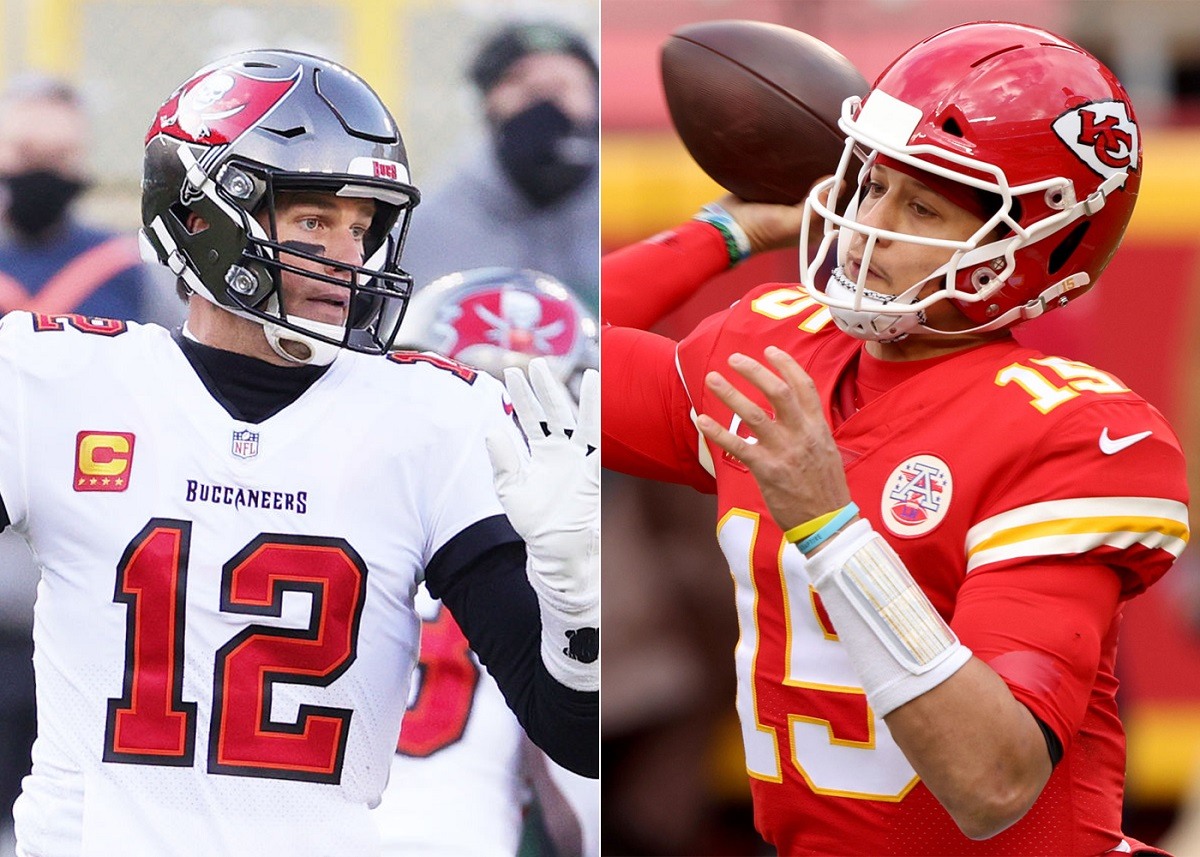 Brady is about to play his 10th Super Bowl, the most in NFL history, and no other quarterback has played more than five.
In 44 playoff games, Brady went 30-11 with the New England Patriots and 3-0 with the Tampa Bay Buccaneers. Brady posted a 6-3 record in the Super Bowl with the Patriots, including two losses to Eli Manning and the New York Giants.
Mahomes, meanwhile, appeared in seven total playoff games during his short career. He guided Kansas City to a 6-1 record in the playoffs over the past three seasons, including one Super Bowl victory last year.
---
SUPER BOWL 55 PROP BETS PASSING TDs
| | | | |
| --- | --- | --- | --- |
| Patrick Mahomes | 1.5 | -400 | +295 |
| Patrick Mahomes | 2.5 | -130 | +105 |
| | | | |
| Tom Brady | 1.5 | -215 | +165 |
| Tom Brady | 2.5 | +150 | -190 |
---
Brady threw 18 touchdown passes during his nine previous Super Bowl appearances. Mahomes tossed two touchdowns during Super Bowl 54.
DraftKings also listed a Super Bowl prop bet with passing yards. They list Mahomes with an over/under at 325.5 yards. Brady's over/under is listed at 295.5 yards.
What do you think will be the narrative of the Super Bowl? If you expect a high-scoring affair or a quarterback shootout, then fire away at the overs. If you think that defense will dominate the Super Bowl, then target the unders.
Old Man Brady's Still Got It
Ponce de Leon went in search of the fountain of youth in Florida, but Brady found it in Tampa Bay.
The 43-year-old Brady passed for 4,633 yards (ranked #3), 40 touchdowns (ranked #2), and 12 interceptions. Brady ranked #9 in the league with a 72.6 QBR rating.
Brady posted a donut in Super Bowl 53. The New England Patriots won a low-scoring affair 13-3, and Sony Michel rushed for the only touchdown that game. Aside from zero touchdowns in his last Super Bowl, Brady threw 18 touchdowns in his other eight. He threw three-plus touchdowns three times, including four against the Seattle Seahawks in Super Bowl 49.
DraftKings lists Brady under 1.5 touchdowns at +165 odds, and over 1.5 touchdowns at -215. They also list Brady under 2.5 TDs at -190 and over 2.5 TDs at +150.
Brady threw three-plus TD strikes three times in nine Super Bowls, but he didn't have the same arsenal he has at his disposal in Tampa. In three postseason games with the Bucs, Brady tossed seven touchdowns and at least two TDs per game.
Young Gun Mahomes Ready to Slay the GOAT?
Against the San Francisco 49ers in the Super Bowl last year, Mahomes connected on 26-for-42 attempts for 286 yards. Mahomes accounted for three touchdowns; he passed for two touchdowns and rushed another en route to a Super Bowl MVP.
In seven career playoff games, Mahomes rushed 37 times for 173 yards and four touchdowns. He averages 4.7 yards per carry.
During the regular season, Mahomes threw for 4,740 yards (ranked #2), 38 touchdowns (ranked #4), and only threw six interceptions (ranked #5). His QBR of 82.9 was the second-best in the league. He's also one of the favorites to win the NFL MVP.
DraftKings lists Mahomes under 1.5 touchdowns at +295 odds, and over 1.5 touchdowns at -400. They list Mahomes under 2.5 TDs at +105 odds, and over 2.5 TDs -130.
How well do you think Todd Bowles' defense will play? Tampa has a stellar run defense, but their pass defense is vulnerable. If Tampa's D slows down Mahomes, then you can get nearly 3-to-1 on your money betting him under 1.5 passing touchdowns at +295.
We have all the basic info you need for Super Bowl 55 including point spread and kickoff time.