The old saying warns that "it's never over 'til it's over." But that's not even true anymore, especially if you were one of the unfortunate Super Bowl bettors who wagered on one of the game's most attractive props — the over/under on total rushing yards by Chiefs superstar quarterback Patrick Mahomes. Chalk this up as either a lucky break or a bad beat, depending on which side you bet.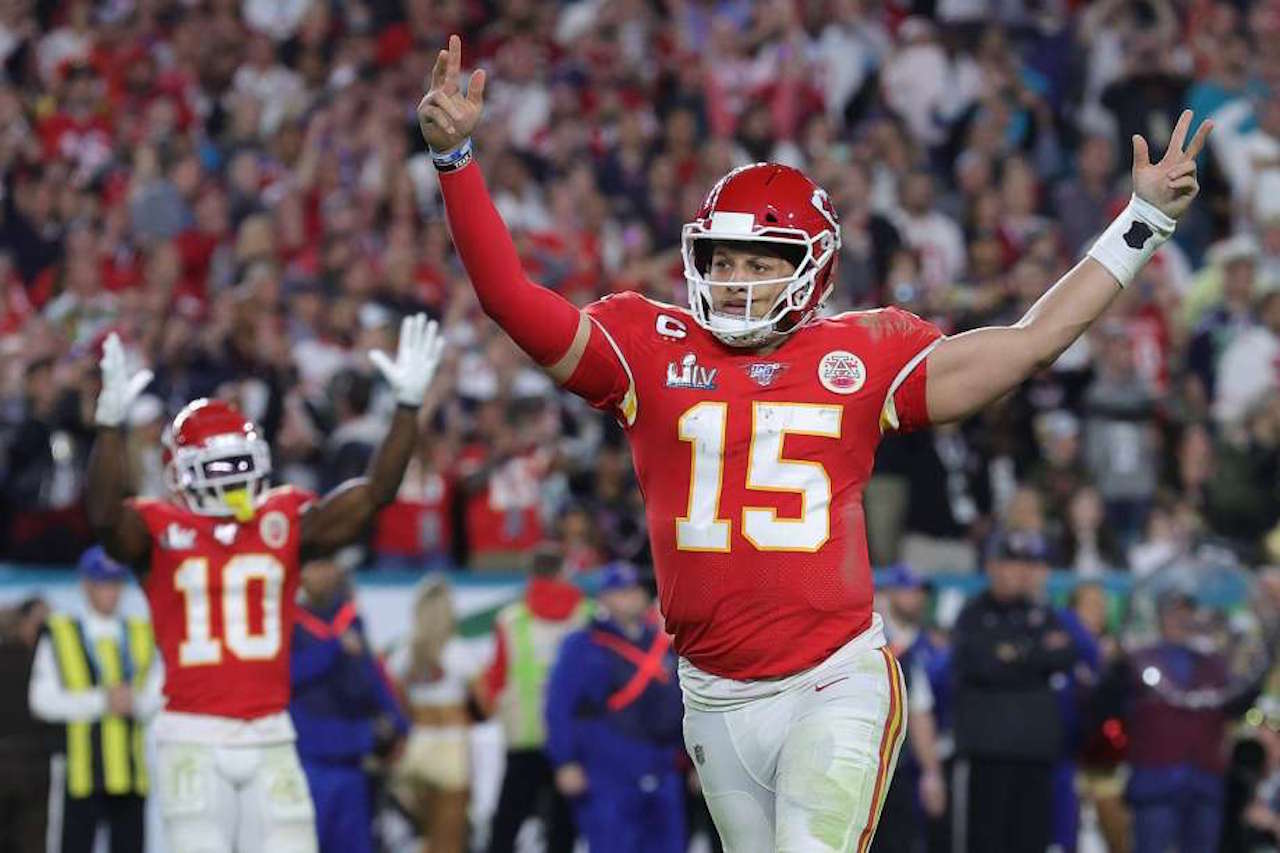 When the Chiefs took possession of the ball on their final drive of the 2020 Super Bowl, sitting atop a comfortable 11-point lead, most proposition wagers had already been decided a long time ago. Among these wagers was the prop on Mahomes and his projected total rushing yards.
Mahomes had accumulated 44 rushing yards with less than a minute remaining in the game. The prop bet on the "over" easily eclipsed all the totals, which were commonly available at various sportsbooks. The "over" ticket appeared to be a mortal lock.
Wait. Not so fast.
Why Mahomes' Rushing Total 'Over' Was Such a Popular Prop
Sportsbooks opened the Mahomes rushing prop at 29.5 yards. Bettors pounced immediately. By kickoff, the total skyrocketed to 35.5 yards, a move of 6 yards, which is quite an adjustment. ESPN's sports gambling writer David Purdum noted that 75 percent of bettors who wagered on this prop took the over.
Professional handicapper Steven Nover caught on to the big number swing and went the other direction. Nover was thrilled to fade the popular public perception. Prior to the game, Nover wrote (in an e-mail to me, which I'm now sharing with his permission):
Surely bettors were remembering Patrick Mahomes' impressive 27-yard touchdown run against the Titans in the AFC championship. Mahomes rushed for 53 yards against the Titans, and had the same amount of running yards against the Texans in the Chiefs' (sic) two playoff victories.

So it's not surprising the Super Bowl prop of Mahomes Over/Under rushing yards has been bet up. It was at 35 1/2 yards at Sportsbook.com Saturday morning. At that number, I believe an under wager makes sense.

Mahomes has been held to under 31 rushing yards in 27 of 32 regular-season games during the past two years. Mahomes has good mobility and excellent improvising skills, but he's not an elite running quarterback. Even though this is the Super Bowl, the Chiefs would rather not be holding their breath seeing their franchise quarterback take off with the ball against one of the hardest-hitting and better tackling teams in the NFL.

Lamar Jackson, Kyler Murray and Russell Wilson were the only quarterbacks to rush for more than 34 yards against the 49ers this season. Wilson and Murray did this once in their two starts.

The public loves to bet over on props in the Super Bowl. This is an example where the marketplace has pushed the number higher than it should be.
Nover and other contrarian handicappers waited until the highest possible number was available. Then they pounced. They took the "under" at 35.5. A few spots even closed at 36.
What Happened?
Mahomes was resting on 44 rushing yards for the game, well over the posted total — which ranged from 29.5 up to 36. Even a kneel down or two in the closing 57 seconds, resulting in a small subtraction, still meant the over tickets were in great shape.
However, that's when things turned chaotic. As the Chiefs were moving backward, but nonetheless inching closer to their first Super Bowl win in half a century, each successive play sliced yardage away from Mahomes' rushing stats. Here's the breakdown of the final four plays of the game:
1st & 10 at KC 41
(0:57 – 4th) P.Mahomes kneels to KC 36 for -5 yards.

2nd & 15 at KC 36
(0:53 – 4th) P.Mahomes kneels to KC 33 for -3 yards.

3rd & 18 at KC 33
(0:51 – 4th) P.Mahomes kneels to KC 26 for -7 yards.

4th & 25 at KC 26
(0:00 – 4th) (Shotgun) P.Mahomes pass incomplete deep right.
Incredibly, Mahomes lost 15 yards on the final three "rushing attempts." His rushing yardage total went from 44 yards and ended at 29 yards. What a reversal of fortune! Pay the "under" tickets!
For over bettors, which included most of the public who pounded the yardage total all the way up to 36, this ended up as a horrendous beat.
For many professional bettors and contrarians, including Stephen Nover, it was time to scramble into the trash can and try to dig through the losing tickets. Is there such a thing as plain old dumb luck in handicapping and sports gambling?
Answer — yes.
The lessons best learned here are twofold: First, it's never over 'til it's over, and second — a win is a win, no matter how it gets there.
Read more on the Super Bowl Betting recap here.