With Super Bowl 56 rapidly approaching, DraftKings posted a prop bet for which player (if any) from the LA Rams or Cincinnati Bengals will score multiple touchdowns. Cooper Kupp is the prop bet favorite at +250 odds to score two or more touchdowns in the Super Bowl, followed by Joe Mixon (+450), Ja'Marr Chase (+500), Cam Akers (+500), and Odell Beckham, Jr. (+750).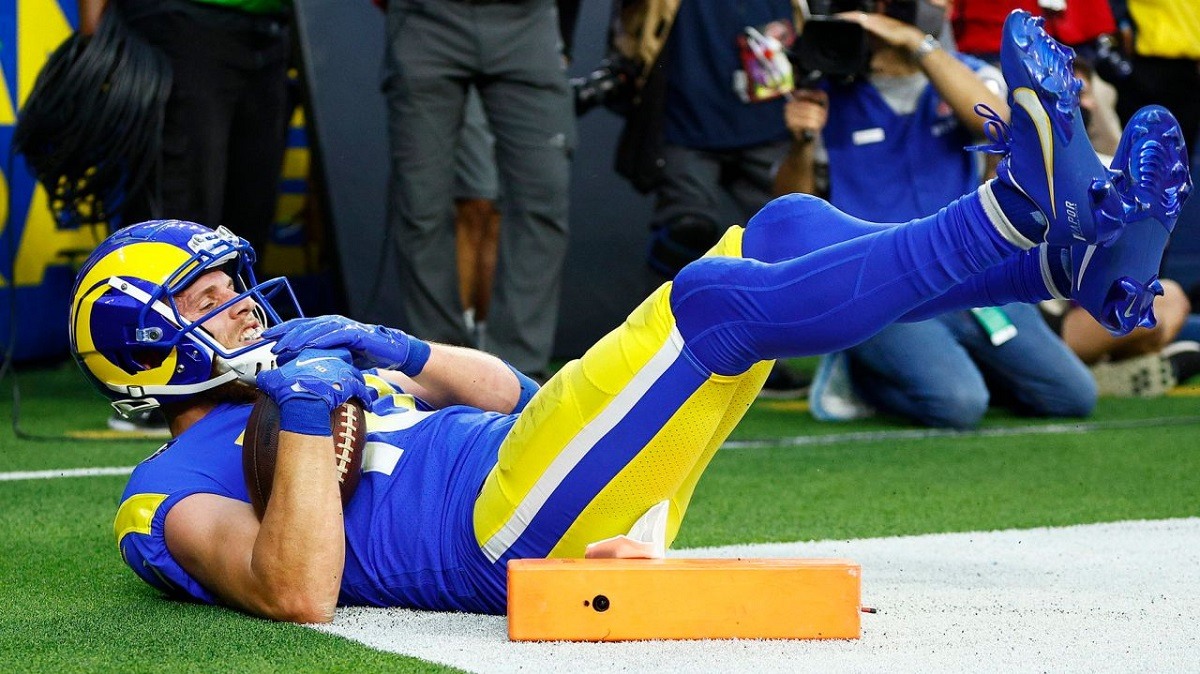 This is a fun prop bet because players do not always score multiple touchdowns in the Super Bowl, and sometimes your favorite player gets shut out. It's also fun to take a flier on an under the radar player that will have a breakout game.
WHO WILL SCORE 2 OR MORE TOUCHDOWNS?
Cooper Kupp +250
Joe Mixon +450
Ja'Marr Chase +500
Cam Akers +550
Odell Beckham, Jr +750
Tee Higgins +1000
Kendall Blanton +1300
Tyler Higbee +1300
Sony Michel +1400
Van Jefferson +1400
Darrell Henderson +1400
CJ Uzomah +1500
Tyler Boyd +1400
Drew Sample +2000
LA Rams Defense +2000
Samaje Perine +2200
Ben Skowronek +5000
Joe Burrow +6500
Cincinnati Bengals Defense +6500
Matthew Stafford +8000
---
You know the saying: when it rains, it pours. Very few people expected Gabriel Davis to score multiple touchdowns for the Buffalo Bills, let alone four in the greatest playoff game in NFL history a couple of weeks ago when the Bills lost an overtime thriller to the Kansas City Chiefs.
WRs: Kupp +250, Chase +500
No one loved the acquisition of quarterback Matthew Stafford more than Cooper Kupp. With Stafford under center, Kupp led the NFL with 145 receptions, 16 touchdowns, and 1,947 receiving yards.
Kupp tallied 11 receptions for 142 yards and two touchdowns against the San Francisco 49ers in the NFC Championship Game. It was an MVP-worthy performance that helped secure the Rams a spot in the Super Bowl, but can Kupp score multiple touchdowns against the Bengals? Oddsmakers think so, which is why Kupp has the best odds at +250 to score two or more touchdowns in Super Bowl 56.
Kupp has five instances in the regular season in which he caught two touchdowns, which is one of the reasons why he's the betting favorite.
Ja'Marr Chase made a name for himself during his rookie season with the Cincinnati Bengals. He caught 81 passes for 1,455 yards, and 13 touchdowns. He only saw the end zone once in the postseason, because kicker Evan McPherson was the Bengals primary offensive weapon. However, Chase had three games this season in which he caught multiple touchdowns. Chase even torched the Kansas City Chiefs for three touchdowns in Week 17, which is why he's a popular pick at +500 odds to score multiple TDs in Super Bowl 56.
COOPER KUPP 70 YARD TD CATCH 👀

(via @NFL)
pic.twitter.com/04OgKf1zMD

— Bleacher Report (@BleacherReport) January 23, 2022
Value Bet: OBJ +750
Prior to this season, Beckham posted 12 games with multiple touchdowns in his career, including 11 with the New York Giants and just once with the Cleveland Browns.
Since joining the Rams, Beckham has not scored multiple touchdowns in a game, but he found the end zone five times in eight regular season games, and once in the playoffs.
However, with the Bengals defense keeping close tabs on Kupp, Beckham could be the X-factor if the Bengals double team Kupp. Beckham has the skills to be the top wide out on almost every team in the NFL, but he's the second option with the Rams. That's why Beckham offers tremendous value at +750 odds to score multiple touchdowns in Super Bowl 56.
RBs: Mixon +450, Akers +550
Running backs are often safe bets to score multiple touchdowns, especially in the red zone. However, both the Rams and Bengals do not run traditional offenses. Sean McVay likes to think outside of the box, while Zac Taylor and the Bengals have a pass-first mentality. That's not to say that the running backs on both teams could find alternative ways of reaching the end zone via screen passes and dump offs.
Joe Mixon from the Bengals is +450 odds to score multiple touchdowns in the Super Bowl. Mixon scored two touchdowns in five different games this season, including two games in which he scored a single rushing and single receiving touchdown in the same game.
Cam Akers missed the regular season while recovering from an Achilles injury, but he's looked great since his return in Week 18. He has yet to reach the end zone, but he's a valuable weapon in McVay's deep offensive arsenal. In his rookie season, Akers never scored more than a single touchdown in a game. At +550 odds to score more than one touchdown in the Super Bowl, his numbers seem a little too generous that his actual production.
TEs, Defense, and Other Long Shots
Both starting tight ends in the Super Bowl have knee injuries. Tyler Higbee from the Rams and CJ Uzmoah from the Bengals exited their respective conference championship games after knee injuries in the first half. Both insist they'll be ready to play, despite sprained knees. Who knows how effective they'll be with just two weeks to heal? Oddsmakers did not have faith in either starter with Higbee at +1300 odds and Uzomah at +1500 odds to score multiple touchdowns.
Higbee's backup, Kendall Blanton, played well when Higbee went down. He's developed a quick rapport with Stafford, which helps his cause. Blanton is still a long shot at +1300 odds to find the end zone multiple times in the Super Bowl.
Tee Higgins is the #2 wide receiver on the Bengals. He could be a valuable weapon if the Rams double team Chase all game, or if Jalen Ramsey shuts down Chase. Higgins scored only six touchdowns all season, but he had one stellar game with two scores. Higgins is accurately priced at +1000 odds.
QBs: Burrow +6500, Stafford +8000
Both quarterbacks like to fling the ball, so there's a chance that the defenses could find the end zone with a Pick-6 interception returned for touchdown. This could come into play if there's a blow out and the trailing quarterback forces the action with risky passes. The Rams defense is +2000 odds to score multiple touchdowns, while the Bengals defense is a moon shot at +6500 odds.
Joe Burrow and Matthew Stafford are not mobile quarterbacks, so there's very little chance you'll find them scampering into the end zone when a play breaks down in the red zone. They lack the rushing skills of a mobile quarterback like Lamar Jackson or Josh Allen, which is why Burrow is +6500 odds and Stafford is +8000 odds to score multiple touchdowns. What you're really betting on is easy rushing touchdown like a quarterback sneak plus a trick play like the Philly Philly Special from a couple years ago in which the quarterback catches a pass. Otherwise, save you money on backing a quarterback for this prop bet.