Wisconsin native Steve Stricker would like nothing more than to win this week's American Family Insurance Championship in his residence of Madison. The only problem is he's been so busy balancing playing host at this event, playing on two tours, and his Ryder Cup captain duties it is hard to focus won winning.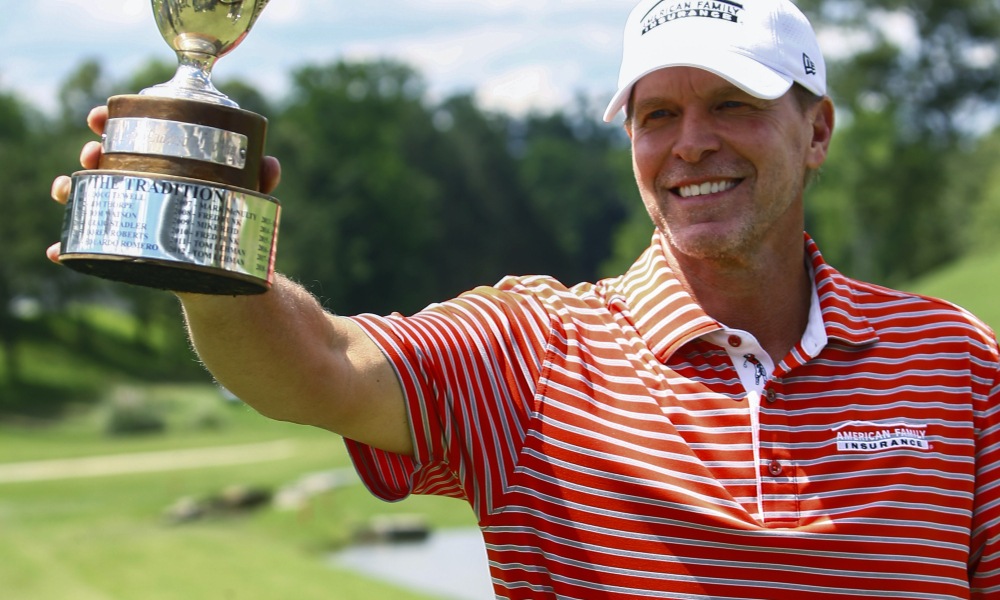 The fact that he has finished tied for third the last two years, speaks to his ability. Still, two consecutive top-5 finishes isn't what the 52-year-old desires.
"I try to do my thing and stay in my own lane," Stricker told reporters on Wednesday. "Like my wife says, 'stay in your own lane.' I'm still trying to play golf and that's what's foremost at this time."
With all that is going on in Stricker's life, it is easier said than done.
"I'm busier now than ever," Stricker said. "I thought at this point in time I'd be winding down a little bit. But another year-and-a-half of hard work and busy-ness. After the Ryder Cup next year, I'll probably be able to sit back and just play on the Champions tour and enjoy that a little bit more."
Not surprisingly, Stricker is the 5/1 favorite to win this week. Scott McCarron is next at 7/1, and Bernhard Langer is at 8/1.
Balancing Act Successful
Stricker had said that he wanted to continue to play on both the PGA Tour and PGA Tour Champions like he did last year. In seven events on the PGA Tour, he has missed three cuts and finished in the top 25 just once.
His results have been far better on the senior circuit. He has played in six events, finishing in the top 10 three times, including winning his first major championship on either tour, the Regions Tradition.
"It was finally nice to get a major," Stricker said. "I would've loved to have one of those majors that (two-time U.S. Open champion Andy North) has, but to get one on the Champions tour is the next best thing. It was a good week."
It was going to be a crazy year with the Ryder Cup a little more than a year away, but Stricker isn't making any excuses. He also knows next year he will be playing less and focusing on the Ryder Cup.
"I have Ryder Cup duties, but I still concentrate on playing golf. That will change over the next year probably," Stricker said. "I'm fortunate enough to be able to do some of these things yet at 52 years old. I'm excited that I'm able to do them, first of all, that I'm healthy enough and still playing decent golf to do it."
Rookie Experiencing Growing Pains
Another participant in this week's event, which begins Friday, is Darren Clarke. He is in his first year on the PGA Tour Champions, and it hasn't exactly gone according to plan.
The Irishman was expected to be a force on the tour, but so far has played in 11 events and has three top 10s, including finishing fourth in last week's Mastercards Japan Championship.
Clarke is listed at 80/1 this week, but feels he is starting to acclimate better to the tour.
"I'm still excited about being out here," Clarke told PGATour.com. "I'm playing and trying to compete. I've got to rediscover how to score again, I think that's the big thing. I mean, you can play well, but the days you don't play well, when you don't play that much competitive golf, you lose the knack to turn maybe a 74, 75 into a 70 or 69. The guys do that out here. The other guys, whenever they're not doing that, they're shooting 64, 65. The standard is really, really high. The guys go low."