Can Stradivarius, a horse named after a musical instrument, equal Yeats, a horse named after a poet? That next landmark awaits the 7-year-old horse as Thursday's Day 3 storyline at Royal Ascot.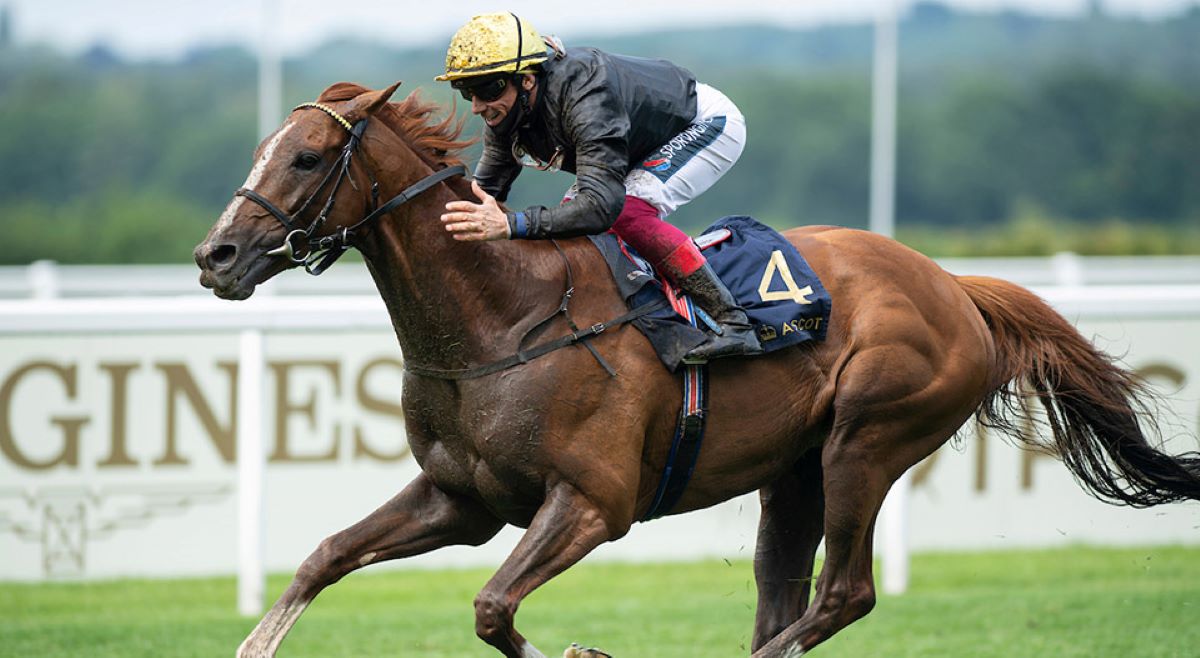 That landmark would be a fourth consecutive Gold Cup title, which would tie Stradivarius with Yeats. He won four consecutive Gold Cups between 2006 and 2009. It also comes with a side dish of five consecutive Royal Ascot victories, should Stradivarius play another winning Gold Cup note. He opened his Royal Ascot account winning the Group 2 Queen's Vase in 2017.
The Gold Cup headlines Thursday's Royal Ascot card. The 2 ½-mile test is the day's lone Group 1 event and Stradivarius will see an eclectic group of rivals, familiar or otherwise. There's last year's runner-up Nayef Road, along with stayer rival Trueshan, who won the Champions Long Distance Cup at Ascot last fall. There's also Spanish Mission, who won the Yorkshire Cup last month, and Subjectivist, who breezed to victory in the Dubai Gold Cup in March. He's the horse Stradivarius' trainer John Gosden said "adds a lot of spice to the race."
Serpentine winds up in the Gold Cup hunt
And there's surprise starter Serpentine. The 2020 Epsom Derby winner stretches out for Aidan O'Brien, who supplemented him into the field for £30,000. Serpentine is the first Derby winner to run the Gold Cup since Blakeney in 1970. He's trying to be the first Derby winner to win the Gold Cup since Ocean Swell in 1945.
All of them, however, know who is the first among equals here. The one-time Derby hopeful who became a stayer legend with a personality.
"He is like part of the family now and when his owner-breeder Bjorn Nielsen comes to stay, he can look out of the guest room window and see Stradivarius saying hello to him," Gosden said on a conference call with reporters last week. "Full marks to Bjorn, because he has bred this horse and raced him in the most sporting manner. I have nothing but respect for him to do that. He tried to breed a Derby horse and wound up with a wonderful Cup horse."
Stradivarius plays 17 winning tunes
This "wonderful Cup horse" owns 17 victories in 27 career starts, including a string of 10 consecutive scores between the Yorkshire Cup in May 2018 and the Doncaster Cup in September 2019. Last year, Stradivarius won three times in six races, but he finished his season with a seventh in the Arc de Triomphe and a 12th in the Champions Long Distance Cup.
Stradivarius righted the ship in his lone 2021 start, winning the Group 3 Sagaro Stakes at Ascot in April.
"Stradivarius has won four Goodwood Cups, as well as Yorkshire Cups, Doncaster Cups, Lonsdale Cups. They put up the £1 million bonus two years running, thinking nobody would do it, and he knocked it off both years and finished the insurance company off," Gosden said. "He has been remarkable. I think the toughest race of his life was actually his first Gold Cup (2018) against the great French stayer Vazirabad."
Putting the hooves to the insurance company
That bonus came after Stradivarius won the Yorkshire Cup, Gold Cup, the Goodwood Cup, and the Lonsdale Cup in 2018. He did it again in 2019, prompting Gosden's I-told-you-so comment. The trainer also remains amazed at how Stradivarius still loves race day.
"It would be extraordinary from the point of view that Stradivarius is still a full horse. He is not a gelding and the geldings often race on a lot longer because they are not dealing with the distractions of life," Gosden joked. "He seems to love his training still and likes his racing. He can be very naughtily behaved beforehand and think he's in the covering shed, but when it comes to the race, he gets down to the start and says 'right, there's a job to do. Let's go.'"
That probably is what Love thought on Day 2's highlight race, the Group 1 Prince of Wales's Stakes. The 11/10 favorite opened her 4-year-old season winning the 1 ¼-mile Prince of Wales's by three-quarters of a length over 10/1 challenger Audarya. That victory gave trainer O'Brien his 75th Royal Ascot victory and jockey Ryan Moore his 63rd.
"First run since last August and she beat a Breeders' Cup winner," Moore told reporters afterward, referring to Audarya's victory in last fall's Filly & Mare Turf.
Americans prevail — just not as expected
As for the Nov. 5-6 Breeders' Cup, Love earned a spot in the Breeders' Cup Turf with the victory.
Elsewhere on Day 2, American-owned Quick Suzy beat American-trained 2/1 favorite Twilight Gleaming by 1 ¼ lengths to win the Group 2 Queen Mary Stakes. Quick Suzy (7/1) is owned by Aron Wellman's Eclipse Thoroughbred Partners, who bought her for $23,800 at the Goff's Irish National Yearling Sale. Twilight Gleaming is trained by Wesley Ward, who was seeking his fourth Queen Mary victory in seven years.
Ward's other two juvenile filly sprinters: 3/1 favorite Ruthen and Golden Bell (9/1) failed to place in the Windsor Castle Stakes. Chipolte at 28/1 prevailed, instead.
Kemari (15/2) captured the Group 2 Queen's Vase and 22/1 shot Indie Angel brought Frankie Dettori his 75th Royal Ascot victory in the Group 2 Duke of Cambridge Stakes. The long shots continued their march to the winner's circle with 18/1 Real World winning the Royal Hunt Cup and 12/1 Lola Showgirl taking the Kensington Palace.