UFC Heavyweight champion Stipe Miocic most likely won't be able to fight again this year, after he suffered an eye injury during his victory over Daniel Cormier at UFC 241.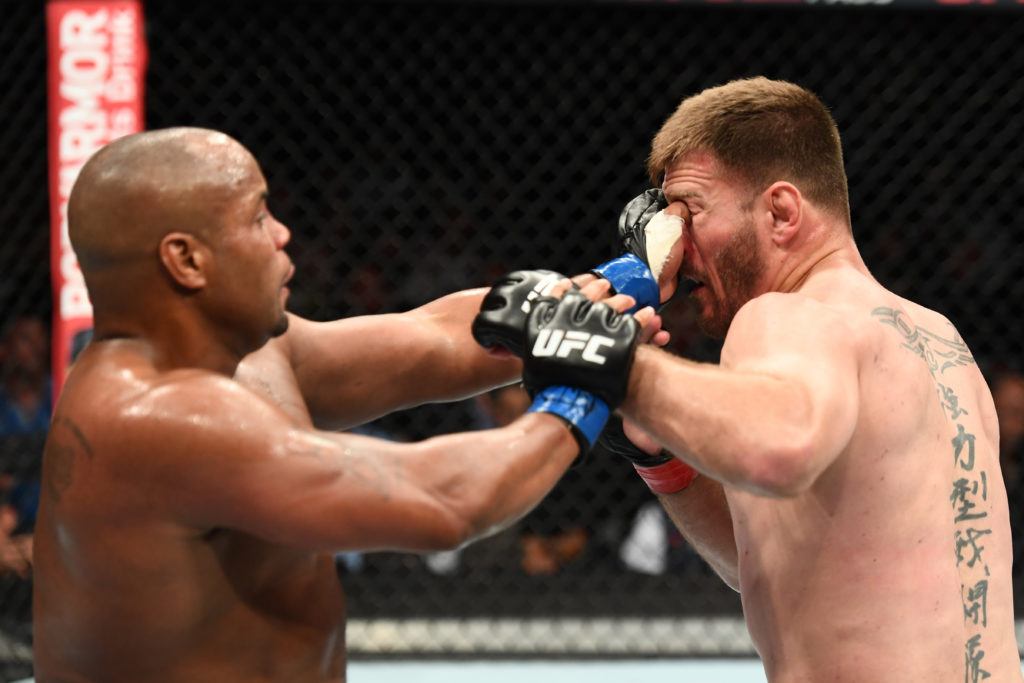 Miocic (19-3) apparently suffered the injury due to an accidental eye poke during the fight, which Miocic went on to win by knockout in the fourth round.
Eye Injury May Delay Next Rematch
The news may scuttle – or at least delay – plans for a third fight between Miocic and Cormier. In their first meeting back in 2018, Cormier won the heavyweight title via first-round knockout. Miocic didn't take another fight until their rematch this August, where he regained his crown.
Cormier has recently said that he would be interested in coming back to the Octagon one more time before likely retiring, but that his only interest is in concluding a trilogy with Miocic. But that rubber match will now have to wait until the champion feels he is medically ready to go.
"I'll be ready to fight when I can see out of both eyes again," Miocic told ESPN in a statement. "I can't wait to defend my belt."
According to Miocic's agent, Jim Walter, the 37-year-old champion suffered a "severe retina injury" during the rematch. The next step in treatment will be a reevaluation of the eye, which is scheduled for three weeks from now. That evaluation will determine whether a procedure on the eye is necessary for full recovery.
If Miocic should receive medical clearance, he will need to start with noncontact activities before resuming full training, meaning he is almost certainly several months away from his next fight.
Third Fight Could Settle Greatest UFC Heavyweight Debate
The 40-year-old Cormier (22-2) announced earlier this week that he would be willing to fight Miocic one more time, but that it would be the final bout of his career. Cormier was ahead on the scorecards after three rounds in their rematch, but failed to finish the job, as Miocic landed a series of body blows that eventually wore him down. Cormier would later say that he regretted not taking a better strategic approach to the fight, and in particular, in the fourth round.
A rematch between Miocic and Cormier could be one of the biggest fights of 2020 for the UFC, and would likely be billed as a showdown to see who is the greatest heavyweight in MMA history. Miocic holds the record for most consecutive heavyweight title defenses with three, while Cormier is widely acknowledged as an all-time great in the sport in both the light heavyweight and heavyweight classes.
While not official date or venue for the rematch has been set yet, some sportsbooks are going ahead with the assumption that a fight between the two will take place eventually. At FanDuel Sportsbook, Miocic is listed as a -126 favorite over Cormier (+104), with other oddsmakers also making the fight a near tossup.