Stephen Strasburg will remain with the Washington Nationals after agreeing to a seven-year, $245 million contract with the team on Monday.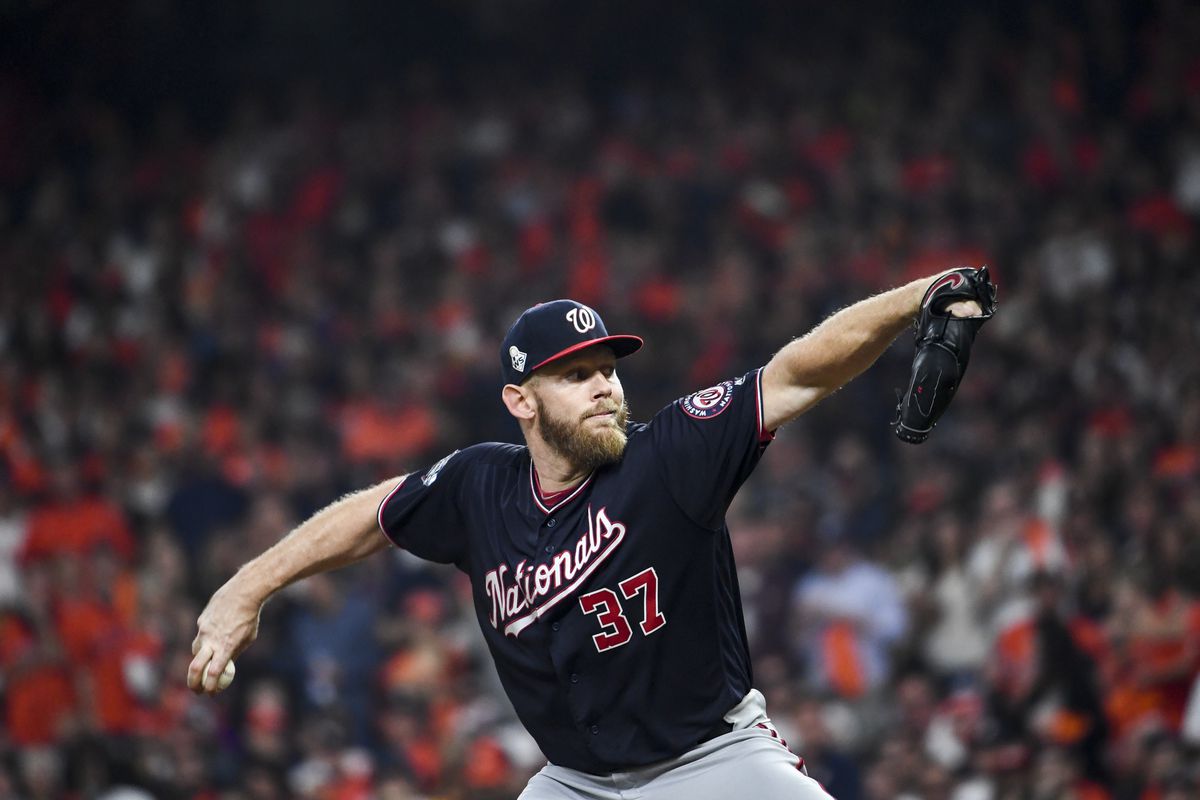 The massive deal is the largest ever for a pitcher, though that designation is likely to be short-lived as Gerrit Cole has yet to sign this offseason.
Strasburg Breaks the Bank
Strasburg's contract is record-setting in at least two ways. First, it is the largest total contract amount ever given to a pitcher, breaking the $217 million given to David Price in 2015 by the Boston Red Sox. The $35 million average per season is also a new high for pitchers, breaking the $34.4 million Zack Greinke was promised by the Arizona Diamondbacks in 2015.
The 31-year-old Strasburg is coming off a season in which he went 18-6 with a 3.32 ERA. He also earned World Series MVP honors for the Nationals, winning two games against the Houston Astros.
According to agent Scott Boras, Strasburg was eager to sign a new deal with the Nationals, as he is fond of playing in Washington.
"I must say that for Stephen, for him to establish a legacy and wear the curly W for his career was something that was very important to him, and I think it was because he knew that people in this organization cared deeply about him, and always cared about his interests and the interests of his family," Boras told reporters. "Because of that, he decided to stay at home and stay in one uniform, and remain a Washington National for the remainder of his career."
Strasburg opted out of the final four years of his previous contract, which was worth $100 million, in order to test the free agency waters this offseason.
Keeping their ace was an important offseason priority for the Nationals, as even the defending champions can't afford to lose ground in the highly competitive NL East. According to PointsBet, the Atlanta Braves (+190) are a very slight favorite to win the division over the Nationals (+200). The New York Mets (+300) will be in the mix, while the Philadelphia Phillies (+350) will look to bounce back from a disappointing 2019 season, having already added Zack Wheeler from the Mets to bolster their rotation.
Cole's Price Continues to Rise
While the Strasburg signing has implications for the NL East race and the balance of power across baseball as a whole, its biggest impact may be felt when Gerrit Cole eventually signs a contract this offseason. The former Astros hurler is expected to sign a record-setting contract this offseason, and the numbers Strasburg got from the Nationals will likely only send Cole's price skyrocketing.
Before Monday, many expected Cole to receive offers in the range of what Strasburg just got. Now, Cole may be able to command $300 million or more if he can convince a team to give him a deal that stretches out to eight or nine years. A contract that large would most likely come from the New York Yankees, though both the Los Angeles Dodgers and Los Angeles Angels are also thought to be in play.