Malibu Moon, the grandson of a Kentucky Derby winner and the sire of another one, died late Tuesday of an apparent heart attack in his Spendthrift Farm stall. He was 24.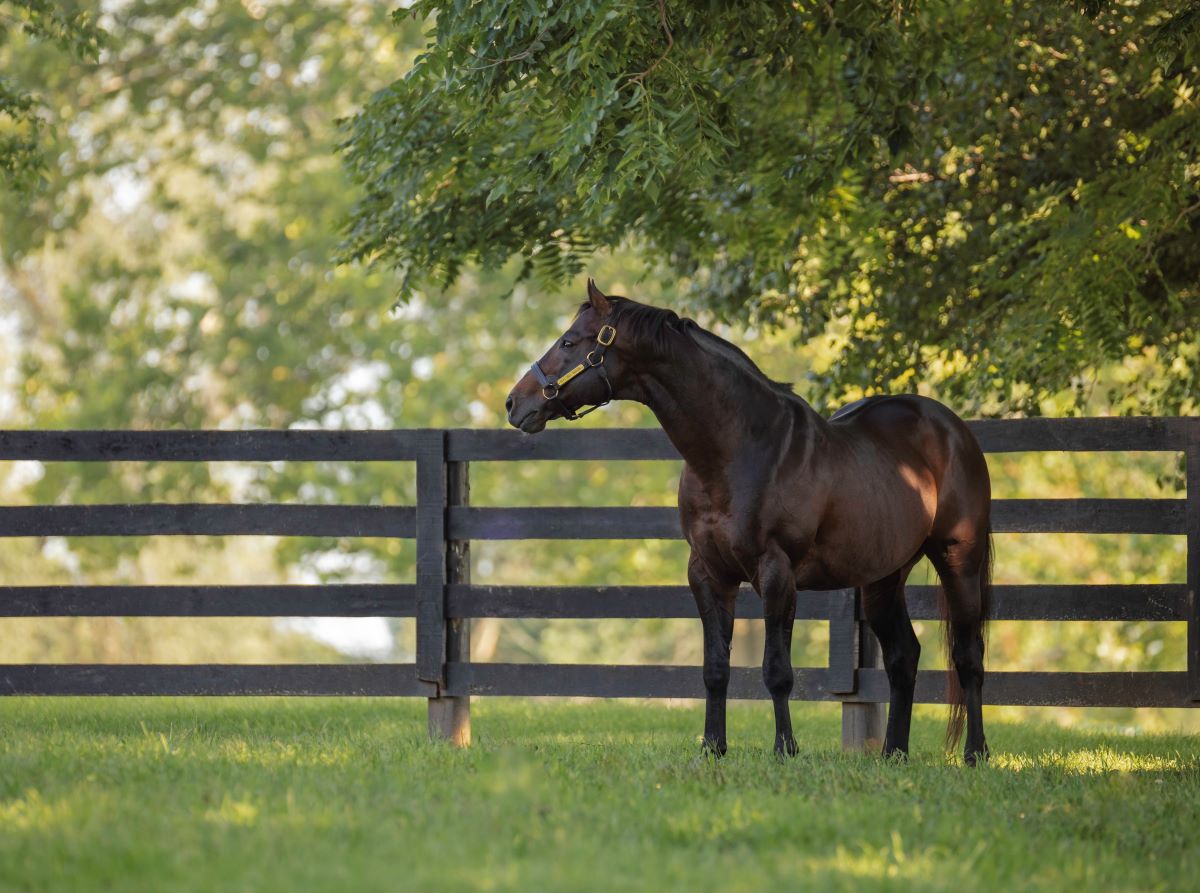 The prolific sire of 126 black-type winners and 51 graded stakes winners was one of the most influential sires of the 21st century. But B. Wayne Hughes, founder of the powerhouse farm that is Spendthrift, said the stallion was more than that.
"He started Spendthrift for us," Hughes said in a statement released by the farm. "Without Malibu Moon, we are not where we are today. It takes a special horse and he was just that."
Malibu Moon was a special horse – with a special pedigree. He was the most prolific progeny of standout sire A.P. Indy, himself one of the definitive stallions of this century. A.P. Indy's sire was 1977 Triple Crown winner Seattle Slew. When Malibu Moon's progeny, Orb, won the 2013 Kentucky Derby, he became the only A.P. Indy son to sire a Kentucky Derby winner.
Five millionaires among $99 million in progeny earnings
Orb became one of Malibu Moon's 17 Grade 1 winners on dirt, a figure that trails only Tapit among modern-day sires. Malibu Moon's progeny include millionaires such as Gormley, Life At Ten, Magnum Moon, Carina Mia, and Come Dancing. Together, Malibu Moon's progeny have racked up more than $99 million in career earnings.
"This is our first loss of this kind. It's tough," Spendthrift Farm owner and president Eric Gustavson said in that statement. "You really develop a love for these beautiful, majestic animals. Even with Into Mischief taking over the mantle as 'top stallion' at the farm, Malibu Moon has always been 'the man' among our stallions. It can't be overstated how important he has been to the development of our farm."
And like Into Mischief, Malibu Moon didn't have a glittering racing career. He finished second in his debut on the Hollywood Park dirt. He broke his maiden in his second and final start in a five-furlong sprint at Hollywood Park. The 2-year-old suffered a knee injury during that race that ended his racing career.
Malibu Moon's modest racing career eclipsed quickly
In 2000, Malibu Moon opened his stud career for $3,000 at Country Life Farm in Maryland. Among his second crop was 2004's Champion 2-Year-Old Declan's Moon, who opened his career in 2004 with five consecutive wins and closed it in 2008 with more than $700,000 in earnings. Four years later, Malibu Moon was standing for $10,000 at Castleton Lyons in Kentucky. He moved to Spendthrift in 2007 after Hughes bought and restored the downtrodden farm.
Spendthrift, Castleton Lyons, and Country Life Farm shared ownership of the stallion.
By 2008, his first season at Spendthrift, Malibu Moon commanded $40,000. After Orb won his Derby, that price peaked at $95,000 in 2014. He stood at Spendthrift this year – his 22nd breeding season – for $35,000.
The day before his death, Malibu Moon showed he still had "it" as a stallion. One of his juveniles brought $700,000 at the Fasig-Tipton Midlantic 2-Year-Old Sale. That was the second-highest price paid during Tuesday's session.
He's Midnight Bourbon's grandsire
Malibu Moon carved out a niche as an influential broodmare sire. His daughters foaled the likes of 2015 Champion 3-Year-Old Filly Stellar Wind, Haskell Invitational and Louisiana Derby winner Girvin, and this year's Preakness runner-up, Midnight Bourbon.
"Malibu Moon was a friend. He had a special presence and was such a playful horse," said Country Life Farm's Josh Pons. When I would come visit him at Spendthrift, he always recognized me and my voice. Malibu Moon improved the lives of all the people he touched. He paid tuitions for the next generations of [the] Pons family – he put five kids through college. Malibu Moon moved up everything he touched."