Coach Craig Berube and the St. Louis Blues stunned the hockey world when they won the Stanley Cup. On Tuesday the organization did something far less shocking, signing Berube to a three-year contract.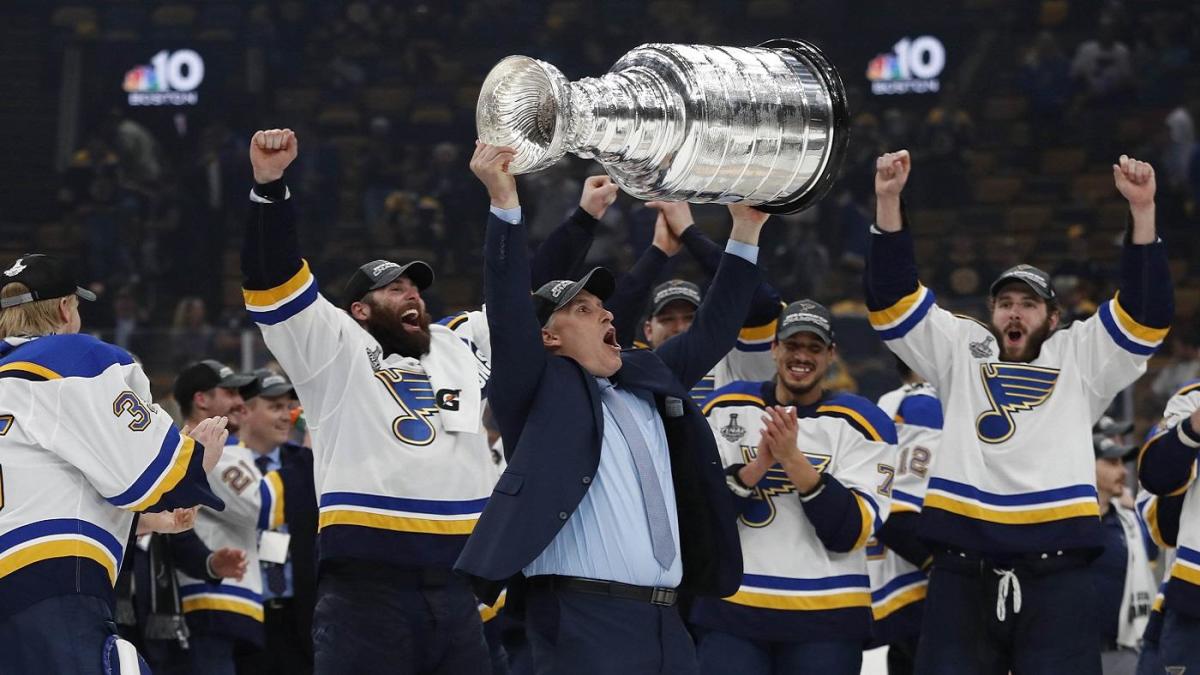 Berube began as an interim coach, taking over in November for Mike Yeo. He was supposed to be a temporary solution until general manager Doug Armstrong could interview a suitable replacement. But Berube took the team from last place to the playoffs, then to winning the team's first Stanley Cup. Armstrong made him the permanent head coach less than two weeks after Berube led them to the title.
"Craig made an enormous impact on our team when he took over last November," Armstrong said in a statement. "He restored our identity and provided our players with a clear sense of direction and purpose. The chemistry and trust that he developed with our players was integral in bringing our franchise the 2019 Stanley Cup."
No Overnight Sensation
Berube's magic didn't happen immediately. The team was still struggling two months after he took over and at the end of January had the worst record in the NHL. The team began, however, to win, at one point boasting a franchise best 11-game winning streak.
Making the playoffs, the Blues began upsetting their opponents. They shocked the Winnipeg Jets in the opening round, then got past the Dallas Stars to face the San Jose Sharks in the Western Conference Finals. When they downed the favored Sharks to reach the Stanley Cup Finals, they were a heavy underdog to the Boston Bruins. The team defeated the Bruins in seven games, earning at least one fan a huge payday.
It was obvious after the Western Conference Finals that Armstrong had his man, saying he had a, "candidate list of one."
Praise for Berube
St. Louis players said they had much respect for Berube, and wanted to play for him. Defenseman Vince Dunn said shortly after Berube replaced Yeo, that he liked is direct approach.
"He's pretty straightforward," Dunn said. "He doesn't try to mess with you. He doesn't send you mixed signals. I think you can get the message pretty clear with a voice like his."
Forward Brayden Schenn said during the season that Berube was tough, but fair.
"Very approachable, very fun to be around," Schenn said. "Demands a lot of his players, but that's what you want as a player. You want your coach to be able to go up to talk to you and say, 'How's it going?' At the same time when it's game time, to be hard on you. I think guys respect that."
The only wrinkle for Berube was that he didn't win the Jack Adams award for coach of the year. He finished third in the voting. Still, Berube has shed the interim title, and will now spend the next three years under contract.
"This is a proud day for me and my family," Berube said Tuesday in a statement. "I have a tremendous amount of respect for this team and this organization, and the city of St. Louis has embraced me as one of their own.
"This past season was the experience of a lifetime, and I'm anxious to get started on our title defense."