Daniel Ek, the 38-year-old owner of Spotify and a lifelong Arsenal fan, is standing firm in his attempt to take up the reins of the Premier League giants.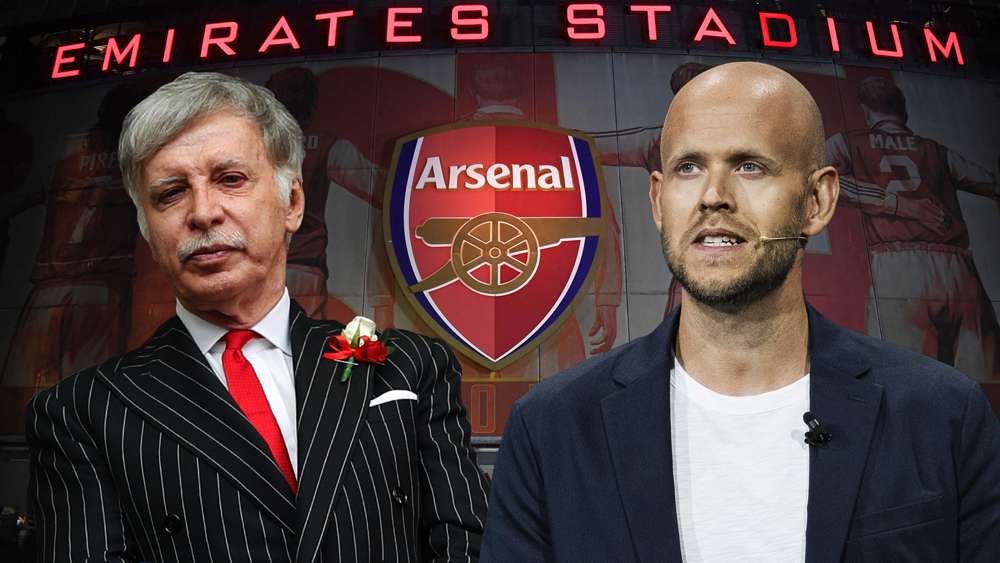 According to TIFP Podcast, Ek told Spotify employees that now is the best chance for him to become the owner at Arsenal. The billionaire spoke about his planned bid openly. "The ambition is to return the club to its former glory," he said to staffers at Spotify, as quoted by TIFP Podcast. "I have supported this club since I was eight years old. First and foremost, I am a fan. I want to create more fan involvement and I want to set a standard and a vision that brings this club back to glory."
On Friday, Ek posted a message on Twitter, saying "if KSE [current owners] would lie to sell Arsenal, I'd be happy to throw my hat in the ring."
The Swedish Tycoon went on at the staff meeting, as per TIFP.
"If I can make that happen, then great. That's what I'm trying to accomplish," Ek said. "It's too early to say how likely I am to succeed in all of this, but I don't think there's been a better opportunity to succeed with this acquisition than at any time in the past 10 years. And I don't think there will be a better opportunity in the next five or 10 years either."
Ek ready to make an initial $2.5 billion offer
Talking to CNBC, Ek went further, saying he is getting ready to bid and "hopes [he] will be listened to" by the Kroenke family.
"I have secured the funds for it and I want to bring what I think is a very compelling offer to the owners, and I hope they hear me out," Spotify's owner said.
Ek's initial offer is expected to be around $2.5 billion, though he believes it will be turned down. He is aware that this "could be a long journey," but hopes Kroenke Sports & Entertainment (KSE) will finally say yes. Ek didn't openly criticize the Kroenkes in any of his public statements following Arsenal's involvement in the failed Super League project.
The Spotify owner got serious about his intention to buy the club once supporters took to the streets in the thousands to show their discontent on the way the Super League matter was handled by KSE.
Arsenal fans showed up in numbers at the Emirates to protest the club's owners 📸 pic.twitter.com/TG6RV5tMic

— B/R Football (@brfootball) April 23, 2021
Ek is worth $4.7 billion. To support his potential takeover, the businessman has reportedly contacted Arsenal legends Thierry Henry, Dennis Bergkamp, and Patrick Vieira, whom he wants to be part of his team. Spotify is the world's most popular audio streaming subscription service, with 345 million users and 155 million subscribers. The app is available in 178 markets and has paid songwriters and rights owners more than $25 billion in revenue since its launch in 2008.
What do the Kroenkes say?
Through KSE, Kroenke owns Arsenal since April 2011. The English Premier League giants are only one jewel among many in the Kroenke's collection, which also includes LA Rams (NFL), Denver Nuggets (NBA), Colorado Avalanche (NHL), and Colorado Rapids (MLS).
Stan Kroenke and his son Josh, who is an Arsenal director, went public in response to Ek, saying they "remain 100% committed to Arsenal."
"We are not selling any stake in the club. We have not received any offer and we will not entertain any offer," the Kroenkes said in a statement. "Our ambition for Arsenal remains to compete to win the biggest trophies in the game and our focus remains on improving our competitiveness on the pitch to achieve this."
Arsenal was one of the 12 founders of the European Super League, a project created to replace the current Champions League. Its launch last week was met with negative reactions throughout the game.
Arsenal is currently 10th in the Premier League, 12 points behind fourth-placed Chelsea. If they are to play Champions League football next season, they need to win the Europa League. On Thursday, they will play Villarreal in Spain in the first leg of the Europa League semifinals. Arsenal is at -157 to reach the final, with Villarreal at +125.
Villarreal won their last eight Europa League matches. One more against Arsenal, on Thursday, is at +150. Villarreal has been winning at both halftime and full time in their last four Europa League games. A fifth repeat is at +300. Arsenal is undefeated in 11 of their last 12 Europa League games. Arsenal to win or draw in Villarreal is at -200.