Ohio State football coach Urban Meyer was placed on paid administrative leave following accusations from a former assistant coach's wife that he knew about domestic violence in 2015 and failed to fire him until three years later.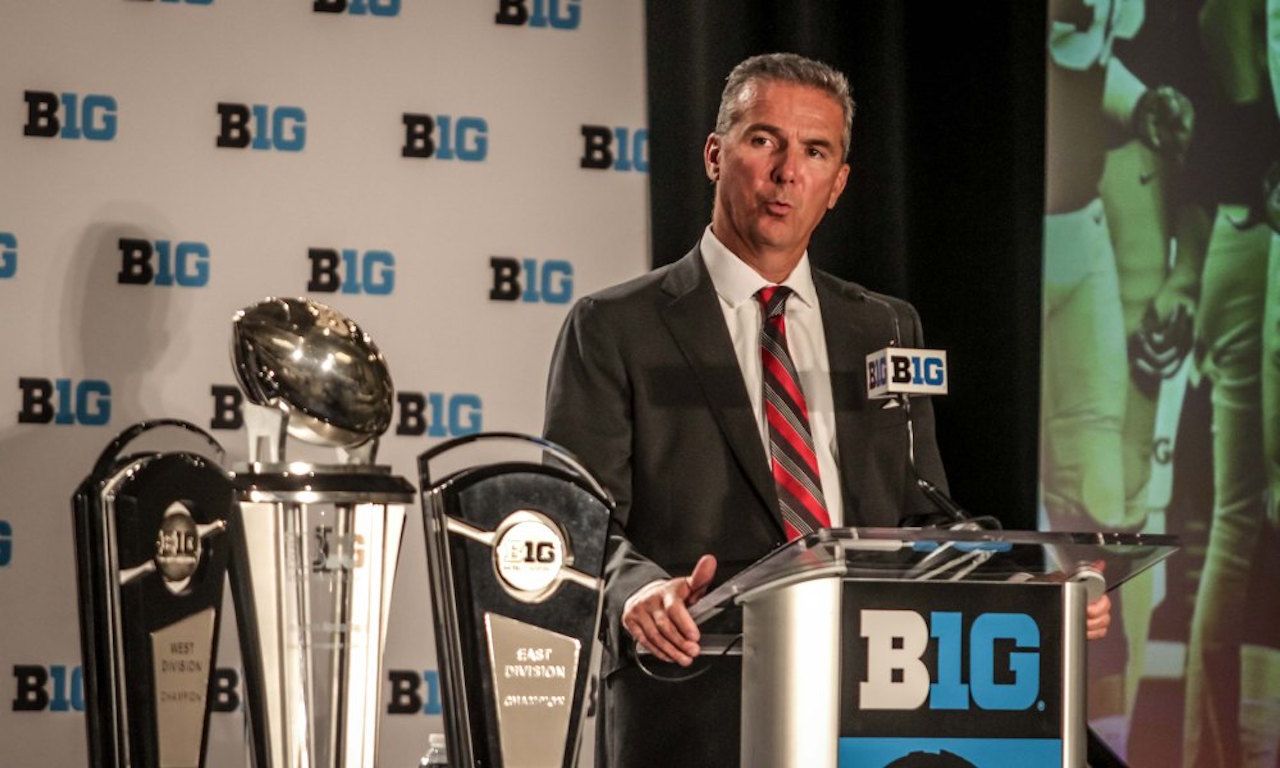 Soon after news broke Wednesday about Meyer being put on leave during an investigation into his handling of domestic violence accusations against a member of his coaching staff, sportsbooks began pulling prop bets related to OSU football from their betting boards.
As of Thursday, with Meyer's status at the helm of the Buckeyes still in limbo, multiple sportsbooks were not taking bets on Ohio State's chances for making the college football playoffs or the over/under for season wins.
OSU Bets Quickly Pulled
Sportsbooks had to scramble to pull bets before sharps laid down money with a perceived advantage. Betting analyst Brad Powers posted on Twitter showing a bet he was able to make on the Buckeyes win total. He bet $500 on the under and wrote that the bet was taken off the board after he made the wager.
South Point Casino employee Chris Andrews was on the air as a contributor to the satellite radio show "VSIN Live," when he had to rush out of the studio to take Ohio State odds off his sportsbook's betting board.
Westgate Las Vegas SuperBook manager John Murray said that their facility took away several OSU betting options, including Games of the Year and win total.
Offshore and internet betting sites followed suit. Bookmaker.eu stopped taking bets on Ohio State to win the National Championship, chances to win Big Ten, win total, and first game of the season against Oregon State.
Meyer's Job on the Line
The allegations at the heart of this scandal come Courtney Smith, wife of recently fired OSU assistant coach Zach Smith, who physically assaulted her in 2015. She claims Meyer had to know, and says she has text messages with Meyer's wife, Shelly Meyer, an OSU instructor, about the domestic violence.
"I do believe [Urban Meyer] knew," Smith said, "and instead he chose to help the abuser and enable the abuser and believe whatever story Zach was telling everybody."
Depending on what the Ohio State investigation finds, Meyer, the second-highest paid coach in the nation, could be fired from the university. In his previous contract, and the extension he signed in April, it stipulates he has a responsibility to report knowledge of domestic abuse by a university employee to his boss, athletic director Gene Smith.
Meyer has denied any wrongdoing in the matter. At Big 10 Media Day in late July, he said he was unaware of Zach Smith's 2015 arrest on domestic violence charges, until Monday, when he fired him.
On Wednesday, he reiterated that he did not know about the arrest, but said he would cooperate with the university's investigation. Football practice begins Friday. It is unknown how long the investigation process will take to complete.
"(Athletic director) Gene (Smith) and I agree that being on leave during this inquiry will facilitate its completion," Meyer said in a statement. "This allows the team to conduct training camp with minimal distraction. I eagerly look forward to the resolution of this matter,"
With Ohio State odds coming off the boards, two internet sportsbooks have added odds on Meyer's future. MyBookie has a line of his getting fired before the season begins at -200 yes and +160 no. Odds that he'll resign are -150 yes and +120 no.
BetDSI has a line that he will be coach on Sept. 1 at -220 for no, and +180 for yes. They also have odds on who the next coach would be at the start of the season. Greg Schiano is the favorite at -150.