Whether you think that NFTs are the future of collectibles or something between a fad and an outright scam, sports NFTs aren't going away anytime soon. More products are hitting the market every week, with new and established companies distributing offerings from a variety of sports over the last few days.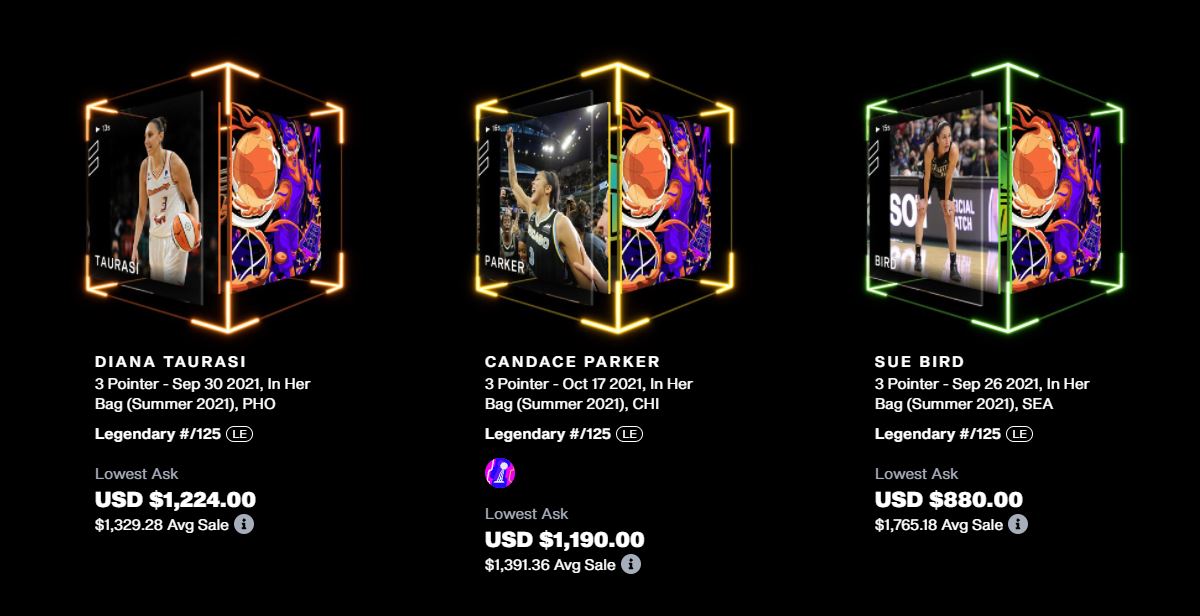 Which – if any – of these products will stand the test of time is anyone's guess. Here's a look at a few of the notable sports NFTs to hit the market in the past few days.
NBA Top Shot finishes first WNBA collection
Over the course of the 2021 WNBA season, NBA Top Shot dropped common cards celebrating the top moments from this year, as well as a rare "Run It Back" set that featured highlights from the history of the women's professional basketball league. On Tuesday, the site finished off its WNBA content for the season with a legendary set filled with moments from the 2021 WNBA playoffs.
🔥 SOLD OUT 🔥

Big shoutout to our community for showing up today for our FIRST-ever @WNBA Legendary drop 👏

Did you get a W? Tag the player's Moment you got w/ #WNBATopShotThis ⤵️ pic.twitter.com/yM33E5i06T

— NBA Top Shot (@nbatopshot) October 26, 2021
The In Her Bag packs sold for $599 each and featured legendary moments numbered to just 120. Not surprisingly, the 2,000+ packs available sold out quickly and produced a profitable market for flippers. While investors could buy the cheapest In Her Bag moments for around $500 on Wednesday, others featuring Diana Taurasi and Candace Parker started at around $1,200.
Candy moves to sell MLB NFTs in packs
While Candy has already been selling various sports NFTs in recent months, it had never offered a randomized product in which users could buy packs. That changed on Tuesday with the release of its All-Star MLB Icon Packs. These packs of three moments each featured MLB All-Stars, with moments in five rarities ranging from common to one-of-one legendary pulls.
MLB 2021 Icons Pack Opening https://t.co/cZctZWM52S

— Candy (@CandyDigital) October 25, 2021
The drop featured problems common to new NFT releases. Users encountered a variety of errors, including the site temporarily charging buyers' credit cards for failed purchases. Candy will give this another shot on Thursday when it releases its Uncut Diamond Packs featuring MLB prospects. Candy is limiting collectors to just one pack purchase in an attempt to get these moments into the hands of more people.
Topps, Panini creating instant content
Two old hands – relatively speaking – in the sports NFT space have tried something new over the past two weeks by creating NFTs in reaction to on-field moments. Panini began dropping instant NFL NFTs last week, allowing users to either purchase individual cards or buy weekly passes to get a base version of every moment from that week.
We're live! The 2021 @Topps #WorldSeries #NFT Collection is AVAILABLE NOW on @AvalancheAvax!

Head over to https://t.co/FQtwmhoYCs to buy Game 1 #ToppsNOW NFTs
⚾️ Limited to 1,000 Packs
⚾️ Collect them all to receive a special variant card
⚾️ Sale is live for 24 hours only! pic.twitter.com/hZ2UlPKEs2

— Topps NFTs (@ToppsNFTs) October 27, 2021
Meanwhile, Topps released its first batch of World Series NFTs on Wednesday. Packs retailed for $25 each and will contain one of five moments from Game 1. New packs will be dropped after each game. With only 1,000 packs available after each game, there's the chance for these moments to be in high demand – though there may also be skepticism over the Topps NFT platform after a lackluster MLB Series 2 release.