They say that most small businesses don't turn a profit in the first year. My sports card store turned a profit after my first month.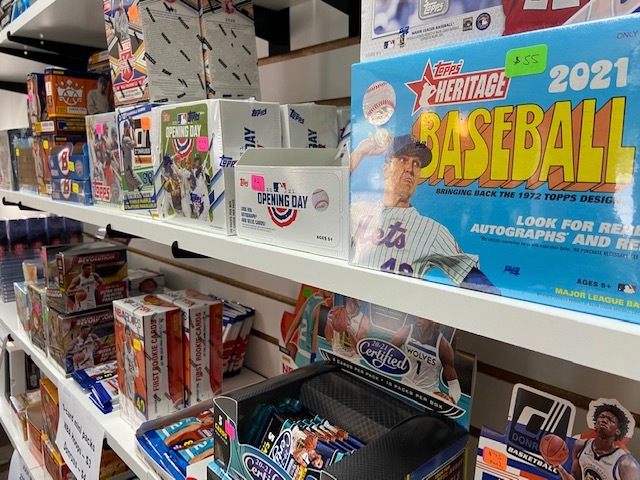 The wild early success of my new store, Cullman Sportscards & Fun Shop, shows the demand for a card shop in north Alabama. And it points to a continuing strong sports card market in general.
The store has seen a steady stream of customers in the first month-plus of operation, with many regulars visiting weekly or, in some cases, multiple times a week. Here are some things I've learned in the early days of running my store:
Take advantage of free marketing opportunities
The beauty of finding where modern technology and business tools intersect leads is the ability to market one's store for free. I've tried to take advantage of any opportunities I've come across in this regard. When a new customer comes into the store, I ask if they want me to add them to my email list. I use Mailchimp to send a weekly email on Mondays that highlights new products and specials to those on the list.
I also add a paragraph about my sports card store when I list cards for sale on Facebook Marketplace. These are very simple and effective ways to market the business – I've received new customers from people messaging me on Facebook asking about the store. Just as important — these tools do not cost me a cent.
A little shoe leather doesn't hurt either. When a big regional card show took place nearby on Saturday, I walked around and handed out my store's business cards.
Distributor account opened – finally
Readers of this series will recall my difficulty in opening a distributor account. With demand for sports cards at an all-time high, large distributors like GTS and Southern Hobby have enough of a challenge filling the demands of existing customers as many more potential new customers apply for accounts.
I finally received an account with GTS earlier this month. As a new customer, I don't currently receive my allocation of product at factory cost, and instead must pay secondary market prices. My challenge now is to carefully examine the price list to find products that I believe I can sell to make small profits, and to build my volume with the distributor. Months down the road, I should be able to buy some of the product at the lower factory cost.
Variety is the spice of a successful store
I previously wrote about the challenge of keeping customers coming back. I believe that if I'm not currently changing the look and feel of my store, the shop will become stale and give patrons no reason to return. So, in addition to continually adding stock with both new sealed products and single cards of stars and rookies, I'm phasing in other ideas.
I created "The $50 Box," which contains a mish-mash of items sold for that single price. I keep adding more and more to the box until it sells, and then I fill up another box. It helps me get rid of excess stock while also creating value for customers.
In response to a promotion at a nearby card store, I filled up another box with autographed and game-used memorabilia cards, with everything in the box sold for $3 each. That one has been a big hit since I introduced it last week. As the months go on, I'll continue to add in more promotions. Hopefully, they will help spark my store to long-lasting success.