Spielberg going On the Road to Del Mar in the Bob Hope Stakes. It sounds like a Hollywood mashup, instead of the next hurdle on the heralded 2-year-old's racing itinerary.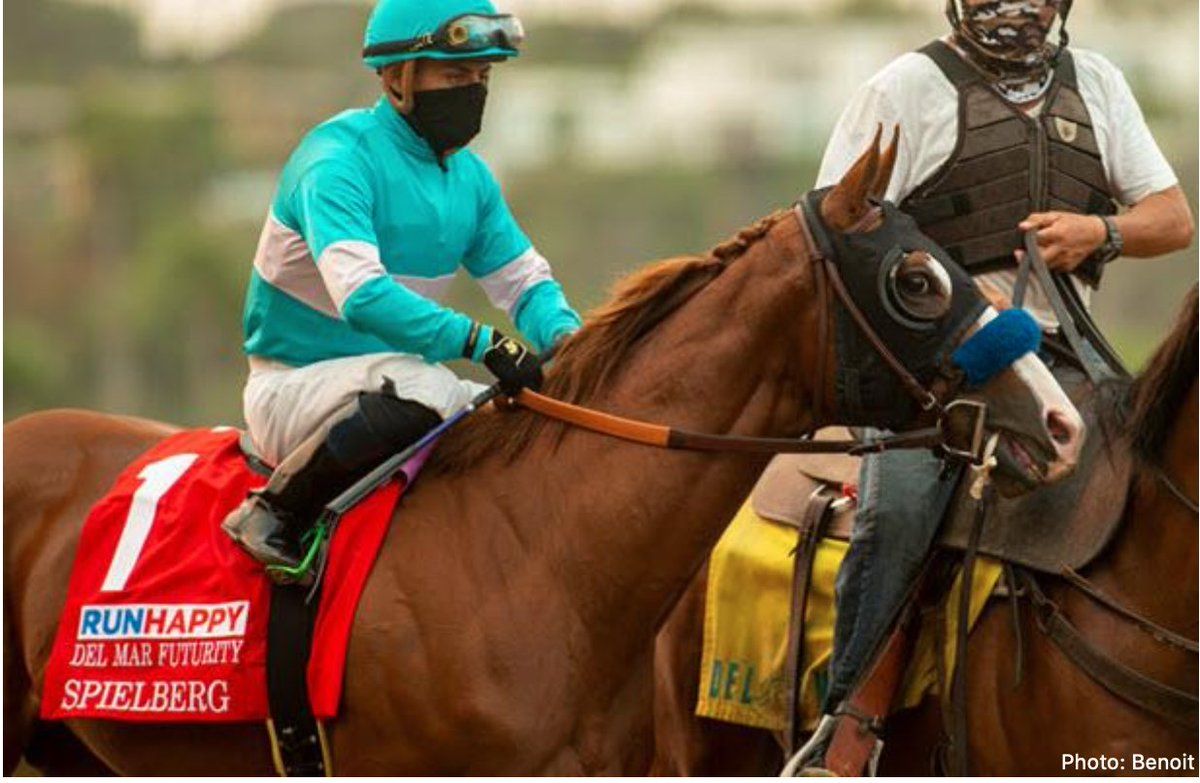 The Grade 3 Bob Hope Stakes is Sunday's featured race at Del Mar's Bing Crosby Meet. The $100,000 race sends six juveniles seven furlongs, giving another glimpse at next year's 3-year-old Triple Crown race possibles. The iconic Hope cemented his lifelong friendship with Crosby at post-race parties during Del Mar's opening season in 1937.
They would go on to make nine "Road" movies, sealing a place in 20th century American culture while creating the quintessential buddy movies along the way.
Spielberg the horse, meanwhile, attempts to seal his second consecutive victory. And the horse named after another Hollywood icon – director/producer/screenwriter Steven Spielberg – seeks that victory only two weeks after breaking his maiden.
Spielberg Enjoys Favorite Status Yet Again
Trainer Bob Baffert sends the $1 million yearling purchase at last year's Keeneland September Yearling Sale back to the track as the 6/5 favorite. Baffert has won six of the last nine Hope Stakes and 10 total, dating to 1996.
This Million Dollar Baby's early career doesn't come straight out of Hollywood. Spielberg finished second in his first two starts, including a runner-up to Dr. Schivel in the Grade 1 Del Mar Futurity. At September's American Pharoah Stakes at Santa Anita, Spielberg was the 3/1 morning line favorite. By the time the gates opened, he was 6/5.
He finished a non-threatening third, beaten by five lengths by Get Her Number. The same Get Her Number who went for $45,000.
Baffert Knows Best
This prompted Baffert to keep Spielberg home and out of the Breeders' Cup Juvenile. Instead, Baffert entered him in a Nov. 1 one-mile, maiden special weight race. There, the product of 2012 Belmont Stakes champion Union Rags finally delivered.
He racked up a career-best 104 Equibase Speed Figure, beating Parnelli by a neck in a grinding race. Unsurprisingly, Spielberg was an odds-on favorite – 4/5.
Even though he isn't entered in the Bob Hope, Parnelli plays a bigger role in Spielberg's story. On Oct. 2, Parnelli lost by a neck to Hot Rod Charlie in a Santa Anita maiden race. The same Hot Rod Charlie who finished second by three-quarters of a length to Essential Quality in the Breeders' Cup Juvenile – at 94/1.
Taking the story one step further, this is the same Essential Quality who is currently your 10/1 futures favorite to win the 2021 Kentucky Derby.
Don't Overthink This 'Road' Picture
As for Spielberg, what awaits him in the Bob Hope are horses not in his class. Probably the best of the bunch is Spielberg's counterpart from the Del Mar Futurity – 3/1 Weston. There, the gelding finished a distant third – 5 ½ lengths behind Dr. Schivel. He entered the American Pharoah, but was a veterinarian scratch the day of the race. Still, Weston owns a Grade 2 stakes win – the Best Pal.
Go further down the list and there's 7/2 Ambivalent, last seen finishing 25 lengths behind Jackie's Warrior in the Grade 1 Champagne Stakes.
All this means is the plot here doesn't thicken anymore. Spielberg should find the Road to the Del Mar winner's circle for the second time in two weeks.