B. Wayne Hughes, the billionaire co-founder of Public Storage and one of the most influential figures in horse racing, died Wednesday at his Spendthrift Farm home in Kentucky. He was 87.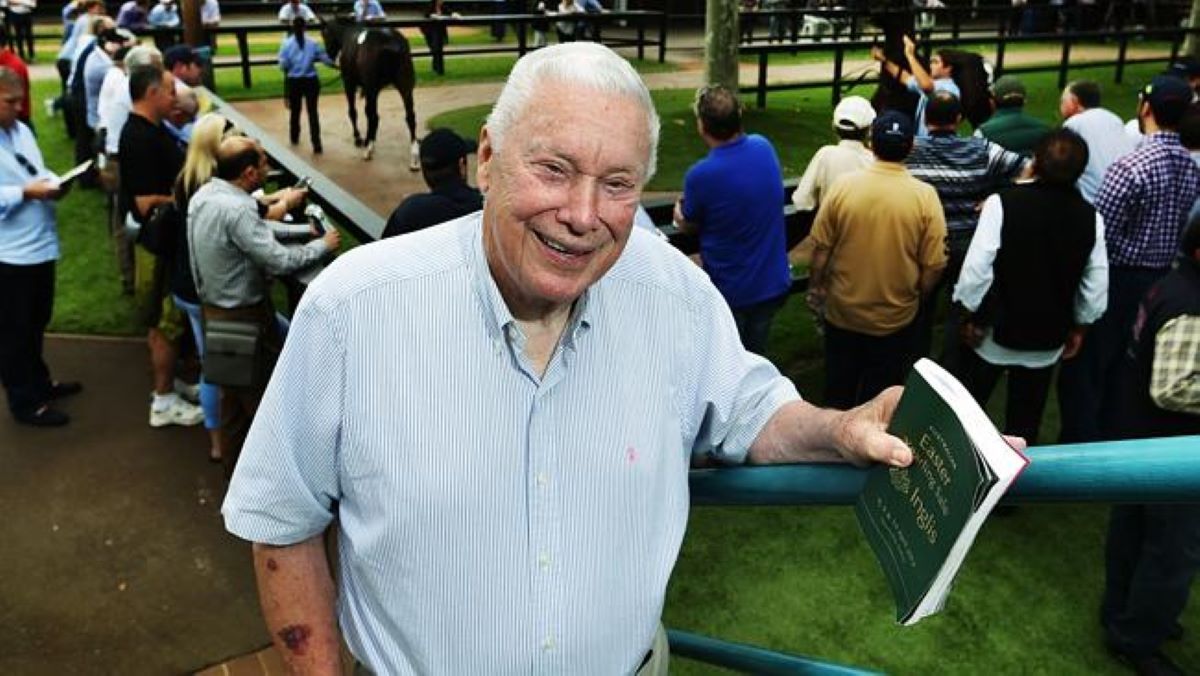 Any comprehensive 21st-century horse racing chronicle must include a chapter on Hughes. His impact on the sport through his purchase and restoration of Spendthrift Farm to one of the world's most successful breeding farms provided a template for the modern commercial breeding and owner operation.
Hughes purchased a beaten-down Spendthrift in 2004 and immediately began restoring the Lexington farm. He insisted on creating equal value for both stallion owners and breeders through his "Share The Upside" program. That gave breeders lifetime, vested interests in certain stallions, making them, in essence, equal partners.
"We have to take care of the breeder and level the playing field between stallion owner and breeder," Hughes said in 2010. "You have people here, they have a farm, they need to sell their foal, they need to have a chance of making money. I need to provide the best investment programs I can. Breeders participate in making these stallions, so they should be participating in the success, too."
Into Mischief started Spendthrift's success
The first stallion offered through Hughes' Share The Upside program? Into Mischief, one of the most valuable horses in the world and one of the most in-demand stallions on the planet. He's the reigning general sire champion for the past two years, and is poised to make it three with an electric 2021 campaign. Fueling that campaign are the likes of Mandaloun, Gamine, Fulsome, Mischievous Alex, Life Is Good, and Chess Chief.
Speaking of Into Mischief, one of his most famous offspring illustrated Hughes' passion for the sport and for creating new fans – and owners. Even though Hughes was worth an estimated $4.1 billion, he engaged MyRacehorse to sell $206 micro-shares of his standout 3-year-old Authentic. That brought 5,314 people – everyday Joes and celebrities alike — who would never be able to afford a Kentucky Derby champion into the game.
Authentic won that Derby and wrapped up his career winning the Breeders' Cup Classic at Keeneland, where Hughes accepted the trophy. The Into Mischief progeny was named North American Horse of the Year.
Hughes owned one of the decade's best fillies — Beholder
While Authentic was Hughes' only Derby winner, Into Mischief provided him with some of his biggest thrills as an owner. Those came courtesy of Beholder, Into Mischief's younger half-sister. She became just one of three female horses to be a four-time champion. Beholder captured Eclipse Awards in 2012, 2013, 2015, and 2016.
She won three Breeders' Cup races and 18 of 26 races — 11 of those Grade 1s. Included in that total was the 2015 Pacific Classic at Del Mar. That victory against the males came by 8 ¼ lengths and led an emotional Hughes to talk about owning horses instead of breeding them.
"I've had a few good horses in the past, but she is the first horse who makes me feel lucky to be an owner," he said after that Pacific Classic romp. "I've never had that feeling before. I think it's called pride."
Santa Anita played important role in Hughes' life
Hughes was born in Gotebo, Oklahoma, before moving with his sharecropper father to California as a boy. His father introduced him to horse racing with frequent trips to Santa Anita Park. Later, Hughes served as a naval officer and used part of that nest egg, and one saved from delivering newspapers, to attend USC.
From there, Hughes founded two companies that formed the bulk of his fortune: Public Storage and American Homes 4 Rent, a real-estate investment trust (REIT). He co-founded Public Storage in 1972 and American Homes 4 Rent in 2011. According to Forbes, that REIT owns and rents out nearly 53,000 homes across the US.
Hughes retired as CEO of Public Storage in 2002, turning his focus to horse racing. It took him one year to unveil a Champion, the 2-year-old Action This Day, who won the 2003 Breeders' Cup Juvenile at Santa Anita. That was the first of six Spendthrift Breeders' Cup winners and the first of six Eclipse Award winners.
"Thoroughbred horse racing has been a tremendous passion of mine ever since my father took me to the races as a young boy," Hughes said in 2020 while accepting the Galbreath Award by the University of Louisville. "It's something he and I got to share together, and I've been fortunate to be able to make it a large part of my life and share it with so many who are dear to me. There are few thrills greater than what horse racing can provide, and it is our responsibility to do a better job of improving this great sport so that future generations can enjoy it as much as I have."