The Detroit Tigers selected Spencer Torkelson, the first baseman from the Arizona State Sun Devils, with the #1 overall pick in the 2020 MLB Amateur Draft. The Tigers intend to move their top-ranked, power-hitting prospect to third base.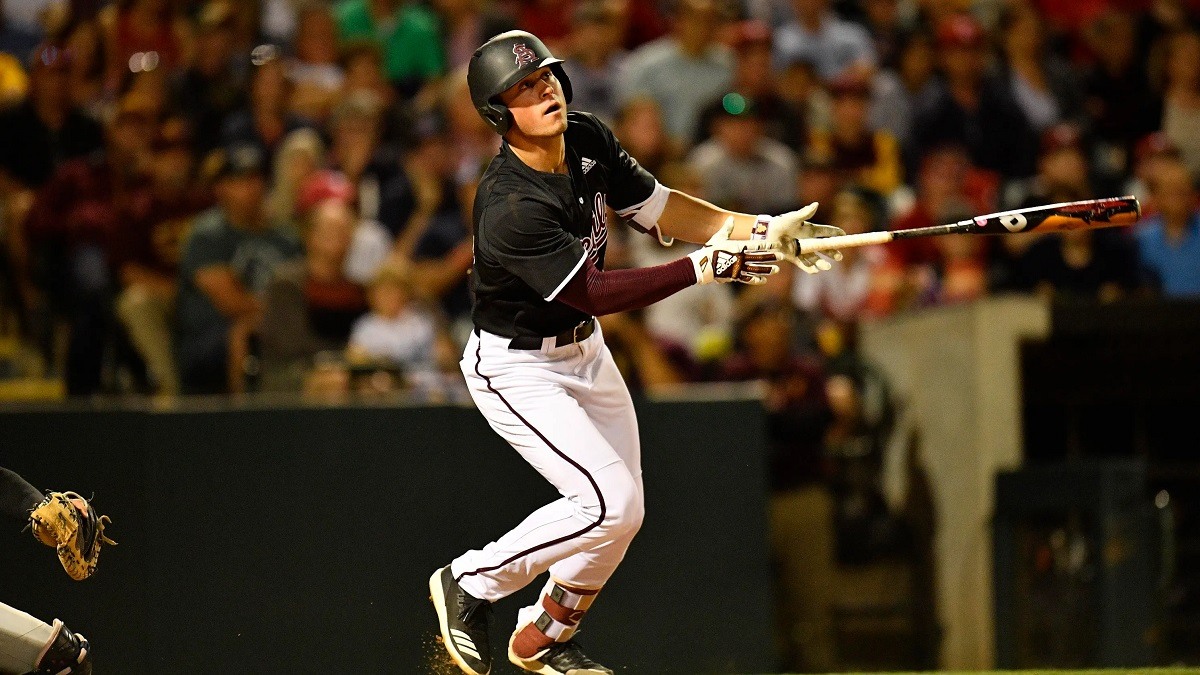 Torkelson, 20, led the NCAA in home runs as a freshman when he smacked 28 long balls. In his sophomore year, he crushed 25 dingers. He broke the ASU HR record previously held by alum, Barry Bonds.
Torkelson made history because he became the first college first baseman and first right-handed 1B to be selected with the first pick in the draft. Typically, left-handed hitters are at a premium in the draft. But the Tigers couldn't pass on the purest and best power hitter in the 2020 MLB Draft.
2020 MLB Draft – Top 5 Picks
1. Detroit Tigers: Spencer Torkelson, 1B/3B (Arizona State)
2. Baltimore Orioles: Heston Kjerstad, OF (Arkansas)
3. Miami Marlins: Max Meyer, RHP (Minnesota)
4. Kansas City Royals: Asa Lacy, LHP (Texas A&M)
5. Toronto Blue Jays: Austin Martin, 3B (Vanderbilt)
Due to the coronavirus outbreak, scouts focused more on collegiate players than on high school seniors. The 2020 MLB Draft became the first time in history that the first seven picks were all college players.
Players are drafted out of high school, but have the option to attend college. If they play collegiate ball, they commit for three seasons before they can be eligible to be drafted after their junior season.
With the pandemic and outbreak shutting down baseball across the board (spring training, NCAA, women's softball, high school, and even the Little League World Series), high school players suffered the most. Scouts weren't willing to gamble with the top picks based on a limited number of games from the top high school seniors.
Who's on First, I Don't Know on Third?
Despite never playing an inning at third base in three seasons at Arizona State, the Detroit Tigers announced Torkelson as a third baseman.
"We know he can play first," said Tigers general manager Al Avila. "Our scouts strongly feel that he can play third base, and that's our intent at this point. He's exactly the type of player we hoped would be there with the first pick. At this point, we're going to send him out as a third baseman."
Torkelson, ever the gamer, stated his desire to gladly play anywhere on the field.
"I prided myself as a baseball player, and a baseball player isn't stuck at one position," Torkelson responded in an interview with ESPN. "As a kid, you're playing all over the place, and that's what I pride myself on. I pride myself on winning and getting the job done, and if that's at third base, that's what it is. I'll do my best over there and make it happen."
"Tork is one of the most polished hitters we've seen in the draft for quite some time, showing plus-plus power and excellent plate discipline," said Tigers head scout Scott Pleis.
Torkelson grew up in NoCal's wine country. The young Tork excelled in three sports during high school in Petaluma, California, lettering in baseball, basketball, and football. Not one MLB team drafted him out of high school in 2017. Torkelson attended Arizona State on a baseball scholarship. Three years later, Torkelson became the first pick in the MLB Draft.